Canadian Money | Canadian Coins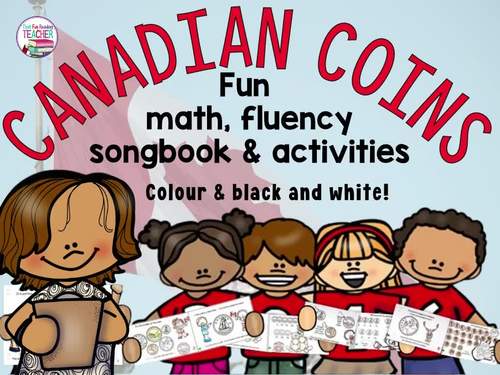 ;
Easel Activity Included
This resource includes a ready-to-use interactive activity students can complete on any device. 
Easel by TPT is free to use!
Learn more
.
What educators are saying
This was a great file to support student learning for Canadian currency. Students were engaged and really enjoyed the song. Thank you!
Also included in
Canada: This bundle of Canadian resources for primary students cover early literacy, social studies and math! Fun activities to teach young children about Canada from reading, writing, singing and playing Bingo to learn about what makes Canada so special! Celebrate Canada with this Canadian resource

Price $14.00

Original Price $19.25

Save $5.25
Description
Teaching primary students about Canadian money?
This Canadian money songbook / lesson teaches and reinforces Canadian coin names and their values! Pages are also provided for an activity determining 'fair-trades' between different Canadian coin combinations.
Sing about the details of each coin to the tune of Do-Re-Me! Singing about Canadian money is a fun way to make each coin memorable, especially with fantastic visuals in this storybook format!
Now enabled as a TpT Easel Activity
Laminate the full size resource as a classroom / teacher version or use the PDF to teach Canadian Coins digitally. This fun Canada coins resource works well as a bulletin board display for students to refer back to and sing along with as they pass by.
Half-page, black and white student copies are provided for printing. Both versions have interactive, reusable pages at the end to determine 'fair trades' between a variety of Canadian coins.
Please check out the preview for more info on this fun, interactive color Canadian Money song / picture book with student-size line art versions! Make it memorable!
Practice on your own first - it's a bit of a tricky words-to-melody match in some parts!
This is a flexible interpretation!
Features of this resource:
✔colour picture book
✔co-relation to Do-Re-Me along margins of book, and hyperlink to a YouTube video in the credit page
✔optional book endings based on coins
Thank you in advance, to those of you who generously take the time to leave feedback. Your feedback provides me with the information I need to continue creating and updating products for our students – and earns you credit toward future TpT purchases!
This resource is also available in the Canadian Literacy Bundle!
Related:
More Fun Fluency Readers!
Shortcuts!


⭐Best-sellers⭐
Let's connect!
Thank you for visiting my store! Please direct any questions you may have on the Q and A page of my store (by clicking my name at the top right), or email me at im@ThatFunReadingTeacher.com.
Pop by for a visit on:
my blog - That Fun Reading Teacher.com
Twitter and
How to get TPT credit to use on future purchases:
• Log in and go to your My Purchases page. Click the Provide Feedback button, where you will be linked to the page to leave a rating and short comment for the product.
Be the first to know about my new products, discounts and freebies:
• Look for the green star near the top of any page within my store and click it to become a follower. You will then receive email updates about ThatFunReadingTeacher on TpT!
Canadian money lesson | Canada coins | Canadian coins | Canada vocabulary | song about Canadian coins | Canadian coin activities | Canadian coins printables | Canadian money worksheets | Canadian financial literacy | vocabulary | Celebrate Canada | grade 1 | grade 2 | Ontario curriculum | Canadian money song |
Report this resource to TPT