Carbon Cycle Game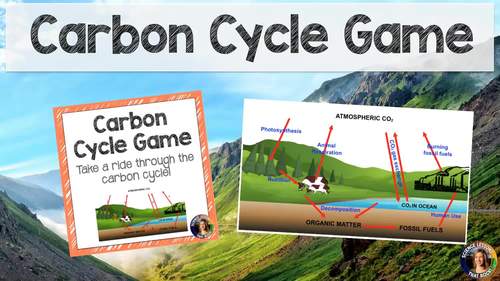 ;
What educators are saying
My students loved playing this game to learn about the carbon cycle. They were excited to get up and move around the classroom rather than sitting and taking notes.
I had to modify this assignment for my students, since they are much younger but they loved playing the game.
Also included in
Included in this bundle is everything you need to teach the water, carbon, nitrogen, and phosphorus cycles. It includes a powerpoint, games, practice worksheets, labs, posters, and more. Click on the previews above to check out each lesson before you purchase. Be sure to follow my TpT store by click

Price $38.80

Original Price $48.50

Save $9.70

This bundle includes everything you need to teach ecology! Powerpoints, worksheets, interactive labs and games, writing prompts, exit tickets, and more. Check out the previews of each product above!Be sure to follow my TpT store by clicking on the green "follow me" next to my seller picture to recei

Price $130.40

Original Price $163.00

Save $32.60
Description
Have your students take a ride through the carbon cycle with this fun and engaging game! Students will learn how carbon moves through the carbon cycle by rolling cubes and going to different stations. Note: Students should have a basic understanding of the carbon cycle prior to this activity.
Stations include: atmosphere, plants, animals, ocean, soil, and fossil fuels. Students will pick up tokens at each station to track where they have been. The only item not included in this purchase is small paper cups that students can keep their tokens in as they rotate around the room. Also included is a 2 page worksheet with follow up questions.
You might also be interested in:
Biogeochemical Cycles Worksheets
Be sure to follow my TpT store by clicking on the green "follow me" next to my seller picture to receive notifications of new products and upcoming sales. 
Don't forget to leave feedback to earn TpT credits that can be used for future purchases! 
Want free tips and resources sent to your inbox once a week? Subscribe to my newsletter! You can also...
♻️ Check out my blog
♻️ Follow me on facebook
♻️ Follow me on instagram
♻️ Follow me on pinterest
Teaching Duration
50 minutes
Report this resource to TPT
Standards
to see state-specific standards (only available in the US).
Develop a model to illustrate the role of photosynthesis and cellular respiration in the cycling of carbon among the biosphere, atmosphere, hydrosphere, and geosphere. Examples of models could include simulations and mathematical models. Assessment does not include the specific chemical steps of photosynthesis and respiration.
Use mathematical representations to support claims for the cycling of matter and flow of energy among organisms in an ecosystem. Emphasis is on using a mathematical model of stored energy in biomass to describe the transfer of energy from one trophic level to another and that matter and energy are conserved as matter cycles and energy flows through ecosystems. Emphasis is on atoms and molecules such as carbon, oxygen, hydrogen and nitrogen being conserved as they move through an ecosystem. Assessment is limited to proportional reasoning to describe the cycling of matter and flow of energy.
Develop a quantitative model to describe the cycling of carbon among the hydrosphere, atmosphere, geosphere, and biosphere. Emphasis is on modeling biogeochemical cycles that include the cycling of carbon through the ocean, atmosphere, soil, and biosphere (including humans), providing the foundation for living organisms.