Carbon Cycle Lab- Photosynthesis and Respiration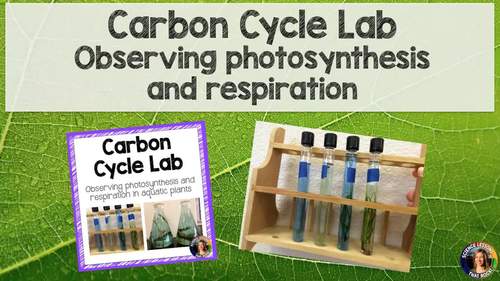 ;
What educators are saying
My students were able to complete the lab with minimal questions and problems. Overall it was a success! Thank you.
This was a simple, to the point lab and students were able to see and easily understand what was going on.
Also included in
This bundle includes resources to teach both photosynthesis and cellular respiration. These lessons are aimed at mid-level biology students. They go deeper than simply knowing the formulas, but do not go into the deep dive of biochemistry. I find them to be a happy medium for on-level biology studen

Price $32.00

Original Price $40.00

Save $8.00

Included in this bundle is everything you need to teach the water, carbon, nitrogen, and phosphorus cycles. It includes a powerpoint, games, practice worksheets, labs, posters, and more. Click on the previews above to check out each lesson before you purchase. Be sure to follow my TpT store by click

Price $38.80

Original Price $48.50

Save $9.70

This bundle includes everything you need to teach ecology! Powerpoints, worksheets, interactive labs and games, writing prompts, exit tickets, and more. Check out the previews of each product above!Be sure to follow my TpT store by clicking on the green "follow me" next to my seller picture to recei

Price $130.40

Original Price $163.00

Save $32.60

This bundle includes everything you need to teach cells and cellular processes. You will find an assortment of activities ranging from powerpoint lessons, labs, writing prompts, review games, and exit tickets. Topics include:Introduction to cells (cell types, cell size, the cell theory)Cell organell

Price $130.00

Original Price $162.50

Save $32.50
Description
This is a fool-proof lab to demonstrate photosynthesis and respiration in aquatic plants. This lab works great when teaching about the carbon cycle as well. In this lab students will learn that plants only do photosynthesis in the light and in the dark cellular respiration occurs.
Materials needed (per group): 4 test tubes with lids or parafilm, water, bromothymol blue, straw, elodea or other aquatic plant, test tube rack, aluminum foil, light source, and a goldfish is optional for an extension activity.
This is a 2 day lab. The first day students will come up with an experimental design and set up their lab, and the following day they will look at their results and make conclusions. With guidance this lab is also great for ELL and SPED students because the results are so easy to see- a simple color change!
Have questions on how I set up this lab or just want more details? Check out my blog post: http://Sciencelessonsthatrock.com/blog/carbon-cycle-lab-photosynthesis-and-respiration
You might also be interested in:
Biogeochemical Cycles Worksheets
Photosynthesis and Respiration Puzzle
Be sure to follow my TpT store by clicking on the green "follow me" next to my seller picture to receive notifications of new products and upcoming sales. 
Don't forget to leave feedback to earn TpT credits that can be used for future purchases! 
Want free tips and resources sent to your inbox once a week? Subscribe to my newsletter! You can also...
♻️ Check out my blog
♻️ Follow me on facebook
♻️ Follow me on instagram
♻️ Follow me on pinterest
Report this resource to TPT
Standards
to see state-specific standards (only available in the US).
Develop a model to illustrate the role of photosynthesis and cellular respiration in the cycling of carbon among the biosphere, atmosphere, hydrosphere, and geosphere. Examples of models could include simulations and mathematical models. Assessment does not include the specific chemical steps of photosynthesis and respiration.
Construct a scientific explanation based on evidence for the role of photosynthesis in the cycling of matter and flow of energy into and out of organisms. Emphasis is on tracing movement of matter and flow of energy. Assessment does not include the biochemical mechanisms of photosynthesis.