Career Exploration: 10 Creative Unit Activities (Digital and PDF)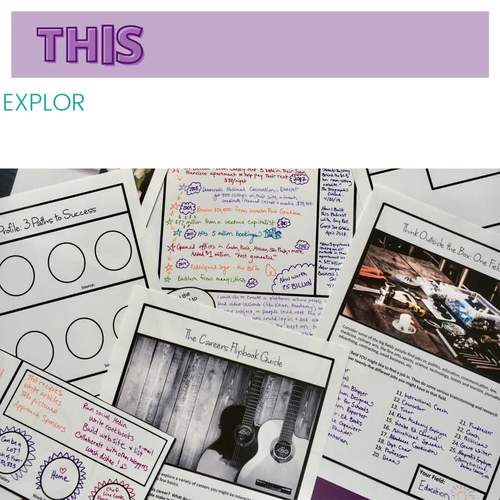 ;
Zip

Google Apps™
Includes Google Apps™
The Teacher-Author indicated this resource includes assets from Google Workspace (e.g. docs, slides, etc.).
What educators are saying
This unit was well worth the money. There were so many engaging units and we had some great discussions. Thanks so much!
My students loved the learning about the nonprofit companies and then writing a business plan for starting their own. Thank you
Description
Career exploration should be an inspiring, creative time in the classroom. There are so many possibilities out there, many of which students are barely aware of.
It should also be REALLY fun to teach!
This creative career exploration unit will help your students get excited about the future, and help you guide them easily and smoothly through their exploration.
From the reviews:
"Used this at the end of my school year, the students loved it! Thanks!"
"I'm very excited to use this with my middle school class! I think they are going to love it!"
"My students loved this! Easy to use and apply."
"I was so thrilled to find your resource for my seniors' career unit! This is my first year teaching seniors and I'm so grateful to have this resource to help with my career readiness unit!"
So often kids think about their job options in terms of what they've seen around them. This creative unit will get them thinking way outside the box - researching and exploring options they might never have imagined.
A Peek at What's Inside (Check the preview video to see it all!):
The career scavenger hunt will help students begin to notice the myriad jobs affecting their everyday lives.
The careers flip book will give them a chance to explore what it's like to do ten different jobs, then share what they find with the class. (Rubric included)
The job shadowing project will get them out in the community experiencing life at a job, then sharing that experience through a written profile and a photo that will go up in a careers gallery on the wall. (Rubric and Gallery Header included)
The timeline start-up project will show them that even the biggest companies have to start somewhere. And persevere!
The nonprofit profiles and pitches will remind them of all the ways their work might have an impact on the issues in their community and beyond.
Inside the ZIP file, you'll find a PDF version of these unit activities as well as an editable Powerpoint where you can adjust the text in the handouts and rubrics to suit your needs. You'll also find a link to the Google Slides version for online learning.
This two week unit can slide into your curriculum anywhere if you suddenly need to leave plans in the hands of a sub.
Got a question? I'm at betsy@nowsparkcreativity.com.
Teaching Duration
2 Weeks
Report this resource to TPT
Standards
to see state-specific standards (only available in the US).
By the end of grade 9, read and comprehend literary nonfiction in the grades 9-10 text complexity band proficiently, with scaffolding as needed at the high end of the range.By the end of grade 10, read and comprehend literary nonfiction at the high end of the grades 9-10 text complexity band independently and proficiently.
Produce clear and coherent writing in which the development, organization, and style are appropriate to task, purpose, and audience.
Conduct short as well as more sustained research projects to answer a question (including a self-generated question) or solve a problem; narrow or broaden the inquiry when appropriate; synthesize multiple sources on the subject, demonstrating understanding of the subject under investigation.
Draw evidence from literary or informational texts to support analysis, reflection, and research.