Carnaval Readings & Activity in Spanish Latin American Celebrations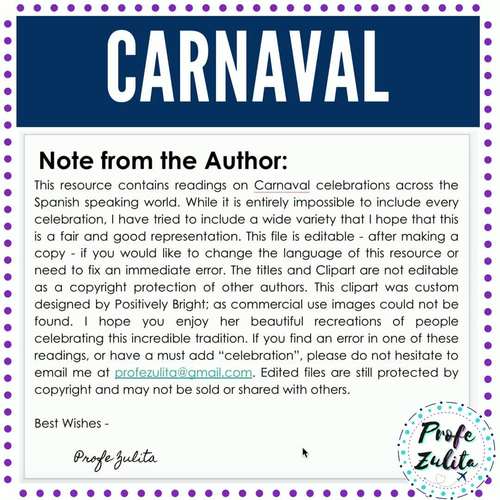 ;
7

th

- 12

th
,
Higher Education
,
Adult Education
,
Homeschool
10 Readings + 2 Activities
What educators are saying
My students enjoyed reading about Carnaval in different Spanish speaking countries. Very informative and students were engaged!
It's a great resource, and my students enjoyed it a lot. They were engaged all the time with the whole activity.
Also included in
Are you looking for exciting resources for the month of February for Spanish class? This bundle has you covered with products for many celebrations and holidays in February!What's Included?:Groundhog Day Readings & Color by Answer Activity (Digital & Printable!)16 Black History Month Biograp

Price $25.00

Original Price $36.00

Save $11.00

Are you looking for a low-prep way to incorporate culture & celebrations of the Spanish Speaking World into to your Spanish Class? These gallery walk readings with comprehension checks are an easy and low prep way to include holidays, celebrations, and culture into your comprehension based class

Price $45.00

Original Price $65.00

Save $20.00

This growing Spring Activity bundle for Spanish class will give you all the resources you need to cover March and April holidays and celebrations and more! This bundle contains readings, activities, games, Boom Card decks, and more! Reading materials appropriate for Novice Mid - Novice High level st

Price $49.00

Original Price $61.50

Save $12.50
Description
Are you looking for a digital way to incorporate Carnaval in Latin America into to your Spanish Class? This set of 10 readings / gallery walk with comprehension check activities is a great way to Introduce your students to the tradition of Carnaval in Latin America.
Students will read 10 short passages about 9 individual celebrations that are famous / recognized during Carnaval and a general overview of Carnaval in Latin America. After each passage, students have the choice to answer 1 - 3 True/False questions per reading by playing Matamoscas or Completing a True/False worksheet. Level up the fun by using the included Blooket game! Each reading is glossed for possible new words. These readings have editable text, but the photos are not editable. If you find an error, please email me at profezulita@gmail.com so the error can be corrected!
Includes:
- 10 readings (1 general overview & 9 celebrations)
- 1 - 3 true / false questions per reading to check for comprehension
- Matamoscas game or True / False worksheet with questions in English
- Blooket Game link
- Latin American Countries with Celebrations Included: Argentina, Bolivia, Uruguay, Venezuela, Colombia, Panama, Guatemala, Dominican Republic, & Mexico
Looking for a digital version: Check out my Carnaval Readings Boom Card Deck here!
Other Gallery Walk Sets:
Thank you for choosing Profe 'Zulita for your classroom needs- and I hope to see you in the future! Remember, we love to see and read your 5* reviews! And if you leave a review after using this product with your students you will earn free TPT credits that can be used for free resources.
To keep in touch with product updates, new products, product tester needs, and sales- give me a follow on Instagram (where you can show me how much your students are enjoying!) join my email list (where I love to email out freebies!) and follow my TPT Store! To follow along on my Spanish teaching adventure, read follow my blog!
If you have other product suggestions or things you need solutions for in your classroom, please send product suggestions to profezulita@gmail.com and how you envision this product (PDF, interactive Google Slides, Boom cards, etc.). If your product is chosen for production, you may receive your product for free! For more information, send an email!
Total Pages
10 Readings + 2 Activities
Teaching Duration
Lifelong tool
Report this resource to TPT