Cars Sight Word Leveled Reader, Activities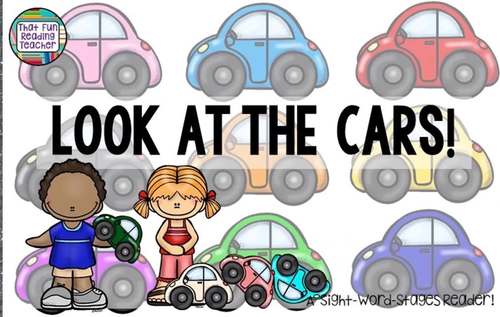 ;
Also included in
Early Literacy Bundle - collection of Kindergarten and First Grade early literacy resources! 18 resources are now included. This bundle includes:my top selling Personal Alphabet Book kit - ideally a teacher or ECE run center15 Reader Sets (14 of which are Sight-Word-Stages Readers, color with diffe

Price $32.00

Original Price $44.00

Save $12.00

Looking for Level A and Level B readers for guided reading? These ten high-interest stories target specific sight words while allowing early readers to maintain attention to the meaning in the pictures. Included in this bundle:Silly Animals 2pk - Sight-Word-Stages Level A Readers and Writing Activit

Price $18.00

Original Price $26.00

Save $8.00

Teaching guided reading to fans of cars and trucks? This vehicle themed set was written with early readers in mind. With directional reminders in the bottom corners of each page, and the option to use the color or one of the three black and white options provided, you can differentiate Sight-Word-St

Price $4.00

Original Price $6.00

Save $2.00
Description
Look at the Cars is a fun, colorful Sight-Word Stages Emergent reader (featuring the words 'look', 'at' and 'the')!
This Level A car-themed set was written with early readers in mind. With directional reminders in the bottom corners of each page, and the option to use the color or one of the three black and white options provided, you can differentiate Sight-Word-Stages readers just by printing!
Students can color a black and white copy with 'at' in a dotted font to (trace just the one small word), read and take home. A combination of the dotted font and blank spaces for students to fill in the missing sight word are used for the second and third versions, with increasing levels of challenge (please see images above for more detail).
Features of these reader sets:
✔color version, and duplicated black and white copies for students included in 3 versions
✔visual, color-coded/symbolic directional support
✔meaning supported by engaging pictures
✔repetitive pattern
✔two versions of matching sentence strips are included so students can reassemble the sentences (color and black and white)
✔Self-check checklists included in color and black and white to promote student independence
✔follow-up activity to reinforce the new sight word(s)
This set includes color words visuals, ideal for your writing center!
Try a free sample of the SWS stories!
St. Patrick's Day Things - A FREE Sight Word Stages PreEmergent Reader
Community Helpers - A FREE Sight Word Stages Lv 2 / B Reader
Thank you in advance, to those of you who generously take the time to leave feedback here. (And give yourself a little pat on the back, too - you will have just topped up your TpT credit balance!
Save with bundles! This product is also available as part of:
More Early Literacy!
☆Best-sellers☆
☆Followers' Fave FREEBIES!☆
Let's connect!
Please direct any questions you may have on the Q and A page of my store (by clicking my name at the top right), or email me at ThatFunReadingTeacher@gmail.com.
Pop by for a visit on:
my blog - That Fun Reading Teacher.com
Twitter and
How to get TPT credit to use on future purchases:
• Log in and go to your My Purchases page. Click the Provide Feedback button, where you will be linked to the page to leave a rating and short comment for the product.
Be the first to know about my new products, discounts and freebies:
• Look for the green star near the top of any page within my store and click it to become a follower. You will then receive email updates about ThatFunReadingTeacher on TpT!
car readers | Sight Word Readers | Leveled Readers | Sight Word Practice | Sight Word Activity | Emergent Readers | Printable Books | Homeschool | Special Education | Accommodations | readers about cars | readers about transportation | vehicle readers | fun reader for boys | Distance Learning
Report this resource to TPT