Cell Organelle Speed Dating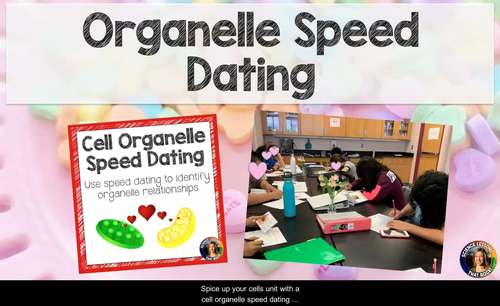 ;
Also included in
This bundle includes everything you need to teach cells and cellular processes. You will find an assortment of activities ranging from powerpoint lessons, labs, writing prompts, review games, and exit tickets. Topics include:Introduction to cells (cell types, cell size, the cell theory)Cell organell

Price $130.00

Original Price $162.50

Save $32.50
Description
Use this fun speed dating activity for students to make connections between cell organelles and their functions! *Note- students should have a basic understanding of organelle functions prior to this activity.
In this activity, students will be assigned an organelle and will go on 4 speed dates with other students in the classroom. They will need to identify relationships between the organelles. For example, if the mitochondria and chloroplast went on a date, students should recognize that chloroplasts make glucose during photosynthesis, which is broken down into APT during cellular respiration at the mitochondria.
Following the speed dating activity students will complete a dating summary.
Included in your purchase:
- Teacher directions
- 16 organelle reference cards (and a blank template for you to add additional organelles)
- 2 page speed dating worksheet
- Answer key
Please note that is product is not editable.
You might also be interested in:
Cell organelle interactive diagram
Be sure to follow my TpT store by clicking on the green "follow me" next to my seller picture to receive notifications of new products and upcoming sales. 
Don't forget to leave feedback to earn TpT credits that can be used for future purchases! 
Want free tips and resources sent to your inbox once a week? Subscribe to my newsletter! You can also...
♻️ Check out my blog
♻️ Follow me on facebook
♻️ Follow me on instagram
♻️ Follow me on pinterest
Report this resource to TPT