Cell Organelles Digital INB - Google Slides Activities and Google Forms Quiz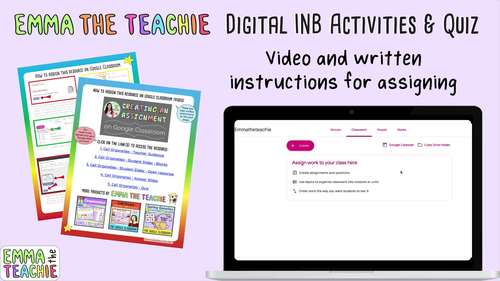 ;
PDF

Google Apps™

Internet Activities
57 (2 versions of student slides, answer slides, Google Form Quiz)
Includes Google Apps™
The Teacher-Author indicated this resource includes assets from Google Workspace (e.g. docs, slides, etc.).
What educators are saying
Great resource for my biology class. The questions and images aligned with our curriculum. Easy to work with!
Also included in
Get my Cell Organelles Bundle for extra value - containing Doodle Notes, Digital INB activities and a Google Forms Quiz! These activities will help your students learn and review 13 different organelles / cell parts. My custom clip art brings this topic to life and helps students visualize the conte

Price $9.99

Original Price $11.98

Save $1.99

Your students will love the engaging and interactive Google Slides activities. Drag and drop to build a cell, colorful diagrams to label, crossword puzzles and more! The interactive nature of the activities will immerse your students AND accelerate their learning and enjoyment in your class.Best of

Price $35.99

Original Price $45.93

Save $9.94

Packed with engaging Google Slides activities, fun Doodle Notes and self-grading quizzes to check progress, this bundle is an amazing addition to your Cells unit. Your students will love the unique illustrations that bring this topic to life. The interactive nature of the activities will immerse you

Price $54.99

Original Price $74.86

Save $19.87

Looking for ready-to-use Google Slides lessons for your Biology class? This bundle has 50 sets of Google Slides Activities and self-grading Google Forms Quizzes. Beautifully illustrated and highly engaging, your students will LOVE these. They are easy to use and will save you countless hours of work

Price $250.00

Original Price $361.52

Save $111.52

Save your precious time with my ready-to-use resources for a whole year of Biology. 10 units including 50 sets of Google Slides, Doodle Notes and Google Forms Quizzes. Beautifully illustrated and highly engaging, your students will LOVE these. They are easy to use and will save you countless hours o

Price $350.00

Original Price $580.04

Save $230.04
Description
Interactive Google Slides activities to help your students learn about cell organelles! Custom clip art is used to clearly illustrate each organelle in a diagram for them to label and then describe the structure and function of. With an open response and a scaffolded fill-in-the-blanks version, differentiation is simple! Plus fun tasks like creating cells with drag and drop organelles! Animated answers are included so you can ask students for their thoughts before revealing the correct answer. Alternatively, you can easily upload the answers to Google Classroom for students to self-assess their work.
I've also included a short Google Forms Quiz to quickly check student progress - it's self grading, so there's no extra work involved.
>>> Take a look at the preview to see more details!
Organelles / cell parts covered (13):
Nucleus, cell membrane, cytoplasm, mitochondrion, chloroplast, vacuole, rough ER, smooth ER, golgi apparatus / body, lysosome, ribosome, centrioles and cell wall.
My Cell Organelles Google Slides Activities and Quiz includes:
Student Google Slides Activities: 19 slides of engaging activities
Answers: animated for going through with the whole class, or you can set them on Google Classroom for students to check and correct their own work
Google Forms Quiz: a self-grading 20 point quiz to let you easily check student progress, including images to support some questions
Teacher guidance: how to assign and use this resource
Tasks:
13 Organelle slides: naming the organelle, stating if the organelle is found in animal cells, plant cells or both, describing its structure, describing its function and linking this to the structure where possible. There are 2 versions of these slides: open response (blank text boxes) and fill in the blanks (completed sentences with gaps). Students will also complete labels on the diagram of the organelle.
Create a cell: students will drag and drop the correct organelles into the animal or plant cell to build each cell, before labelling it.*
Crossword puzzle: check student understanding of the keywords with this 17-clue crossword.
Please note: You will need a Google Classroom set up for your students and each student will need their own device and an internet connection to access the Google Slides. Most clipart and questions are secured and cannot be edited/moved. Any moveable pieces of clipart must not be extracted.
If you have purchased the Eukaryotic & Prokaryotic Cells Digital INB activities and quiz, then the "create a cell" activity is highly similar to the create a cell activity included there - the Cell Organelles version has additional organelles as these are being taught to a higher level in this lesson. Please be aware of this before making your purchase.
If you like this, you may also enjoy:
Cell Organelles Doodle Notes - a visual way to review organelles
Viruses Digital INB & Quiz - learn about viruses and compare them to cells
Levels of Organization Bundle - more digital INB activities, coupled with my awesome Doodle Notes!
Mendel and Punnett Squares Digital INB & Quiz - perfect for starting your genetics unit

⭐⭐⭐ Follow my store by ! ⭐⭐⭐
©Emmatheteachie
Total Pages
57 (2 versions of student slides, answer slides, Google Form Quiz)
Report this resource to TPT
Standards
to see state-specific standards (only available in the US).
Develop and use a model to describe the function of a cell as a whole and ways the parts of cells contribute to the function. Emphasis is on the cell functioning as a whole system and the primary role of identified parts of the cell, specifically the nucleus, chloroplasts, mitochondria, cell membrane, and cell wall. Assessment of organelle structure/function relationships is limited to the cell wall and cell membrane. Assessment of the function of the other organelles is limited to their relationship to the whole cell. Assessment does not include the biochemical function of cells or cell parts.