Cell Organelles Interactive Diagram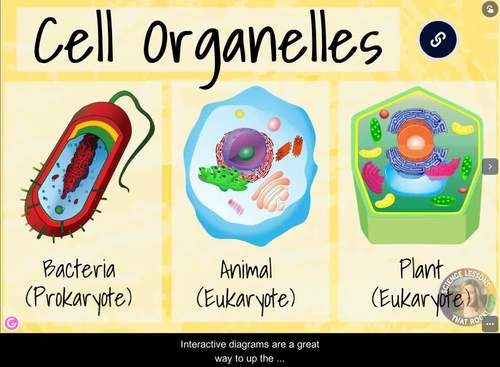 ;
PDF

Google Apps™

Internet Activities
Includes Google Apps™
The Teacher-Author indicated this resource includes assets from Google Workspace (e.g. docs, slides, etc.).
What educators are saying
My students are deeply enmeshed with digital learning, and while I have to carefully vet materials - this met all of my criteria.
Absolutely loved using this product with my students! Easy to use and great practice! I am so thankful you did all the hard work for me!
Also included in
This bundle includes everything you need to teach cells and cellular processes. You will find an assortment of activities ranging from powerpoint lessons, labs, writing prompts, review games, and exit tickets. Topics include:Introduction to cells (cell types, cell size, the cell theory)Cell organell

Price $130.00

Original Price $162.50

Save $32.50

This is a bundle of interactive diagrams that can be used for high school biology. All products come with multiple diagrams and a self-grading Google form quiz. Check out the video previews to see how they work!How can I use these diagrams?To supplement a lessonFlipped-classroom modelAs student rem

Price $47.60

Original Price $59.50

Save $11.90
Description
Interactive diagrams are a great way to deliver content during digital learning. This lesson comes with four clickable diagrams where students will learn all about cellular organelles in prokaryotes and eukaryotes. Diagrams include links with informational text, Youtube videos, diagrams, and more.
Included in your purchase:
Four clickable interactive diagrams (internet access required, non-editable). You may want to check https://www.genial.ly/ is not blocked by your school firewall.
Google form self-grading quiz (editable)
How can I use these diagrams?
To supplement a lesson
Flipped-classroom model
As student remediation
For absent students who missed the lesson
Do I have to use Google Classroom to access the quiz?
No. You can assign it in any LMS. However, you will need a personal Google account in order to assign and collect student responses. Directions on how to do this are included.
Want to check out a free one before purchasing? Here is an interactive diagram on Earth's spheres.
You might also be interested in:
Cell organelle digital choice board
Be sure to follow my TpT store by clicking on the green "follow me" next to my seller picture to receive notifications of new products and upcoming sales. 
Don't forget to leave feedback to earn TpT credits that can be used for future purchases!
Want free tips and resources sent to your inbox once a week? Subscribe to my newsletter! You can also...
♻️ Check out my blog
♻️ Follow me on facebook
♻️ Follow me on instagram
♻️ Follow me on pinterest
Teaching Duration
45 minutes
Report this resource to TPT