Celtic Knot Drawing using Symmetry and Grids • Elementary Art Lesson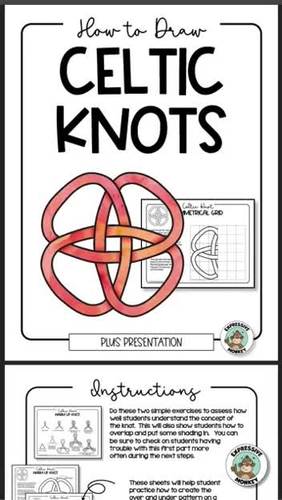 ;
What educators are saying
Great way to review or introduce symmetry. It also went along great with the Celtic Knots that we made in class.
We made celtic knots to conclude St-Patrick's day. My students wanted to make 2 and 3 designs. They loved the result.
Also included in
Tickle your students' fancy with drawing lessons that use castles, dragons, knights, and even a princess & a frog.This drawing set is part of a series of drawing lessons designed to teach beginning drawing skills using a Medieval or Fairytale theme. If you use the book Drawing with Children by

Price $14.00

Original Price $21.00

Save $7.00

✨ This bundle is getting an update soon, so grab the lessons you want and download them, then look for an update. You'll see some of the same lessons as well as some new ones! So that's a bonus for you!! ✨This is an opportunity to own a large bundle of my most popular Expressive Monkey Art Lessons

Price $172.00

Original Price $251.25

Save $79.25
Description
This Celtic knot art lesson for kids teaches how to draw 3 Celtic knot designs. Use symmetry and grid drawing to make a Celtic knot drawing. Learn about the Celtic culture and where the Celtic knot originated with the Celtic Culture presentation. Use my differentiated learning approach to help students master this drawing lesson with warm-up and practice lessons.
Your students will:
✤ Learn about the Celtic culture.
✤ Do some warm-up exercises to build confidence (and allow you to pre-assess).
✤ Use symmetry and a grid to finish the knot drawing.
✤ Use the grid method to enlarge a Celtic knot.
✤ Fill out a label and rubric.
INTEGRATE
✤ Social studies - Celtic culture
✤ Math - symmetry
✤ Math - use of aruler
What You Get
✤ Celtic Culture Presentation - 10 pages
✤ Teacher Instructions - 6 pages
✤ Knot Warm-Ups - 4 pages
✤ Symmetry Grid Drawing - 3 pages
✤ Enlarged Grid Drawing - 4 pages
✤ Grid Drawing Paper - 4 pages
✤ Labels and Rubrics - 3 pages
>>> A total of 34 pages!
Please take a look at the preview to get a snapshot of what you get.
If you'd like to make Zentangled Celtic Knot Letters, check out my lesson.
Stay Connected
Thanks for visiting!
Expressive Monkey makes engaging resources that help students build confidence and express themselves through ART!
Oh, wait! Don't forget to follow me on Teachers Pay Teachers ... just click to follow!
Report this resource to TPT