Character Traits Analysis POWERPOINT with Worksheets and Posters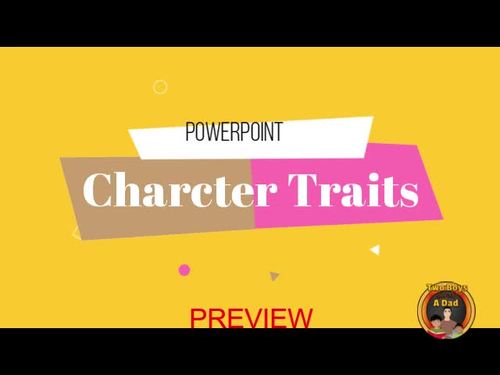 ;
Description
Looking for an engaging PowerPoint to teach character traits? Make teaching character traits fun with this engaging 25 slide animated PowerPoint. This character analysis PowerPoint has 25 slides to teach a character trait through an example that uses description, a photograph, and synonyms. There are also 25 correlating posters. Enhance the learning with the five worksheet printables that can be used to practice character traits.
HOW IT WORKS
Start with this animated PowerPoint to teach 25 basic character traits.
Each slide starts with a photograph of a person displaying a character trait.
Then an example of this trait in action is given through an example paragraph.
Then the trait is revealed.
Four synonyms for each character trait are revealed as well.
Each slide has sound (which can be turned off by lowering the volume).
The visuals and examples are ideal for developing and expanding student vocabulary and provide comprehensible input for English Language Learners.
There are a total of 25 slides, each depicting a character trait. The 25 character traits are the most commonly seen in text and movies, such as honesty, bravery, superstitious, and determination.
VIEW THE POWERPOINT PREVIEW HERE
WHAT'S INCLUDED
25 slide animated PowerPoint
Presenter's Notes to guide the teacher through each slide
25 accompanying posters that complement the PowerPoint
5 Printables for students
Character Traits Poster
Fairy Tale Character Cards to discuss character traits of fairy tale characters
THE POSTERS
The slides have been reformatted to make 25 portrait posters of each character trait. They are in color. Print once, laminate, and use for years.
Included are five suggestions for using the posters
Guess My Trait
Act it Out
Whose Trait Is It?
Trait Sort
Superhero Trait Quickwrite
THE WORKSHEET PRINTABLES
There are five printables to use with the PowerPoint or with the posters. They are to be used to further and deepen the understanding of character traits and how they influence the story plot.
They include
Characterize Me! (analyze a story character)
Trait Example (show a character trait in action)
Trait Talk (show words used by a character with a particular trait)
5 Degrees of Traits (shades of meaning with character traits or adjectives)
Traits in Action (show cause and effect through character traits)
Each printable is generic, making it usable with any character trait, character, person, or story.
THE OTHER PRINTABLES
Also included is a poster to explain what a character trait is. For one of the poster activities, there are 12 Fairy Tale Character cards to match fairy tale characters to traits.
CHARACTER TRAITS included in this resource
adventurous
boastful
bossy
brave
cautious
clever
determined
dull
forgiving
generous
gloomy
greedy
gullible
helpful
honest
lazy
messy
shy
sneaky
stingy
stubborn
studious
superstitious
talkative
vengeful
When you download this resource, there will be a ZIP file containing:
PowerPoint File
Presenter's Notes for Reference (PDF)
Posters and Printables (PDF)
PLEASE NOTE: OF THE FILES ARE EDITABLE.
Check out the preview to see what's included.
TEACHERS, LIKE YOU, SAID…
⭐️⭐️⭐️⭐️⭐️ Jennifer K. says, "Easy to use resource."
⭐️⭐️⭐️⭐️⭐️ Shelly M. says, "It is so hard to teach character traits. THIS resource is fabulous!!"
⭐️⭐️⭐️⭐️⭐️ Ashley F. says, "I downloaded this in a crunch because my students finished what I had planned for the day early, go figure lol. But they loved this power point, working through it to figure out the character traits. And it was a good vocabulary builder because there were words on the power point that they were not familiar with."
Related Products
⭐ Character Traits Analysis With Four Activities
⭐ Character Traits Analysis in the Hot Seat
⭐ Character Traits of Historical Figures
⭐ Describing Characters Graphic Organizers and More!
Copyright © Two Boys and a Dad Productions
All rights reserved by the author.
Permission to copy for single classroom use only.
Permission to use on secure digital learning management system platforms (such as Google Classroom, Teams, Canva, etc.)
*******************************************************************
Interested in more resources for English Language Arts for:
★ character analysis
★ central message
★ point of view and perspectives
★ literature companion packs
★ literary centers
★ shades of meaning
★ commas and addresses
★ vocabulary assessments
★ narrative writing
★ ELA games
Use the CUSTOM CATEGORY Character Analysis to find additional resources to teach character analysis and traits.

*******************************************************************
Comments, suggestions, feedback, and questions are always welcomed!
*******************************************************************
♦ Be sure to FOLLOW ME for updates and new product announcements!
♦ Do you need some fresh ideas and tips? Then visit My BLOG.
♦ Each time you give feedback, TPT gives you feedback credits that you use to lower the cost of your future purchases. I value your feedback greatly!
♦ If you have any questions or concerns, contact me through the Q & A, and I'll get back to you ASAP!
Teaching Duration
45 minutes
Report this resource to TPT
Standards
to see state-specific standards (only available in the US).
Describe how characters in a story respond to major events and challenges.
Describe characters in a story (e.g., their traits, motivations, or feelings) and explain how their actions contribute to the sequence of events.
Describe in depth a character, setting, or event in a story or drama, drawing on specific details in the text (e.g., a character's thoughts, words, or actions).
Compare and contrast two or more characters, settings, or events in a story or drama, drawing on specific details in the text (e.g., how characters interact).