Chemistry Unit - Atoms, Compound Naming and Chemical Reactions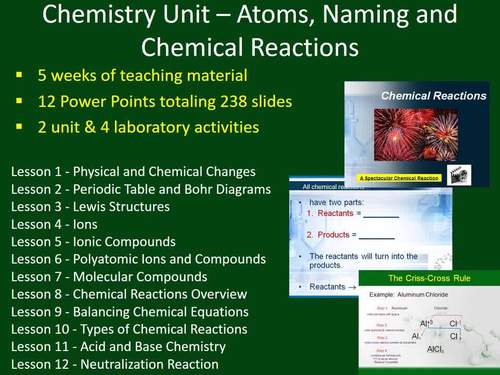 ;
8

th

- 11

th
,
Higher Education
,
Adult Education
,
Homeschool
Zip

Google Apps™
Includes Google Apps™
This bundle contains one or more resources with Google apps (e.g. docs, slides, etc.).
What educators are saying
This package had so much useful content!! The students enjoyed the variety while I loved the amount of time saved. Thank you for a great resource.
My students enjoy the humor you use in your presentations, and the work is highly engaging, especially for my struggling learners. Thank you for a great resource!
Products in this Bundle (15)
showing 1-5 of 15 products
Bonus
Teaching Timeline and Additional Resource Files
Description
This chemistry package includes a complete resource set for a Chemistry unit on Atoms, Naming and Chemical Reactions. The 5 weeks of teaching material include 11 lessons, lab station activities, digital scavenger hunts, comprehension readings, as well as two quizzes and two unit tests with answer keys.
The following lessons are included inside my Chemistry Unit
Each lesson contains:
The lesson (student and teacher versions of the presentation)
Google and Office-ready versions
An auto-graded Exit Ticket
Embedded videos
A student lesson handout as a document
Buyer Comment: "My students love this. It is so well organized and put together. Thank you so much."
The Following Activities and Assessments are Included:
2 Unit Tests and 2 Quizzes
2 Unit Tests and 3 Quizzes
2 Digital Scavenger Hunts
3 Reading Comprehension Articles
2 Lab Station Activities
Additional activities to engage your students
--------------------------------------------------
Buyer Comments:
- "LOVE this resource!"
- "So many new resources to update my curriculum. Thank you!"
- "Wow, These are a great resource. Thanks for your hard work!"
- "Wow! Great time saver that includes ready to use, quality resources. Thank you!"
- "Thank you, Thank you, I have 3 preps A&P. Biology, and IPC, we had a teacher to resign and I have taken over that Chemistry class, giving me 4 preps this is a God send. All content areas I am focusing on ."
- "Excellent Chemistry resource!!! I used all of it. The student notes helped keep them engaged!!"
- "After using the Ecology Unit I knew this product would be great resource as well. The power-points are engaging and the students stay engrossed in the activities. "
- "Thanks so much! This helped me out a lot as Sp. Ed teacher with a self-contained Chemistry Class and no background in Chemistry. "
- "This is a great resource! I used this with my class and I really loved it! The power point was well done and the student notes kept the students working! Thanks for sharing!! I am a returning customer and you can be sure I will keep purchasing your materials!!!!"
- "Good investment, will use this for years to come!"
- "Fantastic complete lesson- love the power points, student notes, activities. All you will need for the unit"
The presentations are fun and applicable with many opportunities for inquiry-based learning and discussion. Each presentation covers a lot of content and is meant to be delivered over a one-to-three day stretch.
Google, Office, and Distance Learning Ready
These lessons include both Office and Google formats for ALL resources. The presentations are in PowerPoint and Google Slides while all documents contain Word and Google Doc versions.
Your resources are perfect for distance learning and integrate seamlessly with Google Classroom as I've included a link that will automatically create a copy of the resources and put them directly into your Google Drive with one click.
Purchase --> Open --> Click --> Assign to your students
What are the student versions and how do they encourage student understanding?
The student versions of the presentations contain multiple blanks that need to be filled in throughout the lesson. These blanks are conveniently underlined and bolded on the teacher copy. I have found this to be the most effective means of keeping my students engaged and active without having them write everything out. This also leaves more time for discussion and activities.
***************************
I also have a range of assignments and lessons/units from other grade levels at my store. Please CLICK HERE to have a look around and don't forget to follow if you like what you see.
Also, please visit my blog Teach With Fergy for my thoughts on teaching, learning, and everything in between.
Answer Key
Does not apply
Teaching Duration
1 month
Report this resource to TPT
Standards
to see state-specific standards (only available in the US).
Use the periodic table as a model to predict the relative properties of elements based on the patterns of electrons in the outermost energy level of atoms. Examples of properties that could be predicted from patterns could include reactivity of metals, types of bonds formed, numbers of bonds formed, and reactions with oxygen. Assessment is limited to main group elements. Assessment does not include quantitative understanding of ionization energy beyond relative trends.
Use mathematical representations to support the claim that atoms, and therefore mass, are conserved during a chemical reaction. Emphasis is on using mathematical ideas to communicate the proportional relationships between masses of atoms in the reactants and the products, and the translation of these relationships to the macroscopic scale using the mole as the conversion from the atomic to the macroscopic scale. Emphasis is on assessing students' use of mathematical thinking and not on memorization and rote application of problem-solving techniques. Assessment does not include complex chemical reactions.
Plan and conduct an investigation to gather evidence to compare the structure of substances at the bulk scale to infer the strength of electrical forces between particles. Emphasis is on understanding the strengths of forces between particles, not on naming specific intermolecular forces (such as dipole-dipole). Examples of particles could include ions, atoms, molecules, and networked materials (such as graphite). Examples of bulk properties of substances could include the melting point and boiling point, vapor pressure, and surface tension. Assessment does not include Raoult's law calculations of vapor pressure.
Construct and revise an explanation for the outcome of a simple chemical reaction based on the outermost electron states of atoms, trends in the periodic table, and knowledge of the patterns of chemical properties. Examples of chemical reactions could include the reaction of sodium and chlorine, of carbon and oxygen, or of carbon and hydrogen. Assessment is limited to chemical reactions involving main group elements and combustion reactions.