Chester Nez and the Unbreakable Code Lesson Plan & Activities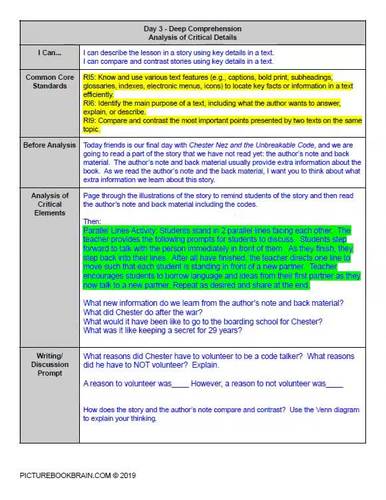 ;
Also included in
Save BIG with this guided reading or interactive read aloud lesson plan and activities bundle for Veterans Day / Remembrance Day / Memorial Day. Great titles to teach your third grade students to celebrate and learn about Veterans Day, Armistice Day and veterans.3 mentor text picture book lessons a

Price $6.00

Original Price $8.25

Save $2.25

Save BIG with this guided reading or interactive read aloud lesson plan and activities bundle for Veterans Day / Remembrance Day / Memorial Day. Great titles to teach your fourth grade students to celebrate and learn about Veterans Day, World War I (WWI), World War II, Armistice Day and veterans.3

Price $6.00

Original Price $8.25

Save $2.25

Save BIG with this guided reading or interactive read aloud lesson plan and activities bundle for Veterans Day / Remembrance Day / Memorial Day. Great titles to teach your students to celebrate and learn about Veterans Day, World War I (WWI), World War II, Armistice Day and veterans.5 mentor text p

Price $10.00

Original Price $13.50

Save $3.50
Description
A guided reading or interactive read aloud lesson plan for the nonfiction / informational text mentor text picture book Chester Nez and the Unbreakable Code: a Navajo Code Talker's Story by Joseph Bruchac. Great for Veteran's Day, Native America Heritage Month, and biography studies!
Lessons and activities focus on:
Summarizing key details (4 strategies: narrative retell, timeline, graphic organizer, Somebody Wanted But Then So)
close reading for describing illustrations
describing character traits
comparing and contrasting accounts
analyzing the main idea and details
The lesson plans include:
teacher script with strategic stopping points and questions for students to discuss
printable prompts for student post-reading responses through discussion in writing or reading response logs
4-5 day plan
Discussion questions
Suggested discussion strategies
Strategic stopping points for questioning and close reading
Anchor chart examples
Sentence stems / frames for oracy and vocabulary development
Great for bilingual classrooms
Printable worksheets for written responses
How to Use This Resource:
whole group
small group
as a reading  intervention
special education (SPED)
bilingual or Dual Language / DLI classrooms
with ELLs for ESL instruction
Great for 2nd, 3rd, 4th, or 5th grade
Your second, third, fourth, or fifth grade students will love this story!
✰ ✭ ✰ ✭ ✰ ✭ ✰ ✭ ✰ ✭ ✰ ✭ ✰ ✭ ✰ ✭ ✰ ✭ ✰ ✭
You May Also Like:
Report this resource to TPT
Standards
to see state-specific standards (only available in the US).
Ask and answer such questions as who, what, where, when, why, and how to demonstrate understanding of key details in a text.
Recount stories, including fables and folktales from diverse cultures, and determine their central message, lesson, or moral.
Describe how characters in a story respond to major events and challenges.
Use information gained from the illustrations and words in a print or digital text to demonstrate understanding of its characters, setting, or plot.
Compare and contrast two or more versions of the same story (e.g., Cinderella stories) by different authors or from different cultures.