Chicken Egg Incubation Timeline & Passages | Chicken Life Cycle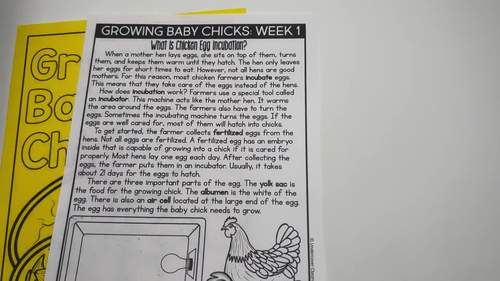 ;
What educators are saying
My students loved this! Everyday we had to check to see what was going on inside of our eggs! Super informative. Great resource! Thank you!
Thanks for taking something off my plate and allowing me to support fellow teachers. This will be a huge help in my classroom.
Description
Are you incubating chicken eggs in your classroom? Give your students a peek inside the egg throughout the process! This resource includes 21 cards with pictures and descriptions of the daily development of the embryo. Hang up a card each day. Then, have your students follow along on their own timeline. Students cut out pictures and add them to their timeline each day. Also included are 6 pages of informational passages about incubation and chicken egg development. There is one (2-sided) passage for each week of the (3 week) incubation period.
Included in this set:
1. Informational passages (6 pages) with cover page
2. 21 colored display cards
3. Student timeline in black line
4. 21 black line pictures for students to paste on timeline (these match the display cards)
5. "Chicken Egg Timeline" heading for bulletin board or pocket chart
6. 6 other picture cards for display (rooster, hen, incubator, egg, hatch, chick)
Thank you for considering my Chicken Egg Incubation Timeline Kit!
You may also like these interactive resources:
Animal Classification Flip Book
Endangered Animals Lapbook Interactive Kit
Simple Machines Envelope Book Kit
Solar System Lapbook Interactive Kit
Teaching Duration
3 Weeks
Report this resource to TPT