Chinese New Year Webquest | Reading Comprehension Activities & Writing Craft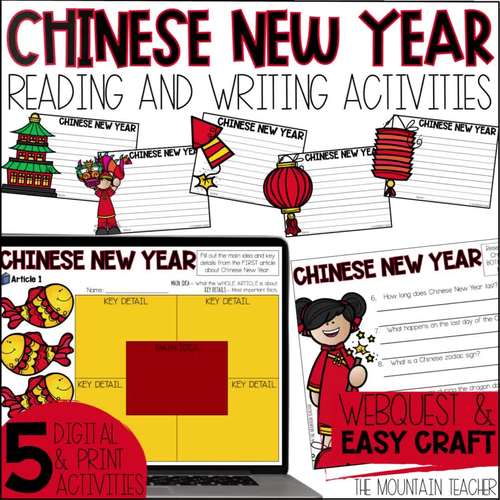 ;
PDF

Google Apps™

Webquests
Includes Google Apps™
The Teacher-Author indicated this resource includes assets from Google Workspace (e.g. docs, slides, etc.).
Easel Activity Included
This resource includes a ready-to-use interactive activity students can complete on any device. 
Easel by TPT is free to use!
Learn more
.
Also included in
Looking for no prep Holidays Around the World reading comprehension activities for your class? Explore the holidays of Christmas, Kwanzaa, Hanukkah, Diwali, New Year and Chinese New Year with your students. Turn these 6 fun reading comprehension webquests into writing crafts and bulletin boards for

Price $9.99

Original Price $18.00

Save $8.01
Description
Looking for a no prep Chinese New Year reading comprehension activity for your class? Turn this reading comprehension webquest into a writing craft and bulletin board for the ultimate Chinese New Year lesson. (Recommended for 2nd, 3rd or 4th grade.)

What is a Chinese New Year Reading Comprehension Webquest
Students will go on a webquest (visit a kid-friendly, informational website) to learn about Chinese New Year.

Students will then use different reading comprehension graphic organizers to answer questions about the Chinese New Year.

Students will fill out a KWL (know, what to know, what I learned) chart, answer 5 W (who, what, where, when, why) questions about the text, write about the main idea and key details, practice using new vocabulary, and then write a summary about what they have learned.

Reading Comprehension - Summary Writing - Bulletin Board

Conclude the project by allowing students to write a summary about what they have learned about the Chinese New Year using the key vocabulary you worked on.

Writing about what they are reading is an excellent way for students to show their reading comprehension.

What's Inside
Link to Webquest passage
Link to 10 Page Google Slide Activity
Teacher Guide (one week or one day included, great for sub plans!)
Vocabulary Anchor Chart (Chinese New Year - lunar, zodiac, legend)
KWL Activity
Answering Questions Page (includes 10 questions)
Main Idea and Key Detail Graphic Organizer
Vocabulary Activity
Summarizing Writing Craft and Activity
5 Bulletin Board Options
Answer Keys
Easel Activity

3 NO PREP Webquest Formats Included
PRINTABLE - Print out the 5 activities in black and white. Allow students to read the Webquest passage either as a print out (the teacher will need to print from the website) or have students use a device to do the Webquest.
GOOGLE SLIDES TM - Students will get access to a 10 page Google Slides presentation with all 5 activities and a link to the Webquest passage in one place. Text boxes are already ready for students to type and go.
EASEL - Students can use the 10 page Easel activity to record their answers.

What is a Webquest?
A Webquest is when a student uses knowledge learned from articles or websites to practice reading comprehension. Students will use kid-friendly websites to gain knowledge on a topic. Links to all websites required are included in this resource. If students are not able to access them, teachers can print the information instead.

When to Use the Chinese New Year Reading Comprehension Activities

These Chinese New Year WebQuest Reading Comprehension Activities can be used during writing, reading or social studies. They are designed for students in second, third and fourth grade.

Please open the preview file for a more in depth look at what is included and ask any questions before purchasing.
Need Other Winter Holidays Around the World Webquests?
Report this resource to TPT
Standards
to see state-specific standards (only available in the US).
Ask and answer such questions as who, what, where, when, why, and how to demonstrate understanding of key details in a text.
Identify the main topic of a multiparagraph text as well as the focus of specific paragraphs within the text.
Determine the meaning of words and phrases in a text relevant to a grade 2 topic or subject area.
Identify the main purpose of a text, including what the author wants to answer, explain, or describe.
Ask and answer questions to demonstrate understanding of a text, referring explicitly to the text as the basis for the answers.