Choice Boards Bundle for Centers, Choice Time, and More!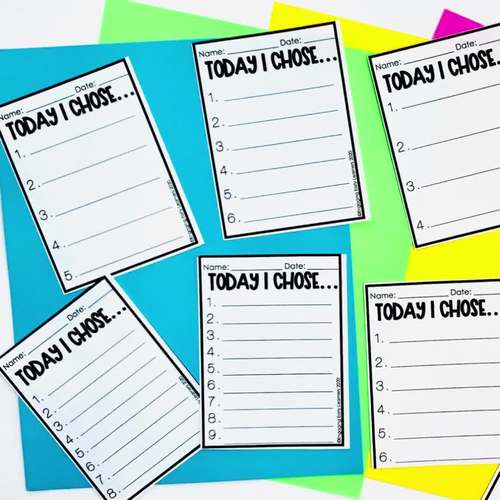 ;
What educators are saying
This was fabulous for my class last year. It was great for all the COVID closures and allowing us to reinforce consistency.
These choice boards are wonderful for my students who show a lot of work avoidance. Giving them choices has made a huge difference! I love the visuals, too. Thank you!
Description
This product provides you with materials to allow your students more !!!
Student choice is extremely important to give your students ownership over their learning. Structured choice is also important for those students that can't make their own choices appropriately. This product will help you with this!
This product includes…
•Information about the importance of student choice
•Printing tips
•40 choice board options (1-->9 choices)
•Choice icons with clip art
•Blank choice icons to create your own
•Notes to send home to write what choices the student chose
•Rewards
**If you don't see a center/clip art option that you want, please email me at engagingearlylearners@gmail.com and I can try my best to add it within a week!**
How I use this product…
Right now I am using a choice board with a student in a dry erase sleeve. He circles his choices with a dry erase marker. You can use this product in a file folder, laminated with Velcro, or in a dry erase sleeve. So many possibilities!
Product preview: See my Instagram stories!
---------------------------------------------------------------------------------------------
⭐GAIN ACCESS TO OVER 100 FREE RESOURCES HERE ⭐
Other resources you will ♥️ :
✨ Centers Signs for Preschool PreK Kindergarten
✨ Small Group Schedule Boards for Groups, Centers, Etc.
✨ Sorting Key Words from Word Problems BOOM Cards
---------------------------------------------------------------------------------------------
CUSTOMER TIPS:
FREE money (TpT credits) for leaving feedback:
Go to your 'My Purchases' page. Next to each purchase you'll see a 'Provide Feedback' button. Each time you give feedback on paid purchases, TPT gives you credits that you use on your future purchases (AKA reduced or even free products!).
What's the green ★ for?:
Click the green star to become a follower. You'll be the first to know about freebies, sales, and new products. 
---------------------------------------------------------------------------------------------
⭐ Let's Connect! ⭐
Report this resource to TPT