Choices Think Sheet | Behavior Reflection Program | Restorative Justice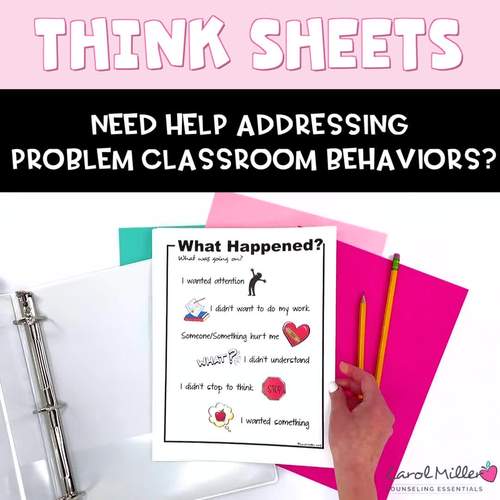 ;
What educators are saying
Thanks for creating this resource. My students were actively engaged in their learning and were having fun.
This is a great way to have students reflect on their actions and make the right choices going forward.
Description
Are you struggling with student behaviors and finding a way to hold students accountable for their choices? Choices Think Sheets | Behavioral Reflection Program is a complete social emotional learning program to run a behavioral reflection program.
●●● A Think Sheet is a very effective tool to use when a student is displaying unacceptable behaviors. These sheets can be used to help correct undesired behaviors and help students process their emotions and behavioral responses by understanding how their emotions impacted their behavior, looking at what it was that they needed, and what they can do next time they are in a similar situation.
▶▶ Add the Steps to Problem Solving Posters to a binder (I like inserting them into sheet protectors so kids can write on them with dry erase markers). Use these to work through the problem with the student. Once you are done processing, have the student fill out the Think Sheet. There are 3 different versions (Primary, Elementary and Middle School).
▶▶ Follow up the Think Sheet with helping the student to learn to apologize and then use the apology note to send to the person who was hurt by the student's actions and behaviors.
▶▶ A Notice Home helps keeps parents in the loop and the documentation forms help you to stay organized and gather the data you need.
► Includes:
✅ Directions and Notes For Adults working with students
✅ Posters Explaining Step By Step The Reflection Process
✅ Primary, Intermediate and Middle Level Think Sheets in Color and Black and White
✅ Data Tracking Forms
✅ Apologizing Posters and Apology Note Form
✅ Notes Home Form
✅ Cover and Binder Spines To Create Your Own Behavioral Reflection Binder
▶▶ Check out the preview to see everything included!
▶Perfect for schools implementing a behavioral reflection program like restorative justice or PBIS.
❤️ ❤️
⭐️⭐️⭐️⭐️⭐️ ❝These are a great resource that my kids can use almost independently so they can think about their behaviors and then we can discuss what to do next.❞ ~ Leah G.
⭐️⭐️⭐️⭐️⭐️ ❝I love think sheets and how they help students really reflect and change their behavior. These think sheets are great. So easy, simple and cute.❞ ~Materials by Missy.
⭐️⭐️⭐️⭐️⭐️ ❝This is a fantastic resource! These think sheets help my students reflect on their behaviors while giving them the support they need. I also appreciate that they can practice apologizing which is a much needed skill! Thank you! ❞ ~Ivey League Teaching
………………………………………………………………………………………………………………………………………………………………………
► ► Need some elementary small group curriculum? Check these out:
………………………………………………………………………………………………………………………………………………………………………
▶ Don't forget to follow along!
© Carol Miller - Counseling Essentials
Report this resource to TPT