Christmas Coloring Pages and Writing Activities | Christmas Coloring Sheets K-6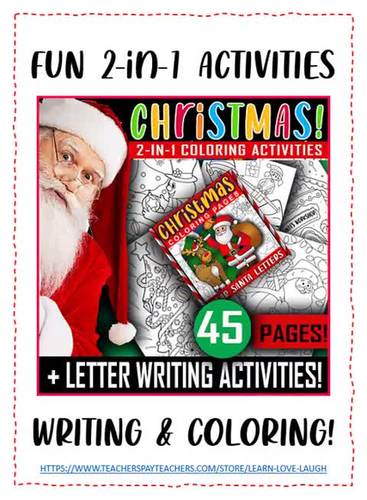 ;
Description
Are your students looking forward to Christmas? If yes, this 2-in-1 Holiday Activity resource includes a 45-page coloring book with five covers, 15 unique coloring pages as well as various "Dear Santa Claus" letters will engage and entertain your learners! The fun coloring book is perfect for Grades K to 5! It features festive illustrations of cute snowmen, adorable reindeer, Santa Claus, Christmas stockings, Santa's Workshop, gingerbread cookies, dancing elves, puppies and more!
These coloring worksheets are great for indoor recess, when work is completed early, or just having fun and getting in the mood for the Holiday Season! Writing letters to Santa Claus promotes writing skills too!
Students can enter our Christmas Coloring Contest for the opportunity to win $10.00 US. Money will be sent directly to your email via PayPal (only) so you can give to your student personally along with their congratulations letter! You have up to Christmas Eve to submit submissions! Top coloring pages will be displayed on this webpage!
This exciting 2-in-1 Holiday Activity (Writing and Coloring) resource includes:
Five different 8 1/2 x 11-inch cover pages for students' names
Fifteen unique 8 1/2 x 11-inch coloring pages
8 1/2 x 11-inch "Happy Hanukkah" letter
8 1/2 x 11-inch "Feliz Navidad" letter
8 1/2 x 11-inch "Joyeux Noël" letter
"Dear Santa" letters with various layouts such as: "I've Been Good Santa / There's More! / Dear Santa Claus / Dear Santa" etc.
"Dear Mom and Dad / Dear Mom / Dear Dad / Dear Poppa / Dear Uncle / Dear Auntie / Dear Grandma / Dear Nana / Dear Grandpa" letters
Great for indoor recess, students who finish work early, visual arts and language arts class!
Chance for a student to win $10 US in the Christmas Coloring Contest with Submission Entry form (Due Date is December 24th)
Seasons Greetings!
Report this resource to TPT