Christmas Craftivity: Santa Craft, Snowman Craft and Reindeer Craft Art Projects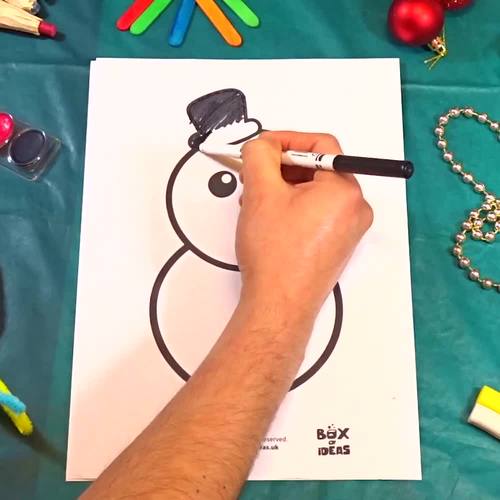 ;
Also included in
Save money this winter and sort your Christmas theme planning with these fun resources:______________________You might like for Distance Learning: Christmas Zoom Scavenger Hunt______________________► Christmas Elf on the Classroom Craft:Christmas elf craft idea for a Christmas craft project that use

Price $7.00

Original Price $11.00

Save $4.00

This creative crafts packet includes distance learning math and literacy resources that are excellent to use with preschool kids (and beyond) at home. Numbers, Alphabet, and other useful resources designed by a fully qualified Early Childhood Teacher.Resources for young bilingual students have also

Price $32.00

Original Price $52.00

Save $20.00
Description
Complete the Christmas characters using the templates and any craft materials that you already have in the classroom. The ideal low-prep Christmas art project.
*******************
SAVE MONEY with the Christmas Activity Bundle!
*******************
Santa Craftivity
Can you think of ways of making Santa Claus' beard and the fluffy ball at the top of his hat? The example above uses cotton balls. Other ideas could be: a mix of shaving foam and white glue, newspaper, or shredded paper.
Reindeer Craftivitiy
How can you make antlers for the reindeer? Try thin sticks, craft sticks, brown pipe cleaners, or just drawing them. If you choose to make a Rudolph craft what could you use to make Rudolph's red nose? In the example above the nose is made with a lid wrapped in red play-dough. Some ideas could be: red glitter, a big red button or jar lid.
Snowman Craftivity
How to build a Snowman? (or Snow-woman). For the buttons try pom-pons, finger prints, pennies or actual buttons (haha!). For the scarf and the line on the hat you could use: play-dough, pipe, cleaners, ribbons or scrap fabric. The Snowman's nose in the example is a craft stick.
_________________________________________
You might like: Cut and Paste Christmas Tree Craft Activity
_________________________________________
► HOW TO USE THIS RESOURCE:
Print the Christmas templates for Santa, Rudolph and Snow-person. Either have a few craft supplies ready for the children to use or let them go beyond using their creativity and thinking of ways to complete each character's picture. In the Reindeer craft example above I used coffee for the brown fur, because why not!
More ways to do these Christmas art projects:
Go natural: Go outside and find resources in nature that you can use for this activity. Sticks for the reindeer's antlers? YES!
Go green: Use only recycled trash to craft your Christmas characters. I reckon Mr. Snowman would fancy a really nice scarf made out of candy wrappers
Click here to Follow my TpT store and catch new products at a reduced price for the first 48H.

_________________________________________
You might like: Christmasy Greetings Choices Chart
_________________________________________
► CHRISTMAS CLASSROOM DECORATION TIPS
Display the student's projects as decorations for winter bulletin board
► Why is this resource useful?
Beyond helping your Christmas season art project planning, here are more reasons why this resource will bring you good value:
Ideas of Christmas activities that can be also a Christmas craft gift to make for parents. Just Cut and paste in a sheet of double letter size paper and use this crafts as the cover of a beautiful DIY Christmas card.
Use the Santa Claus Craftivity as a complement to a Santa-related story book like Goodnight Santa, Santa's Big Night, and Santa's Underwear.
Use the Snowman Craft project as a complement to a Snowmen related story book such as: The Snowman and The Snowdog, The Biggest Snowman Ever, and The Sneezy Snowman.
Use the Christmas Reindeer project as a complement to a Rudolph or other Reindeer related story book such as: Rudolph the Red Nosed Reindeer, The Wild Christmas Reindeer, and Eight Jolly Reindeer.
Use as one of your Christmas writing activities so the students can write a letter to Santa Claus on a beautiful design with Santa's face!
Christmasy holiday craft that works well as a simple early finishers activity.
Good for planning preschool activities winter season.
Great for a quick low-prep Christmas project that doesn't require much material or time to get done.
Writing Christmas as Holiday cards to work on writing skills.
Add to your bank of Christmas resources for low-prep time-fillers.
A Christmas craft kindergarten, preschool and Prek students can use to practice fine motor skills activities.
Paper crafts for the art center that can be made with simple materials.
Good addition to your collection of winter holiday activities.
One of the winter crafts kindergarten can do before going on Holiday.
Toddler activities that work well in multi-generational classrooms since the crafts can be as simple or complicated as each student wants.
Christmas reindeer craft, santa claus crafts and snowman activities can be included in the planning for holiday preschool activities and winter holiday activities.
_______________________________
► Other teachers are also loving:
_______________________________
► WHAT'S INCLUDED
The download includes a .ZIP file with PDFs in high resolution (USA Letter size) with the following:
1 incomplete illustration of Santa Claus
1 incomplete illustration of Rudolph (or any other reindeer, really!)
1 incomplete illustration of a Snowman (or Snow-woman)
Instructions and photos of finished examples
* Please see the preview file before purchasing.
_______________________________
► Earn TPT credit to use on future purchases:
Go to your My Purchases page on your TpT profile.
Select 'Provide Feedback'.
Leave an honest rating with a short comment for this product.
That's it! have fun spending your TpT credit :)
Click here to Follow my TpT store and catch new products at a reduced price for the first 48H.
Report this resource to TPT