Christmas Creative Writing Assignment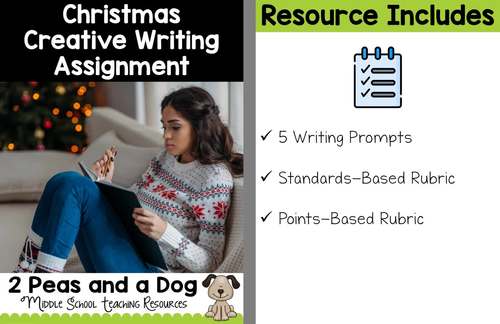 ;
Also included in
Creative Writing Bundle | PDF and Digital Formats: This no-prep - just photocopy and teach, full-year creative writing bundle will keep your students engaged in their writing. This bundle provides holiday writing prompts (Halloween, Christmas, Valentine's Day, Easter) as well as seasonal writing pro

Price $19.99

Original Price $27.00

Save $7.01

Teachers do not spend your weeknights and weekends planning out your Grade 7 English Language Arts program. Use this all in one Grade 7 Full Year Middle School English Language Arts Lesson Bundle as your ready-to-go ELA program. The bundle contains 90+ resources for teaching Reading, Writing, Speaki

Price $269.99

Original Price $337.08

Save $67.09

Teachers do not spend your weeknights and weekends planning out your Grade 8 English Language Arts program. Use this all in one Grade 8 Full Year Middle School English Language Arts Lesson Bundle as your ready-to-go ELA program. The bundle contains 90+ resources for teaching Reading, Writing, Speaki

Price $279.87

Original Price $349.84

Save $69.97
Description
Christmas Creative Writing | PDF and Digital Versions: Use this Christmas creative writing choice board assignment, to combine covering the writing curriculum and enjoy the holiday season with your classes. Students will select the role of one character: Santa's Elf, Christmas Turkey, Gingerbread man, Christmas Tree or Museum Curator and create a written product (brochure, postcards, infographic, etc) based on the character's specific writing prompt. Students select from 1 of the 5 different writing options using the RAFT format (Role, Audience, Format, Topic).
This no-prep - just photocopy creative writing assignment gets students excited and engaged during Writer's Workshop or any ELA writing lesson.
This resource contains individual PDFs of student pages to assist with online learning e.g., Google Classroom and Google Slides format.
Included in this package:
Detailed Teacher Instructions
1 Christmas Creative Writing Assignment
1 Standards-Based Grading Rubric (Level 1 - Level 4)
1 Points Based Grading Rubric (Provides a final percentage mark)
Google Classroom ready PDFs
Google Slides format
Teacher Feedback
"My students had fun choosing and completing one of these writing options. It was a great way to keep them writing right before the break."
"These fun prompts are a great way to keep students writing during the busy time before Christmas!"
"I really enjoyed this activity. It is fun, well prepared and easy to assess. My 7/8 class found it a lot of fun."
Want To Learn More About RAFT Format?
Engaging Christmas Resources and Assignments
Report this resource to TPT
Standards
to see state-specific standards (only available in the US).
Write narratives to develop real or imagined experiences or events using effective technique, relevant descriptive details, and well-structured event sequences.
Produce clear and coherent writing in which the development, organization, and style are appropriate to task, purpose, and audience.
With some guidance and support from peers and adults, develop and strengthen writing as needed by planning, revising, editing, rewriting, or trying a new approach.
Use technology, including the Internet, to produce and publish writing as well as to interact and collaborate with others; demonstrate sufficient command of keyboarding skills to type a minimum of three pages in a single sitting.
Write routinely over extended time frames (time for research, reflection, and revision) and shorter time frames (a single sitting or a day or two) for a range of discipline-specific tasks, purposes, and audiences.