Christmas Elf: Christmas Craft Activities and Kinder Classroom Decor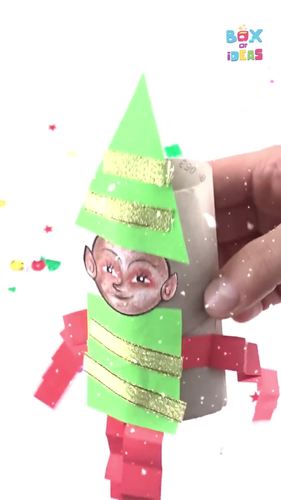 ;
Also included in
Save money this winter and sort your Christmas theme planning with these fun resources:______________________You might like for Distance Learning: Christmas Zoom Scavenger Hunt______________________► Christmas Elf on the Classroom Craft:Christmas elf craft idea for a Christmas craft project that use

Price $7.00

Original Price $11.00

Save $4.00
Description
Christmas elf craft idea for a Christmas craft project that uses geometric shapes as the main parts of a Christmas elf craft activity.
*******************
SAVE MONEY with the Christmas Activity Bundle!
*******************

You might like:  Cut and Paste Christmas Card Craft to Make for Parents
For Distance Learning: Christmas Zoom Scavenger Hunt
_________________________________________
This holiday elf is the best Christmas craftivity that will get an elf in your classroom who will help you keep eyes on kind children at the same time that they serve their main duty as funny Christmas classroom decorations.
When you don't need them to pose beautifully in your classroom you can let the children take them home so they can give them to their family as a Christmas craft gift made by themselves. I'm sure parents will appreciate the thoughtful Christmas DIY ornament.
Christmas arts and crafts are a must in Prek, Preschool and Kindergarten for us teachers that are asked to find a good Christmas craft to make for parents. So why not do this cut and paste craft to keep things simple and engaging at the same time that the students practice a few geometry concepts without realizing it (muahaha).
_________________________________________
You might like: Cut and Paste Christmas Tree Craft Activity
_________________________________________
► HOW TO MAKE BEAUTIFUL KINDNESS ELVES
Color Elf's head as you want.
Cut out one green triangle for Elf's hat, and one green square or rectangle for the body. You can use the provided templates for the 2D shapes or just cut the shapes any size you want, It doesn't matter how big or small, that is up to you. Elf trusts you.
Use the provided templates or cut out four strips of red paper about as thick as your finger and as long as you want them to be. They are the legs and arms of Elf.
Fold Elf's arms and legs in a zig-zag fashion until they look like little accordions and then let go. It feels so nice to let go.
Glue one end of those zig-zaggy arms and legs to Elf's body, and then glue the body to the cardboard roll. Make sure Elf's square is at the same level of the edge of the cardboard roll. So Elf can sit. Thanks.
Personalize Elf's looks however you please. Then place them!
_________________________________________
You might like: Christmas Craftivities: Santa craft, Reindeer craft and Snowman craft
_________________________________________
► CHRISTMAS CLASSROOM DECORATION TIPS
Cut out photos of your students and place them on their elves in random places around your classroom for a fun xmas decoration look!
Make an original Christmas Bulletin Board by making these elves with the photos of the students and stapling them directly on the wall display, instead of using a toilet tube paper roll.
Click here to Follow my TpT store and catch new products at a reduced price for the first 48H.
► How is this Christmas Elf project good for my educational-crafts-only classroom?
This Christmas activity for young children aims to encourage the use of mathematical concepts of shape, size and measure amongst the children, as well as providing an opportunity for a good fine motor skills workout with all that zig-zag folding going on.
This idea can be used to introduce the concept of geometric shapes to toddlers during this time of the year. Christmas Math with geometric shapes!
► Why is this resource useful?
Beyond helping your Christmas season art project planning, here are more reasons why this resource will bring you good value:
Ideas of christmas activities that pair well with the books "That's not my Elf", "the Littlest Elf", "Five Busy Elves" and "Mr. Getaway and The Christmas Elves".
If you do recycling activities around Christmas time, you can recycle toilet rolls or paper towel tubes for this recycled Christmas craft.
Holiday craft that works well as a simple early finishers activity.
Good for planning preschool activities winter season.
Add to your bank of low-prep time-fillers.
Paper crafts for the art center that can be made using scrap paper.
Good addition to your collection of winter holiday activities.
The elf craft complements well a holidays around the world unit.
Toddler activities that work well in multi-generational classrooms.
Elf activities can be included in the planning for holiday preschool activities and winter holiday activities.
_______________________________
► Other teachers are also loving:
_______________________________
For the Early Years curriculum in the UK, it covers the area of expressive arts and design as each child will personalize their elf in their own unique way.
If you make the Elfs in groups, you can use them as Christmas decorations for a kindergarten classroom. "Look Ma', that's my Elf!"
Happy Elf crafting!
_______________________________
► WHAT'S INCLUDED
The download includes one PDF file in high resolution (Letter size) with the following:
1 page with 12 Elf heads (each head is about 4x4cm). 
1 page with 12 Elf's hats (triangles)
1 Page with 12 Elf's bodies (squares)
1 page with 8 Elf's legs (rectangles)
1 page with 8 Elf's arms (rectangles)
Instructions Page
* Please see the preview file before purchasing.
_______________________________
► Earn TPT credit to use on future purchases:
Go to your My Purchases page on your TpT profile.
Select 'Provide Feedback'.
Leave an honest rating with a short comment for this product.
That's it! have fun spending your TpT credit :)
Click here to Follow my TpT store and catch new products at a reduced price for the first 48H.
Report this resource to TPT