Christmas Holiday Activities Middle School ELA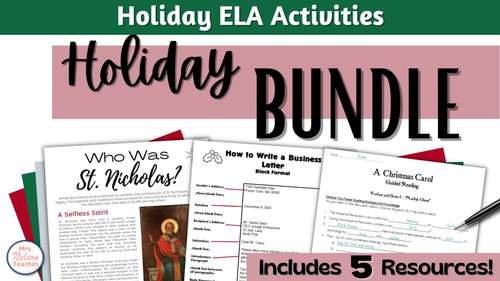 ;
Easel Activities Included
Some resources in this bundle include ready-to-use interactive activities that students can complete on any device. 
Easel by TPT is free to use!
Learn more
.
Products in this Bundle (5)
Description
Searching for Holiday Activities to use with Middle School Students prior to leaving for Winter Break? This Christmas Activity Bundle will keep your ELA classes engaged all through December! These resources include Holiday Writing Assignments, Informational Text Readings, Slides Presentations, Fun Activities, and more!
: (Find detailed descriptions of each below!)
A Christmas Carol Guided Reading Activities
How to Write a Business Letter (to Santa)
Celebrating Diversity: Christmas, Hanukah & Kwanzaa
"Twas the Night Before Christmas" Poetry Analysis Activity***
"Who Was St. Nicholas?" Informational Text and Activities***
***NEWLY ADDED!
This A Christmas Carol Unit Plan is a great way to keep your middle school students engaged in learning activities during the Holiday Season. This product is complete with before, during, and after reading activities for the classic holiday novel of A Christmas Carol by Charles Dickens. I have used this same unit for the novel and various play versions! It works well for both!
**UPDATE** Print AND Digital options are now available for traditional classroom settings AND for virtual distance learning!
Best of all, very little preparation is required! Simply print and Go! Keep your students learning AND make your own life a little easier during this busy season.
As a bonus, a highly visual Slides presentation is included to help students build their understanding of life in London in the 1800s and the events that inspired Charles Dickens to write the story. An excellent study of literature, aligned with Common Core, that will help maintain rigor and students' interest in the few weeks leading to the winter break.
What's Included:
General Teacher Guidelines and Instructions
Unit Overview
Six Individual Lesson Outlines with step-by-step instructions.
Guided Reading Packet with Before, During, and After Reading Activities.
Text v. Film Analysis Handout
Answer Keys!
Link to Slides Presentation "Building Background for A Christmas Carol"
Instructions for Accessing Presentation
Instructions for Saving Slides Presentation as PowerPoint Presentation
Topics / Skills Practice or Reviewed:
Building Background Knowledge
Making Connections
Comprehension Check Questions for each Stave of the novel,
Reading Strategy: Visualizing
Adjective Review
Compare / Contrast
Mood
Suspense
Flashback
Making Inferences
Drawing Conclusions
Theme Analysis
Reflection Questions
Wondering what to teach your students prior to Winter Break? Want a holiday activity that ties into the Language Arts curriculum? This Christmas writing activity is perfect for those last few days before the break!
Teach your students how to write a formal business letter with this product! A Slides Presentation contains detailed instruction on writing a business letter, as well as examples of the assignment they will be asked to complete. This is a fun Christmas activity that engages even the antsiest students during those long days just before the break!
What's Included:
General Teacher Guidelines and Instructions
Lesson Outline with step-by-step instructions.
Slides Presentation with detailed lesson on how to compose a business letter.
Student Handout with Instructions
Multiple Examples of Properly Formatted Business Letter
Grading Rubric
Instructions for Accessing Presentation
Instructions for Saving Slides Presentation as PowerPoint Presentation
This No-Prep, Print & Go Holiday Resource is the perfect way to engage your Middle School Students during the month of December! Students will learn about three cultures' winter celebrations--Christmas, Hanukkah & Kwanzaa--while practicing important ELA skills!
After reading three informational texts, students will compare and contrast the holidays and practice writing excellent paragraphs!
Included in this .pdf file are three informational articles discussing the history of Hanukkah, Kwanzaa and Christmas. Also included is a student graphic organizer on which students will keep track of differences and similarities among the three holidays. Students are also given the opportunity to practice their writing skills as they write two well-written paragraphs exploring the similarities and differences of the three holidays and reflecting upon respecting and appreciating various cultures.
What's Included:
General Teacher Guidelines and Instructions
Step-by-step Lesson Outline
Three Informational Articles: Christmas, Hanukkah & Kwanzaa
Student Compare / Contrast Graphic Organizer
Paragraph Writing Assignment
Grading Rubric
ELA Skills Practice or Reviewed:
Reading Informational Text
Compare / Contrast
Reading for Detail
Summarizing Key Points
Critical Thinking
Reflection Questions
Connect the Holidays with History with this Christmas Reading Activity for Middle School Students! Students will practice reading informational texts and making connections as they learn about the historical figure of Saint Nicholas! After students learn about St. Nicholas, they can complete a comprehension crossword puzzle and a fun word search! This resource is the perfect No-Prep way to keep students engaged leading up to Winter Break!
What's Included?
Two-page Informational Article about Saint Nicholas
Comprehension Crossword Puzzle
Saint Nicholas Christmas Word Search
Answer Keys!
Holiday Bonus: 10 Free Holiday Journal Writing Prompts
Searching for a Fun Christmas Activity for your Middle School ELA Students? Ask your students to analyze Clement Clarke Moore's classic poem, "Twas the Night Before Christmas," and complete these fun activities.
"A Visit from St. Nicholas" (the original title) is the perfect piece of poetry to review figurative language and poetic devices with students (including metaphor, simile, alliteration, imagery, personification, and more!).
An Informational Article on the historical figure of St. Nicholas is included as well as over 20 Slides to help introduce students to the poem! In addition, multiple NO PREP student assignments are included to help keep your students engaged this holiday season!
What's Included?
Two-page Information Article about the historical figure of St. Nicholas
Introduction to "A Visit from St. Nicholas" Slides (over 20 Slides to build students' background information!)
"A Visit from St. Nicholas" by Clement Clark Moore PDF
"A Visit from St. Nicholas" Poetry Analysis Student Assignment
"A Visit from St. Nicholas" Imagery Analysis Creative Art Student Assignment
"A Visit from St. Nicholas" The Remix – The Poem in Modern-day Student Assignment
Answer Keys
Teacher Guidelines and Instructions
Additional Holiday Activity Previews!
ELA Topics Taught/Reviewed:
Informational Text Reading (Text Features)
Poetry Reading
Simile
Metaphor
Imagery
Personification
Alliteration
Rhyme Scheme
Theme
Setting
Creative Writing
Answer Key
Included with rubric
Teaching Duration
3 Weeks
Report this resource to TPT
Standards
to see state-specific standards (only available in the US).
Cite textual evidence to support analysis of what the text says explicitly as well as inferences drawn from the text.
Determine a theme or central idea of a text and how it is conveyed through particular details; provide a summary of the text distinct from personal opinions or judgments.
Describe how a particular story's or drama's plot unfolds in a series of episodes as well as how the characters respond or change as the plot moves toward a resolution.
Determine the meaning of words and phrases as they are used in a text, including figurative and connotative meanings; analyze the impact of a specific word choice on meaning and tone.
Analyze how a particular sentence, chapter, scene, or stanza fits into the overall structure of a text and contributes to the development of the theme, setting, or plot.