Christmas Hundreds Charts | MATH CENTERS | MATH REVIEW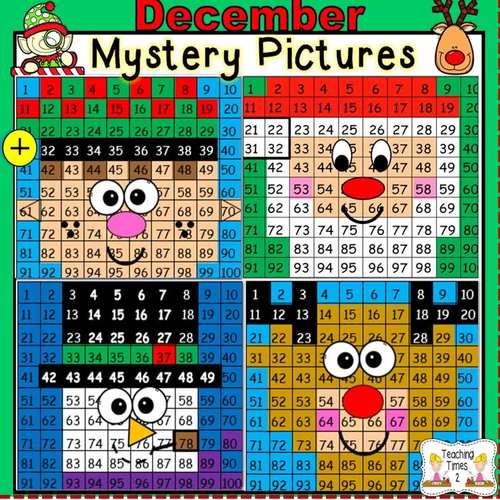 ;
What educators are saying
My students loved using these around the holidays! They were an engaging way for my students to use the 120 chart.
The students enjoyed doing this as a choice activity during the last week before break. They loved it!
Description
Students will have a jolly time coloring these hundred charts. A great option for your students as centers, early finishers, or even morning work to reinforce counting to 100. Unwrap these cute holiday activities!!!
❤ How are teachers using this product ❤
Math Centers
Early Finishers
Morning Work
Small Groups
Classroom Work Time
Take-Home Packets
Sub Plans
Special Events
and many, many more..................
⇨ Check out our post about this resource >HERE< for more info
Included in this packet:
Santa
Reindeer
Snowman
Elf
Fireplace with Stockings
Santa Head
>>> THIS PRODUCT IS INCLUDED in our ALL YEAR HOLIDAY MEGA BUNDLE
▼▼▼▼▼▼▼▼▼▼▼▼▼▼▼▼▼▼▼▼▼▼▼▼▼▼▼▼▼▼▼▼▼▼▼▼▼▼▼▼▼▼▼▼▼▼▼▼▼▼▼▼▼▼▼▼▼▼
☑ Check out ALL of our HUNDREDS CHARTS MYSTERY PICTURES - CLICK ON GREEN LINKS ☑
HOLIDAY-SEASONAL HUNDREDS CHARTS MYSTERY PICTURES
✪ ALL YEAR HOLIDAY MEGA BUNDLE ✪
CHARTS INCLUDED:
AUGUST- Schoolhouse/Bus/Owl with Pencil/Apple/Crayons/Glue & Pencil
SEPTEMBER- Fall Trees/Pumpkin/Squirrel/Scarecrow/Johnny Appleseed/Apple
OCTOBER- Frankenstein/Owl/Jack-O-Lantern/ Candy Corn/Witch/Bat
NOVEMBER- Turkey/Pilgrim Girl/Pilgrim Boy/Girl Turkey with Bow/Boy Turkey with Hat/Turkey Head with Hat/Ship/Small Turkey
DECEMBER- Santa Claus/Elf/Snowman/Reindeer/Santa Head/Fireplace with Stockings
JANUARY- Snowman/Winter Girl/Winter Boy/Snowman with Shovel/Penguin/Polar Bear
FEBRUARY- Heart/Girl Owl with Bow and Heart/Boy Owl with Heart/Groundhog/George Washington/Abraham Lincoln
MARCH- Pot of Gold/Rainbow/Clover/Leprechaun with Rainbow & Pot of Gold/Leprechaun Hat/Leprechaun
SPRING- Butterfly/Bee/Ladybug/Rainbow/Frog/Sun
APRIL- Girl Rabbit with Bow/Boy Rabbit with Bowtie/Rabbit/Basket of Eggs/Flowers/Easter Egg/Chick
MAY- Cinco De Mayo
Also Included.... Polar Express, New Year's Day, Earth Day
HUNDREDS CHARTS FUN MEGA BUNDLE- OVER 60 Charts
✪ MEGA FUN BUNDLE ✪
CHARTS INCLUDED:
LITERACY HUNDREDS CHARTS MYSTERY PICTURES
THERE WAS AN OLD LADY WHO SWALLOWED A ......
SOCIAL STUDIES HUNDREDS CHARTS MYSTERY PICTURES
▼▼▼▼▼▼▼▼▼▼▼▼▼▼▼▼▼▼▼▼▼▼▼▼▼▼▼▼▼▼▼▼▼▼▼▼▼▼▼▼▼▼▼▼▼▼▼▼▼▼▼▼▼▼▼▼▼▼▼
If you would like to get updates on NEW and CURRENT resources....
▶️SIGN UP to receive freebies!
▶️ FOLLOW US on TEACHERS PAY TEACHERS!
▶️ FOLLOW the TEACHING TIMES 2 BLOG!
Thanks and remember to keep learning FUN!! --Kristy & Misty ❤
▼▼▼▼▼▼▼▼▼▼▼▼▼▼▼▼▼▼▼▼▼▼▼▼▼▼▼▼▼▼▼▼▼▼▼▼▼▼▼▼▼▼▼▼▼▼▼▼▼▼▼▼▼▼▼▼▼▼
Copyright © Teaching Times 2
All rights reserved by author.
Permission to copy for single classroom use only.
Electronic distribution limited to single classroom use only.
If you have any questions about this resource, please contact us at teachingtimestwo@gmail.com
Report this resource to TPT
Standards
to see state-specific standards (only available in the US).
Count to 100 by ones and by tens.
Count forward beginning from a given number within the known sequence (instead of having to begin at 1).
Count to 120, starting at any number less than 120. In this range, read and write numerals and represent a number of objects with a written numeral.
100 can be thought of as a bundle of ten tens - called a "hundred."