Christmas Jingle, Jangle, Jolly Digital Breakout Escape Room (Google Sites) K-2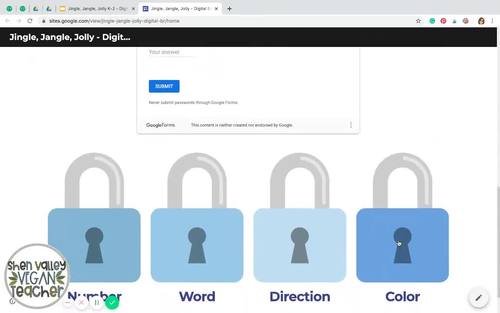 ;
PDF

Google Apps™
Includes Google Apps™
The Teacher-Author indicated this resource includes assets from Google Workspace (e.g. docs, slides, etc.).
Description
In this holiday digital breakout for grades K-2, Jolly is preparing for his jamming bash. Jolly the Jazzed Elf is super excited for the upcoming holiday season. He's preparing a jamming holiday bash for all of his friends. Let's make this the best bash yet! Help Jolly the Jazzed Elf prepare for the bash by solving each clue and breakout of all four locks before the bash begins. 
Included is an instructional video walking you through the digital breakout!!
This (Google Sites) digital activity is designed to be completed as a whole group (K-2) and as 2nd graders become more familiar with the process of "breaking out" they may work independently, with partners, or in small groups.
Questions before buying?
You can contact me through the Q/A section on TpT with any questions. You can also send me (Tonya Coffey) an email: ShenValleyVeganTeacher@gmail.com

Students will have the opportunity to practice:
Critical Thinking Skills
Collaboration
Communication
Problem-solving
Perseverance
(Time is totally up to you, it depends on how much support your class might need)
Want to learn more about Digital Breakouts, click HERE!
This Digital Breakout Includes:
A link to a Google Site (Check w/ your school district to ensure that you can access Google Sites)
Answer Key
Word Lock - Using the words in the box, students will unscramble each word and place a single letter into each cell for a clue.
Number Lock - Students will use the fill tool to count each present.
Direction Lock - Students will drag and drop Jolly's friend to the correct arrows until she gets to the house.
Color Lock - Students will use the secret decoder to determine Jolly's favorite colors.
Check out these additional Digital Breakouts (Grades 3-5) - ❤️You may also like❤️
Autumn Leaves are Falling Down
New School Year, No Prob-llama
Grades K-2 Digital Breakouts -
In This Class, We Stick Together
Cuddles Wishes for a Valentine
Technology Required
- Access to electronic devices
- All devices will need to have access to the internet
- Can be used through Google Classroom if available
- Must have access to Google Sites
- Must have access to Google Apps
******************************************************************************************************************************************************
CLICK HERE ☞ Follow My TpT Store
Click the ★ GREEN STAR ★ at the top of my store to follow me to receive 50% off all new products for the first 24 hours a new product is posted! Visit my store Shen Valley Vegan Teacher.
Let's Connect:
Follow me on Instagram
Follow me on Pinterest
Visit my Blog
Happy Teaching!
Tonya Coffey
© Tonya Coffey
All rights reserved by the author. Permission to copy/use for single classroom use only. Electronic distribution is limited to single classroom use only. Not for public display.
Teaching Duration
45 minutes
Report this resource to TPT