Christmas Math Activities | Printable and Digital Christmas Activities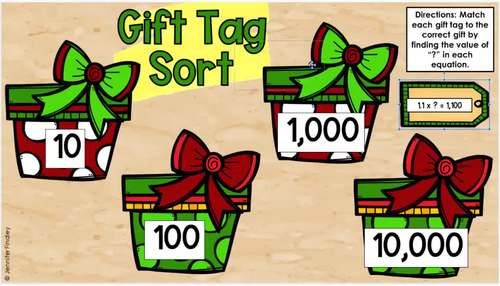 ;
PDF

Google Apps™
Includes Google Apps™
The Teacher-Author indicated this resource includes assets from Google Workspace (e.g. docs, slides, etc.).
What educators are saying
My 5th graders enjoyed these Christmas math activities. I used them during math rotations and they added just the right amount of "big kid" festivity during the month of December.
This is a great way to review and have a little fun before the holiday break. My kids enjoyed it. Thank you for the great resource!
Also included in
4th and 5th grade holiday and seasonal math centers and activities for the ENTIRE year!Note: The math activities and centers included in this resource are available in printable, color versions AND digital versions.About the Math Activities and CentersThis HUGE holiday math center bundle includes 18

Price $54.00

Original Price $99.50

Save $45.50
Description
Embrace your students' excitement and eagerness for the holiday season with engaging (and rigorous) Christmas math activities and centers. This set of 30+ math activities/math centers with Christmas themes and graphics is sure to put your students in the holiday spirit AND sharpen their math skills.
This resource contains 30+ Christmas math activities to review and practice various 5th grade math skills.
The Christmas math activities are now available in digital versions as well! See pages 5-20 of the PDF for the details and links.
Need 4th Grade Christmas Math Activities? Click here!
Each Christmas math activity comes with a teacher notes page, student directions, recording sheets, and answer keys (if applicable).
Download the preview to see all of the printable Christmas math activities that are included in this resource.
Here are the specific Christmas math activities included:
Gift Tag Sort - Powers of 10
Toy Shopping Place Value
Place Value Riddles
Decimal Cookies
Decimal Match-Up
Christmas Candy Comparisons
Holiday Lights
Holiday Cupcake Review
Ugly Sweater Operations
Stockings by the Fire
Help Santa Divide the Decimals
Dividing with Decimals
Shopping with Santa
Holiday Treat Shop
Word Problems: Christmas Shopping
Candy Cane Division
Interpreting Remainders
Elves Doing Division: Error Analysis
Dividing by 2-Digit Divisors
Division Word Problems: Sort & Solve
Word Problems: Christmas Party
Cupcake Computation
Gingerbread Order of Operations
Color by Operation
Candy Cane Order of Operations
Writing Numerical Expressions
Writing Algebraic Expressions
Matching Expressions
Christmas Fraction Problems
Holiday Bow Fraction Review
Holiday Lights: Equivalent Fractions
Least Common Denominator with Ornaments
Fraction Sort
Snow Globe Fractions
Polygon Wish List
Finding Volume of Christmas Presents
Christmas Coordinate Grid
Hot Cocoa Line Plot
Sharing Cookies - Fractions & Division
5th Grade Math Skills:
Multiplying and dividing with powers of 10
Understanding place value
Representing decimals
Comparing decimals
Rounding Decimals
Adding and Subtracting Decimals
Multiplying decimals
Dividing with decimals
Word problems with decimals
Division computation
Division word problems
Multiplication and division word problems
Multiplication and division computation
Order of operations
Expressions
4th Grade Review: Equivalent fractions, comparing fractions, decomposing fractions, representing fractions, fractions on a number line
Equivalent fractions
Finding least common denominators
Simplifying fractions
Adding and subtracting fractions
Classifying Polygons
Volume
Coordinate Grids
Line Plots
Fractions as Division
•The digital Christmas math activities are available for use with Google Slides. Click here for a step-by-step guide for assigning Google Slides in Google Classroom.
•Each digital math activity includes a direction page with an image of the center.
•Recording sheets are not included since the students do all of the work on the slides.
*The content for the digital math activities is the SAME as the printable math activities. It has been modified for optimal digital use and engagement.
•For answer keys, please refer to the printable activities.
Hope you and your students have fun with these engaging Christmas math activities!
1. These Christmas math centers can be used for early finishers during the month of December.
2. They can also take the place of your regular math centers during the week before Christmas break.
3. Another option is to have a Christmas math rotation where the students review previously learned skills using these Christmas math centers.
Christmas Reading Comprehension Resource - Print + Digital
Christmas & Winter Writing Prompts - Print + Digital
Christmas Just Print 5th Grade Math
Christmas Just Print 4th Grade Math
Gingerbread Math Activities for Decimals
Winter Just Print 5th Grade Math
Winter Just Print 4th Grade Math
Winter Reading Comprehension Resource - Print + Digital
Teaching Duration
1 month
Report this resource to TPT
Standards
to see state-specific standards (only available in the US).
Make a line plot to display a data set of measurements in fractions of a unit (1/2, 1/4, 1/8). Use operations on fractions for this grade to solve problems involving information presented in line plots. For example, given different measurements of liquid in identical beakers, find the amount of liquid each beaker would contain if the total amount in all the beakers were redistributed equally.
Relate volume to the operations of multiplication and addition and solve real world and mathematical problems involving volume.
Recognize that in a multi-digit number, a digit in one place represents 10 times as much as it represents in the place to its right and 1/10 of what it represents in the place to its left.
Explain patterns in the number of zeros of the product when multiplying a number by powers of 10, and explain patterns in the placement of the decimal point when a decimal is multiplied or divided by a power of 10. Use whole-number exponents to denote powers of 10.
Read, write, and compare decimals to thousandths.