Christmas Math Challenge Task Cards | Story Problems for 2nd or 3rd Grade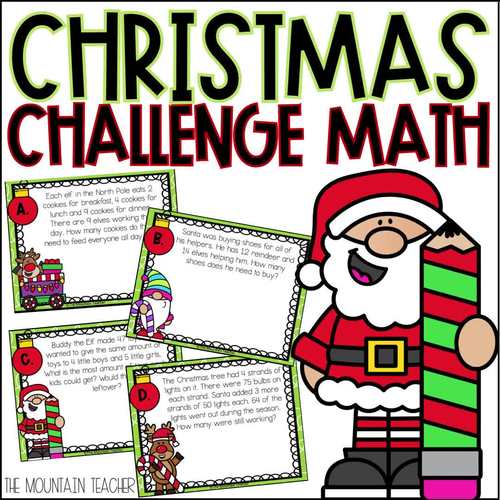 ;
PDF

Google Apps™
Includes Google Apps™
The Teacher-Author indicated this resource includes assets from Google Workspace (e.g. docs, slides, etc.).
Easel Activity Included
This resource includes a ready-to-use interactive activity students can complete on any device. 
Easel by TPT is free to use!
Learn more
.
Description
Looking for a fun Christmas math challenge for your 2nd, 3rd or 4th grade students? These 26 story problems are the perfect task cards for your students. Use these printable, Easel or Google Slides math task cards with your students for some no-prep math fun.
Skills Included in Christmas Math Challenge Task Cards:
Before using these Christmas math challenge task cards, students should be familiar with adding and subtracting multi-digit numbers. These task cards also introduce some multiplication/division skills, but can be figured out without direct instruction in those subjects.
What's Inside the Christmas Math Challenge Task Cards PDF:
26 Christmas Math Challenge Problems ON
Printable Task Cards
Google Slides Presentation (link on 3rd page of PDF)
Easel Activity
Also Includes:
Recording Sheet
Answer Key
Suggested Grade Levels (2nd-4th):
I use these Christmas math challenge problems to help push my advanced second graders into higher order problem solving thinking skills during math instruction. These also work well for third grade challenge problems, and could be an easier review for fourth graders.
Ideas for Use:
Some ideas to use this resource are as a scoot, as a Christmas math challenge problem of the day, by hiding them around your room and having students find them, or simply by using them on a binder ring as a task card set. Students are sure to rise to the challenge and it is a great way to promote critical thinking and problem solving skills either individually or as a group.
You can also connect with me for first access to my resources, giveaways and FREEBIES via: Email | Website | Instagram | Facebook | Teachers Pay Teachers
Enjoy! Don't forget to leave feedback on all paid purchases for future credit toward free resources.
Teaching Duration
1 month
Report this resource to TPT
Standards
to see state-specific standards (only available in the US).
Use addition and subtraction within 100 to solve one- and two-step word problems involving situations of adding to, taking from, putting together, taking apart, and comparing, with unknowns in all positions, e.g., by using drawings and equations with a symbol for the unknown number to represent the problem.
Use multiplication and division within 100 to solve word problems in situations involving equal groups, arrays, and measurement quantities, e.g., by using drawings and equations with a symbol for the unknown number to represent the problem.
Solve multistep word problems posed with whole numbers and having whole-number answers using the four operations, including problems in which remainders must be interpreted. Represent these problems using equations with a letter standing for the unknown quantity. Assess the reasonableness of answers using mental computation and estimation strategies including rounding.