Christmas Music Escape Room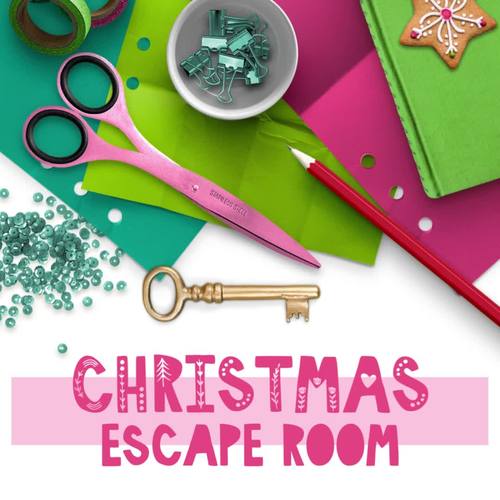 ;
What educators are saying
This was my first Escape Room experience. My classes loved it because they worked in groups and were super engaged.
I love this idea! I plan to use it next year when I can be back in my room and we can share supplies etc. Can't wait to use it!
Also included in
Are you looking for a fun and interactive way for your students to practice musical concepts throughout the year? This escape room bundle includes materials for escape rooms to practice rhythm, melody, and more! Students will work in small groups to solve puzzles, earn letters, and unscramble the le

Price $35.00

Original Price $48.00

Save $13.00
Description
Looking for a fun and engaging way to practice rhythm in your music room during the holiday season? This escape room set includes materials for an escape room to practice rhythm, and to practice knowledge of Christmas carols. Students will work in small groups to solve puzzles, earn letters, and unscramble the letters to form a musical word, then escape the room!
Save time and overwhelm by purchasing this set. Simply print the resources, gather materials, and get ready to have fun this October!
This set includes:
Task 1, Rhythm Code: Students code Christmas words to rhythms using a key, then open an envelope to get a clue to figure out their letter. Two versions are included: one for ta, ti-ti, and rest, and one for ta, ti-ti, rest, tika-tika, and tika-ti.
Task 2, Christmas Carol Quiz: Students either complete a quiz about Christmas carols with pencil and paper or through Google Forms on a Chromebook, computer, or iPad. If completing the paper, students check their answers with the teacher, then get the letter, and if completing the Google Form Quiz, students receive their letter when checking their answers.
Task 3, Rhythm Match Up: Students match the song titles to the first rhythm patterns of each Christmas carol, then open an envelope to get a clue to figure out their letter. Songs include Jolly Old St. Nicholas, We Wish You a Merry Christmas, The Christmas Song, Up on the Housetop, Carol of the Bells, and Jingle Bell Rock (note: notation is not included.)
Task 4, Rhythm dice: Students roll the rhythm die (template is included to print out onto cardstock, fold, and tape) then write the rhythms they roll, read their rhythms, then get an envelope with their letter. Suggestions are also included for playing dreidel at this center, if you're looking to include more than just Christmas into this activity.
Task 5, Puzzle: Students either put together a puzzle with cardstock pieces or through a website on a Chromebook, computer, or iPad. If completing the cardstock puzzle, students open an envelope for their clue, and if completing on a device, students go to another link to receive their letter.
The escape room set also includes:
Signs to post at each task
Link to video, which will set up the storyline about escaping the room.
Directions for the set, including how to set up the lesson, possible additional purchases, things to keep in mind, and more!
Editable files, including editable PowerPoints for escape room certificates, editing letters, typing directions, and more!
FREQUENTLY ASKED QUESTIONS
Question: What technology will students need to complete the escape room?
Answer: Students can do this escape room without any technology, but technology options are also included.
Question: How long does this escape room take to complete?
Answer: The escape room is set up to take 30 minutes or less, once students receive the directions, so it is ideal for a class that is 35 minutes or more.

Question: How much prep work does this escape room take?
Answer: Most of the prep work for this escape room includes copying onto paper or cardstock, putting some of the copies into envelopes, and setting up in your room. Once you've set it up once, you can keep the materials in a bin for your next escape room!
Question: Does this set require anything else to be purchased?
Answer: You can use this set without any additional purchases. I've included suggestions if using a number or letter lock with a lock box, but I've also included information about how to use the set without any locks or lock boxes.
READ REVIEWS FROM OTHER MUSIC EDUCATORS!
⭐️⭐️⭐️⭐️⭐️ "My students love everything to do with Escape the Room and this Christmas themed one was no exception. I left it for a relief teacher and they loved doing it with my class!"
⭐️⭐️⭐️⭐️⭐️ "My students absolutely love all of the escape rooms you come out with - thank you!"
Looking for more escape room sets that you can use any time of the year? Check out my escape room rhythm growing bundle!
Check out these Christmas/ winter holiday sets:
Visuals and Activities for the Nutcracker
Follow me for freebies and updates. Please email  me with any questions or concerns at mrsmiraclesmusicroom@gmail.com.
Copyright © Aileen Miracle/ Mrs. Miracle's Music Room.
Permission to copy for single classroom use only.
Please purchase additional licenses if you intend to share this product.
Teaching Duration
45 minutes
Report this resource to TPT