Christmas Reading Comprehension Passages - Digital Christmas Reading Activities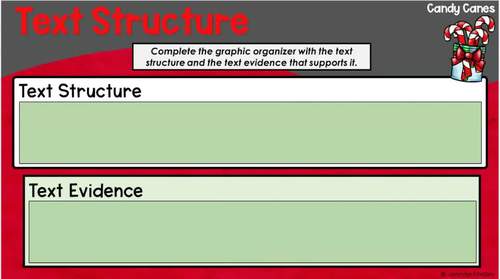 ;
PDF

Google Apps™
Includes Google Apps™
The Teacher-Author indicated this resource includes assets from Google Workspace (e.g. docs, slides, etc.).
What educators are saying
I love everything Jennifer Findley! So easy to use! Engaging stories and covers all reading standards!
Great resource, thank you for creating! I used this during RTI towards our holiday break to fill in some areas of need!
Also included in
Holiday Reading Comprehension Passages and Activities for the ENTIRE year! You and your students will love these printable + digital reading comprehension passages and activities with engaging holiday and seasonal themes.Note: All of the sets include digital Google Slides™ versions. The digital acce

Price $26.00

Original Price $43.50

Save $17.50
Description
Want to celebrate the holiday season this year and continue to teach/review the 4th and 5th grade reading skills? This Christmas Reading Comprehension Resource is for you!
Note: This resource now includes a digital version for use with Google Slides. To access the digital Christmas reading activities, see pages 4-5 of the PDF.
Click here to see the BUNDLE of all of my Seasonal Reading Comprehension Passages and Activities for 4th and 5th Grade
This reading comprehension resource contains TEN Christmas-themed reading texts:
4 fiction stories
4 informational texts
1 poem
1 play/drama
Each text contains 2-4 printables with reading comprehension questions, reading skill practice, or writing activities that are common core aligned and text dependent.
Choose to use all of the reading comprehension or skill printables or pick and choose the ones that best fit your needs.
Answer keys are included if they are appropriate to the printable.
Nonfiction Text 1: Candy Canes
Comprehension Questions
Using Context Clues
Text Structure
Nonfiction Text 2: Mistletoe
Comprehension Questions
Main Idea & Details
True or False? Sort
Nonfiction Text 3: Artificial Trees vs. Real Trees
Comprehension Questions
Text Structure
Pros and Cons Sort
Opinion Writing Prompt

Nonfiction Text 4: Christmas Celebrations in Other Countries
Comprehension Questions
Using Context Clues
Compare and Contrast Writing Prompt
Integrating Information
*****Christmas is a Christian holiday. This passage about how Christmas is celebrated may reference religious traditions and customs in those countries. Keep this in mind when determining if this resource is a good fit for your students. *****
Fiction Story 1: The Holiday Concert
Comprehension Questions
Using Context Clues
Theme
Narrative Point of View Writing Prompt
Fiction Story 2: The Night the Lights Went Out
Comprehension Questions
Figurative Language
Problem and Solution
Fiction Story 3: Standing Tall
Comprehension Questions
Theme
Supporting Inferences
Fiction Story 4: Not Just a Decoration
Comprehension Questions
Identifying the Narrator
Poem: Christmas Is Coming!
Comprehension Questions
Analyze the Speaker
Summarizing Stanzas
Play: Holiday Gift Exchange
Comprehension Questions
Theme
Problem and Solution

This Christmas reading resource is also included in a digital format for use with Google Slides.
The reading passages and activities are exactly the same as the printable version. However, they have been converted to an optimal digital format with text boxes.
Check out the preview video to see the digital Christmas reading activities.
More Christmas Math and Reading Activities
Christmas Just Print 5th Grade Math
Christmas Just Print 4th Grade Math
Christmas and Winter Paired Passages
Teaching Duration
1 month
Report this resource to TPT