Christmas STEM Challenge Activities and Winter STEM Challenge Activities Bundle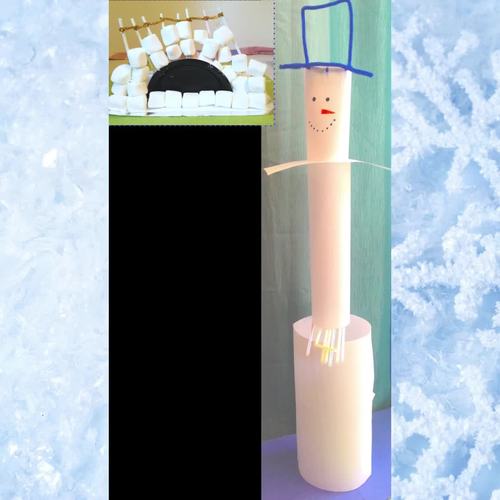 ;
Products in this Bundle (5)
Also included in
Super-charge your STEM class with 52 high-engagement, critical thinking, problem-solving, NGSS-aligned challenges to take you through the entire year! Modifications are included to make these activities engaging and challenging for students in grades 2 - 8. The basic premise: Students work in partne

Price $95.00

Original Price $186.36

Save $91.36
Description
Looking for fun Christmas or winter activities that incorporate science, technology, engineering, and/or math? Christmas-Winter STEM / STEAM Challenges sure to engage with brain-busting work disguised as fun!
Christmas and Winter STEM Challenge Activities Overview:
Students work in partners or groups against criteria & constraints lists to design and build Winter or Christmas-themed devices. Modification suggestions are included to make these challenges engaging and productive for students in grades 2 - 8. For the Christmas-themed challenges, recommendations are given to make it solely winter-themed.
This bundle includes five challenges at a great discount!
⭐ Christmas STEM Activity - Candy Cane Calamity
⭐ STEM Activity - Reindeer Relay
⭐ Christmas or Winter STEM Activity - Sleigh & Slope or Sled & Slope
⭐ Winter STEM Activity - Frozen Fortress
⭐ Winter STEM Activity - Snowman Stretch

~~~~~~~~~~~~~~~~~~~~~~~~~~~~~~~~~~~~~~~~~~~~~~~~~~~~~~~~~~~~~~~~~~~~~~~~~~
Note: This is the printable version. If you are in a 1:1 / paperless classroom, you will want to check out the digital option for use with GOOGLE SLIDES™.
Materials you'll need to do the activity are easily modified. Materials lists can be found in the product descriptions for each individual challenge linked above or by clicking through on its page in the downloadable preview.
~~~~~~~~~~~~~~~~~~~~~~~~~~~~~~~~~~~~~~~~~~~~~~~~~~~~~~~~~~~~~~~~~~~~~~~~~
Resource includes:
Overall STEM Tips
Suggestions on timing and whether or not to treat these challenges as competitions
What to say (and what not to say) during STEM Challenges
5-event Data Tracker handout
Plus, each challenge comes with:
NGSS aligned standards, Grades 2 – 8
Teacher Tips
Links to STEM Challenge How-to Videos
Links to individual challenge walk-throughs
Materials and timing
Criteria & Constraints (including modifications to increase difficulty for older students)
Measuring results
Post-design extension activities list
Universal STEM Challenge Tips/how to use the handouts
Student Handouts
Criteria and Constraints list (in color and B&W)
Results and Design Analysis (in color and B&W)
Discussion Questions (in color and B&W)
Extension templates
Process Flow Map
Math Extension
Plus, other design-specific handouts (see each individual challenge resource description page for more details)
~~~~~~~~~~~~~~~~~~~~~~~~~~~~~~~~~~~~~~~~~~~~~~~~~~~~~~~~~~~~~~~~~~~~~~~~~~
The preview shows an overview of what is included in each challenge. You can find more details by clicking anywhere on the individual challenges pages. Please don't hesitate to contact me with any questions!
~~~~~~~~~~~~~~~~~~~~~~~~~~~~~~~~~~~~~~~~~~~~~~~~~~~~~~~~~~~~~~~~~~~~~~~~~~
What are teachers saying about this bundle?
"My students loved these challenges and I loved that they were so engaged in learning and problem solving at what is typically a very distracting time of the year.
Thank you!"
"This was well worth the money and can be adapted to so many different grade levels. Two of the activities were a big hit at my school's Grandparents and Special Friend's Day. Snowman Stretch and the Sled challenge were embraced by all. Interestingly, it was the adults who had a hard time staying within the rules."
"One of the best purchases I made!"
"Fun activities that can be easily adapted to multiple grade levels."
"My student[s] love your stem units. I have your collection"
"LOVED, LOVED, LOVED this!! So much fun and was perfectly laid out. My 6th-8th graders had a blast!"
"So great! Saving the snowman until January! Love watching the kids think, try, and then rethink, retry!"
"Thorough and engaging resource!"
"Wonderful activities. Love the extensions. Well worth the money."
"Loved this!! As did my 5th graders. I used the candy cane challenge on the last day before Christmas break. It was a major hit!"
"Love the thought process behind these. Can't wait to use them with my students! Thank you for your hard work!"
~~~~~~~~~~~~~~~~~~~~~~~~~~~~~~~~~~~~~~~~~~~~~~~~~~~~~~~~~~~~~~~~~~~~~~~~~~
NOTE: You can save even more by purchasing this bundle as part of the STEM CHALLENGE YEAR-ROUND MEGA-BUNDLE!!!
~~~~~~~~~~~~~~~~~~~~~~~~~~~~~~~~~~~~~~~~~~~~~~~~~~~~~~~~~~~~~~~~~~~~~~~~~~
You might also like these resources:
STEM CHALLENGE YEAR-ROUND MEGA-BUNDLE
Getting Started with STEM Challenges FREEBIE
Halloween STEM Design Challenge 5-in-1 Bundle
Valentine's Day 5-in-1 STEM Challenge Bundle (2nd – 8th)
Thanksgiving 5-in-1 STEM Challenge Bundle (2nd – 8th)
Report this resource to TPT
Standards
to see state-specific standards (only available in the US).
Develop a simple sketch, drawing, or physical model to illustrate how the shape of an object helps it function as needed to solve a given problem.
Analyze data from tests of two objects designed to solve the same problem to compare the strengths and weaknesses of how each performs.
Evaluate competing design solutions using a systematic process to determine how well they meet the criteria and constraints of the problem.
Ask questions, make observations, and gather information about a situation people want to change to define a simple problem that can be solved through the development of a new or improved object or tool.
Plan and carry out fair tests in which variables are controlled and failure points are considered to identify aspects of a model or prototype that can be improved.