Christmas Scavenger Hunt Game - Fun December Activities PreK, Preschool, Kinder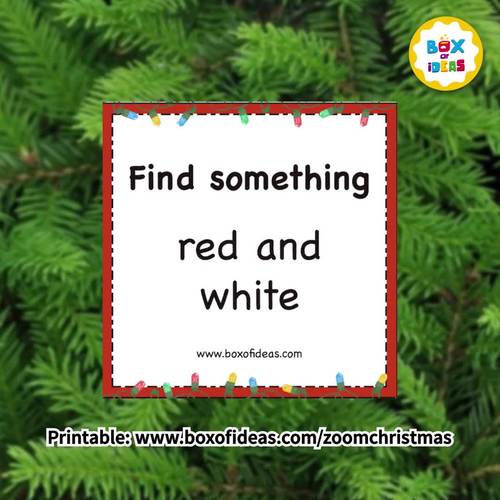 ;
What educators are saying
This was s super fun way to spend a day in virtual learning. But I will use it EVERY year. It's just fun!!!!!!!!!!!
Description
Use this fun Christmas virtual Scavenger Hunt game as one of your Christmas distance learning activities and get the kids moving and having fun while they practice basic early literacy.
This fun Christmas game can also be played by families at home. Who doesn't love a Christmas treasure hunt? 
_________________
You might also like: Christmas Craftivities Pack
_________________
► Why is this resource useful?
No prep virtual Christmas activities
Proven and successful Distance learning games for zoom
Works as a virtual activity (Christmas internet scavenger hunt) but also as a Christmas activity that parents can do at home with their kids.
Fun Christmas game - keeps kids engaged
Include in your December and Winter virtual activities
Use as one of your virtual morning meeting activities
Create your own Christmas scavenger hunt clues or winter scavenger hunt prompts with the blank template provided.
As well as the printables, an MP4 video is provided that shuffles through prompts so no prep necessary (not even printing!)
Christmas treasure hunt makes a great Christmas prek activity
Good Christmas reading activity for Early Years education.
Add to your collection of preschool zoom games
► How are virtual scavenger hunts educational for Preschool and Kindergarten?
Use this printable scavenger hunt at home and link the activity to different areas of the curriculum (it is also fun for elementary students and it can be adapted), more specifically:
Numeracy / Literacy / Maths: The interactive way of "picking" a card lets the child practice: numeral recognition, colors, letters, or positions, depending on the logistics decided by the teacher.
Behavior Management: The students practice taking turns being the person in charge of "picking" a card.
Speaking and self-confidence: The children practice speaking in front of a group when they are the only person unmuted and can share their found item with the rest of the students.
Understanding and attention: With support from their grown-up, the children need to understand the instructions of the card each round in order to be able to find a suitable item.
Physical Development: The children need to be moving around the house (safely) in order to find the objects each round.
Technology: The students use an internet connection and a device (laptop, desktop, phone, tablet) in order to do the activity.
► How to play this scavenger hunt distance learning game with video:
Share your screen with the group and let one student shout "stop" when they want you to pause the video.
► Alternative way using printed cards:
Cut out the squares on the printable and place a selection of cards facing down on a surface that can be seen by the students. You can put them on a table and tilt down your camera or you can use a blue tac to place them on a board or a notebook.
One student "picks a card" and when you turn it, read it out loud and everyone has to go and find the item specified on the card. Since the cards are "open" this gives the students an opportunity to use reasoning to come up with answers that would justify why their item is valid.
Once everyone is back with their item, or an agreed time limit passes, (that's up to the teacher), 2 or 3 students share the item that they found and if it is not clear why they chose that specific thing, this is where they have an opportunity to share their logic.
You can extend this activity for as many rounds as you need. The printable provides you with 27  "find it" prompts, but it is easy to come up with more on the spot if you need them (TIP: think of colors, objects that start with a specific letter or that have a specific shape/texture, etc.)
A blank file is provided if you want to create your own prompts. 
Good tip: Mute everyone between rounds and just unmute the student who's turn is to pick a letter or to share their found item with the group.
It could also be fun if the teacher joins some rounds and tries to find things in their own home but "struggles" and finds the wrong item from time to time so the children can call them out.
_______________________________
You might like: Cut and Paste Christmas Card
_______________________________
► Ways the students can "pick a card" virtually
Choosing a number
Make number cards (or use these animals 1 to 10 printable numbers). This is great for practicing numeral recognition in preschool.
For older students, you can place the cards in a row and let them choose the card by naming the numerical position that they want (first, second, third, etc).
Choosing a letter
Make letter cards (or use these vowels flashcards printable). This is great for practicing letter recognition.
Choosing a color
Cut out pieces of construction paper of different colors. Or fold-back one side of the card, using the cards in the color version of the printable, which have colored borders (download at the bottom of this page). This is great for playing the game with toddlers or younger preschool students.
Choosing a shape
Cut out pieces of paper of different shapes. you can mix shapes and colors so you have a wider variety of choices. This is also great for playing the game with toddlers or younger preschool students.
Choosing a position
Place an object of focus in the middle and arrange the cards on top, under, and next to the main object of focus. It can be as simple as a smiley face drawing. You can even make the object of focus a box or a jar, and place one card inside of it to give the kids another positional option.
You can also do a mix of some or all of the ways described above to cover a wider topic of Maths and Literacy.
Choosing a toy or a cartoon character
If you are not having much success engaging the children into participating and choosing a card, you can assign a toy or a random object to each card. If you don't have toys at hand you can always print pictures of cartoon characters that you already know that your kids love. There is nothing wrong with using that knowledge to engage them in the activity.
Horizontal VS Vertical surfaces
If you are placing the cards on a horizontal surface, you can place the prompts of your choice on top of the cards that you want to use for that round, so the children have to call out the number that they wish to "pick".
If you are using a vertical surface (board, notebook, wall, etc.), use blue tac to place the cards in a row, and either write the prompt (number, letter, color, shape) directly on the surface that you are using or place the prompt on top or under the cards available for that round.
► What's included:
* MP4 VIDEO in HD of the animated "find it" cards
* PDF with 4 pages in color (27 different "find it" cards and 9 blank cards to write your own prompts)
* PDF with 4 pages in black and white (27 different "find it" cards and 9 blank cards to write your own prompts)
* Instructions and ways to play the zoom activities
_______________________________
► Other teachers are also loving:
_______________________________
► Earn TPT credit to use on future purchases:
Go to your My Purchases page on your TpT profile.
Select 'Provide Feedback'.
Leave an honest rating with a short comment for this product.
That's it! have fun spending your TpT credit :)
Click here to Follow my TpT store and catch new products at a reduced price for the first 48H.
Report this resource to TPT