Christmas in Italy The Legend of Old Befana - Printable & Google Slides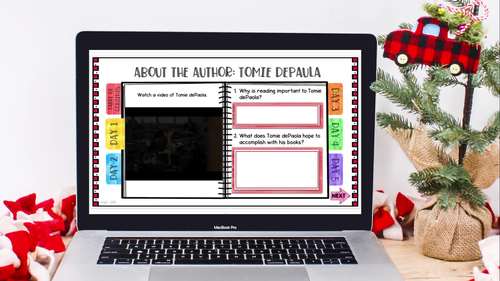 ;
Zip

Google Apps™
Includes Google Apps™
The Teacher-Author indicated this resource includes assets from Google Workspace (e.g. docs, slides, etc.).
Description
⭐Students explore Christmas in Italy with this printable & digital resource. Students use the picture book The Legend of Old Befana by Tomie DePaola as a mentor text to explore the Italian folktale of Befana and learn about Christmas in Italy.
⭐This cross curricular unit includes five days of reading, writing, and social studies activities. It is available in both print and digital Google Slides, so it is perfect for classroom and distance learning.
✏️ Integrated Teaching Tools - This resource includes teacher read-aloud questions, a five-day lesson plan with teacher instructions and a general pedagogy summary.
✏️ Cross Curricular Student Engagement - Student questions and prompts focus on reading comprehension, response writing, and more.
✏️ Promotes Awareness & Critical Thinking - Questions, prompts, and activities promote awareness and cultural understanding. Students complete activities like compare/contrast and opinion writing to help develop critical thinking skills.
✏️ Dynamic & Immersive - This resource contains links to read alouds, stories, interviews, maps, and others, as well as engaging and educational activities to immerse students into the topic.
✏️ Digital & Printable Versions - Printable & Google Slides versions make this resource flexible for in-person and/or distance learning. Google slides functionality can be used in the classroom along with print resource.
✏️ Diversity & Culture - Integrated stories and mentor texts are selected to promote diversity and cultural awareness.
Day 1:
About the Author
Vocabulary
Map of Italy
Christmas in Italy Passage and Questions
Day 2:
Read Aloud Link: The Legend of Old Befana
Sticky Note Questions
Discussion Questions
Day 3:
Introduction to Folktales
La Befana (Different version)
Compare and Contrast Folktale Versions
Day 4:
Reread The Legend of Old Befana.
Watch La Befana Epcot Video
Compare and Contrast Befana and Saint Nicholas
Coloring Topper
Day 5:
Watch Christmas in Italy Video
Video Response Questions
Befana Ornament Craft
For copyright information and a summary of how this resource can and cannot be used, please review the Terms of Use Page.
***************************************************************************
The Sandwich Swap Read Aloud Unit
Mentor Texts Standards-Based Units for 2nd & 3rd Grade
***************************************************************************
How to get TPT credit to use on future purchases:
Please go to your My Purchases page (you may need to login). Beside each purchase, you'll see a Provide Feedback button. Simply click it and you will be taken to a page where you can give a quick rating and leave a short comment for the product. Each time you give feedback, TPT gives you feedback credits that you use to lower the cost of your future purchases. I value your feedback greatly as it helps me determine which products are most valuable for your classroom so I can create more for you. ☺
Be the first to know about my new discounts, freebies, and product launches:
Look for the green star next to my store logo and click it to become a follower. Voila! You will now receive email updates about this store. ☺
Follow me on Facebook for updates on new products and sales
Join my email list by visiting my website and receive a free resource ☺
*****************************************************************************
Report this resource to TPT
Standards
to see state-specific standards (only available in the US).
Ask and answer such questions as who, what, where, when, why, and how to demonstrate understanding of key details in a text.
Recount stories, including fables and folktales from diverse cultures, and determine their central message, lesson, or moral.
By the end of the year, read and comprehend literature, including stories and poetry, in the grades 2–3 text complexity band proficiently, with scaffolding as needed at the high end of the range.
Ask and answer questions to demonstrate understanding of a text, referring explicitly to the text as the basis for the answers.
By the end of the year, read and comprehend literature, including stories, dramas, and poetry, at the high end of the grades 2–3 text complexity band independently and proficiently.