Chromosomes, Genes & Basic Genetics Foldable Notes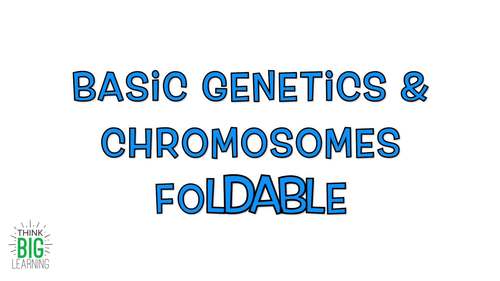 ;
What educators are saying
I used this for a homeschool co-op class on High School Genetics. It was perfect. I used it briefly over 3 different class periods as part of our lesson each day.
My students used this resource quite a bit after completing it. I feel it really helped them understand terminology.
Also included in
Looking for ways to make genetics more accessible for your students? This genetics fill-in-the-blank foldable notes page, vocabulary activity, and game will not only help your students understand the basic terms, but will allow them to practice and reinforce conceptual understanding of chromosomes a

Price $8.00

Original Price $9.50

Save $1.50
Description
Want a student-friendly way to introduce chromosomes and genetics? This foldable contains rich visuals and fill-in-the-blank notes to help students understand concepts and key terms, such as genes, chromosomes, traits, genotype, phenotype, karyotypes, etc. Students distinguish between DNA, chromosomes, and genes and learn how our traits are controlled by pairs of genes on our chromosomes. In the more advanced version, students may dive deeper to recognize that genes carry instructions for making proteins, and it is these proteins that govern the traits/phenotype of individuals. This foldable is designed to give students the foundational knowledge to further explore basic Mendelian (single-locus) inheritance patterns.
What's Included in This Product
-2 different levels of Chromosomes, Genes, & Basic Genetics foldable
-Fill-in-the-blank notes with key
-Guided PowerPoint for fill-in-the-blank notes
-Instructional write-up
Standards
NGSS
Core Disciplinary Ideas
• LS3.A: Inheritance of Traits 
o Genes are located in the chromosomes of cells, with each chromosome pair containing two variants of each of many distinct genes. Each distinct gene chiefly controls the production of specific proteins, which in turn affects the traits of the individual. Changes (mutations) to genes can result in changes to proteins, which can affect the structures and functions of the organism and thereby change traits.
o Variations of inherited traits between parent and offspring arise from genetic differences that result from the subset of chromosomes (and therefore genes) inherited.
• LS3.B: Variation of Traits 
o In sexually reproducing organisms, each parent contributes half of the genes acquired (at random) by the offspring. Individuals have two of each chromosome and hence two alleles of each gene, one acquired from each parent. These versions may be identical or may differ from each other.
Crosscutting Concepts: Cause and effect, structure and function
Scientific and Engineering Practices: Developing and using models and constructing explanations (for science)
Science Texas Essential Knowledge and Skills (TEKS)
7.14A – TSIET define heredity as the passage of genetic instructions from one generation to the next generation.
7.14C – TSIET recognize that inherited traits of individuals are governed in the genetic material found in the genes within chromosomes in the nucleus. (Supporting Standard)
Biology 6A – TSIET identify components of DNA, and describe how information for specifying the traits of an organism is carried in the DNA;
Other Products You May Like
Connect with Think Big Learning
For how-to videos, freebies, and other great ideas:
Like us on Facebook
Follow us on Instagram
Pin with us on Pinterest
Check out our Think Big Learning TpT store
Click the "Follow Me" button next to our store logo/name to receive notification of new products we post as well as sales.
Terms of Use
By purchasing this file, you agree to the following terms. All rights reserved by author. This product is to be used by the original downloader only for personal or classroom use only. Copying for more than one teacher, classroom, department, school, or school system is prohibited. This product may not be distributed or displayed digitally for public view. All graphics and fonts are also protected by copyright from their original author/artist.
Keywords
chromosome, gene, genetics, trait, protein, allele, nucleus, homologous pair, Mendelian, homozygous, heterozygous
Teaching Duration
30 minutes
Report this resource to TPT
Standards
to see state-specific standards (only available in the US).
Ask questions to clarify relationships about the role of DNA and chromosomes in coding the instructions for characteristic traits passed from parents to offspring. Assessment does not include the phases of meiosis or the biochemical mechanism of specific steps in the process.
Develop and use a model to describe why structural changes to genes (mutations) located on chromosomes may affect proteins and may result in harmful, beneficial, or neutral effects to the structure and function of the organism. Emphasis is on conceptual understanding that changes in genetic material may result in making different proteins. Assessment does not include specific changes at the molecular level, mechanisms for protein synthesis, or specific types of mutations.