Citing Evidence WHO WOULD WIN? Nonfiction Response BUNDLE DISTANCE LEARNING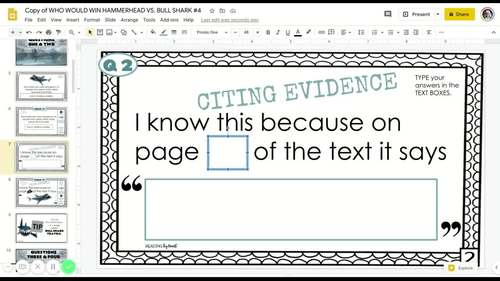 ;
Zip

Google Apps™
Includes Google Apps™
This bundle contains one or more resources with Google apps (e.g. docs, slides, etc.).
What educators are saying
My students love using these for our reading groups. It makes reading fun for them because they are reading high-interest books and learning about animals!
The resources and materials in this bundle were the perfect complement to my instruction and curriculum. Thank you for creating and sharing!
Products in this Bundle (24)
showing 1-5 of 24 products
Bonus
LINKS to GOOGLE SLIDES VERSIONS.
Description
Give your students practice locating information and citing evidence in their nonfiction reading. Your students will use text features to find the information they seek.
NOW INCLUDES GOOGLE SLIDES VERSIONS!
SELF-GUIDED WITH FULL-COLOR PHOTO ILLUSTRATIONS!
Great for at-home learning, small-group, literacy centers, or individual seatwork.
Provide accountability in your supported independent reading time! Students read independently, then respond to what they read. Each answer must be supported with a page number citation! You will know your students are reading.
As they read each text, they complete the reading response page. and the reading record sheet.
Answers can be self-checked using the answer keys, or you can check to see how they are doing.
Your students will love the chance to read these colorful, informative nonfiction texts.
Collect the entire series of 23! FIND THE BOOKS HERE.
PLEASE NOTE!! TEXTS REQUIRED!!.
For use with "WHO WOULD WIN?" series nonfiction readers by Jerry Pallotta/Scholastic. , which can be purchased through the author's website (https://jerrypallotta.com) or Scholastic.com.
Targeted for , these Nonfiction Readers and the Read-and-Respond/Citing Evidence pages can also be used with select groups of readers in .
The difficulty level of the questions and responses is . The majority are simple search-and-find . Most are restated using the exact same language as the text, with a few questions designed to stretch readers to the next level. When possible, questions are structured to encourage use of text features when locating information.
Featured skills include:
•Locating and citing evidence
•Using text features to locate information
•Reading Practice: Independent reading: informational texts
•Accountability: Independent reading: informational texts
•Building Background Knowledge: nonfiction: science, social studies
Included in 22-page PRINT FILE are:
LINKS TO 2 GOOGLE SLIDE FILES!! for EACH TITLE - 46 FILES TOTAL
2 one-page (front and back) response sheets
Each response sheet is one page containing 5 questions and 5 citations (10 answers total.)
The second response sheet for each book is offered as

extension
an individual or small-group reteach activity
for students who want to read the book twice and get credit for each reading
extra credit for those who enjoy reading nonfiction and citing evidence

2 one-page (front and back) answer keys
TIPS on how to locate information.
Reading record sheet to record the books read; box for student scores included.
Nonfiction Readers Info
Recommended Reading
Nonfiction Poster
6 "I CAN" Statements Strips
PLUS:
WHO WOULD WIN? Alligator vs. Python
WHO WOULD WIN? Falcon vs. Hawk
WHO WOULD WIN? Green Ants vs. Army Ants
WHO WOULD WIN? Hammerhead vs. Bull Shark
WHO WOULD WIN? Hornet vs. Wasp
WHO WOULD WIN? Hyena vs. Honey Badger
WHO WOULD WIN? Jaguar vs. Skunk
WHO WOULD WIN? Killer Whale vs. Great White Shark
WHO WOULD WIN? Komodo Dragon vs. King Cobra
WHO WOULD WIN? Lobster vs. Crab
WHO WOULD WIN? Polar Bear vs. Grizzly Bear
WHO WOULD WIN? Rattlesnake vs. Secretary Bird
WHO WOULD WIN? Rhino vs. Hippo
WHO WOULD WIN? Tarantula vs. Scorpion
WHO WOULD WIN? Triceratops vs. Spinosaurus
WHO WOULD WIN? Tyrannosaurus vs. Velociraptor
WHO WOULD WIN? Whale vs. Giant Squid
WHO WOULD WIN? Wolverine vs. Tasmanian Devil
WHO WOULD WIN? Ultimate Bug Rumble
WHO WOULD WIN? Ultimate Dinosaur Rumble
WHO WOULD WIN? Ultimate Jungle Rumble
WHO WOULD WIN? Ultimate Ocean Rumble
★Find this series at Scholastic.com and jerrypallotta.com
★Book Cover thumbnails used by permission of Scholastic, Inc. and author Jerry Pallotta.
Report this resource to TPT
Standards
to see state-specific standards (only available in the US).
Ask and answer questions to demonstrate understanding of a text, referring explicitly to the text as the basis for the answers.
Determine the main idea of a text; recount the key details and explain how they support the main idea.
Determine the meaning of general academic and domain-specific words and phrases in a text relevant to a grade 3 topic or subject area.
Use text features and search tools (e.g., key words, sidebars, hyperlinks) to locate information relevant to a given topic efficiently.
Use information gained from illustrations (e.g., maps, photographs) and the words in a text to demonstrate understanding of the text (e.g., where, when, why, and how key events occur).