Civil War Unit | 5th Grade - 8th Grade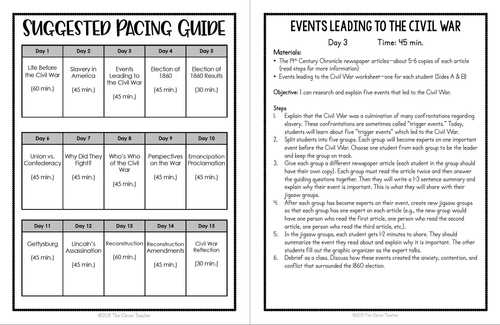 ;
Zip

Google Apps™
Includes Google Apps™
The Teacher-Author indicated this resource includes assets from Google Workspace (e.g. docs, slides, etc.).
What educators are saying
I bought this for my maternity leave teacher to use with the students. She loved it and had no complaints.
Money well spent, as with other resources I've purchased from this seller. Easy to use and just what I needed!
Description
This Civil War unit covers the causes, events, and effects of the American Civil War.
I've made these Civil War activities as easy as possible for busy teachers to implement. From thorough lesson plans to answer keys – it's all there. This unit will prepare you to teach about complex topics like slavery, The Emancipation Proclamation, Gettysburg, and Reconstruction. 
Even better, I've made it fun!  The 15 Civil War lessons are filled with engaging activities, and students will never do the same activity twice in a row. This unit will help your students fall in love with history.
---
Here's what's included:
Part 1: Before the Civil War
Life Before the Civil War—articles about life for various groups before the Civil War & worksheets
Slavery in America—PowerPoint presentation & K-L graphic organizer
Events Leading to the Civil War—newspaper articles, jigsaw activity and student worksheets
Election of 1860 —speeches, campaign posters & listening guide
Election of 1860 Results—article on electoral college, map, and worksheet
Part 2: Events of the War
Union vs. Confederacy—article on succession, infographic on Union and Confederacy, and student worksheet
Why Did They Fight?—page with quotes on why various people fought & analysis of two quotes
Who's Who of the Civil War—informative task cards on Civil War leaders and student recording sheet
Perspectives on the War—five primary sources (letters and diary entries) demonstrating different viewpoints on the war and group worksheet
Emancipation Proclamation—article on Emancipation Proclamation, comprehension check and creative writing
Gettysburg (Battle and Address)—article on Battle of Gettysburg, vocabulary list, and annotating worksheet for the Gettysburg Address
Part 3: Reconstruction
Lincoln's Assassination—newspaper article, article about Lincoln's assassination, comprehension questions, and creative "epitaph" writing activity
Reconstruction—article about Reconstruction Era, comprehension questions, and human timeline activity
Reconstruction Amendments—transcript and vocabulary for 13th, 14th, and 15th Amendments with student worksheet
Civil War Reflection—student reflection page and writing opportunity
Help for the Teacher
Table of Contents (also available in the preview)
Suggested pacing guide
15 detailed lesson plans
Answer keys (of course!)
Editable end-of-unit test and study guide
Easy printing file with all student worksheets and articles
---
This unit also includes DIGITAL ACCESS via Google Slides.*
I have created a Google Slides resource for each lesson. Each resource contains student instructions, student worksheets with editable text boxes, and articles/task cards if applicable.
Google Slides can be assigned by teachers via Google Classroom. I hope this update will help teachers who are implementing distance learning. 
---
Why I created this unit
1. I believe that social studies should be your students' favorite part of the day.
2. Teachers deserve excellent social studies resources (Can someone please tell our school districts?)
3. Planning complete units is tedious and time-consuming (um... I won't even tell you how many months it took me to create this). I want to save teachers precious time so that they can get back to what they love doing—teaching!
---
What people are saying about this unit
"In all my years of purchases from TpT I have never seen such a well thought out and thorough unit. You have literally thought of everything. I am seriously thankful to you for this unit!" —Alesha W.
"WOW WOW WOW! My students and I are loving this ! It is extremely engaging and a wonderful addition to my Civil War units. 100% user friendly- I especially like the pacing and objectives for each day. Thank you !" —Jodi F.
"An excellent resource for 8th grade. It is so well organized and planned. It is perfect. I really enjoyed teaching this and my 8th graders who are not so motivated these days really enjoyed it as well. That is a high compliment! Thanks so much." —Mary W.
"I've incorporated essentially all The Clever Teacher's units into my 5th grade social studies curriculum and they still continue to amaze me! The units are creative, well planned out, and engage my students - what more could you ask for?!" —Jenna B.
---
How can this unit be for grades 5th-8th?
The articles are written at a 7th-8th grade reading level. If you teach one of those grades, your students will be able to complete the activities more or less independently. If you teach 5th or 6th grade, I recommend reading and analyzing the articles with your students. They will do great! Check out the reviews to see how teachers at your grade level have successfully used and loved this unit.
Where can I find more history units?
I have already created units for the following topics:
---
Customer Tips:
For samples of what is included, download the preview file. I would love to answer any and all questions about this product. Ask a question by clicking on "Product Q & A"
All of my products are digital and non-refundable. This is a digital file. A physical product will not be shipped. Please make sure you have a way to open: a zip file, PDFs, PowerPoint presentations, and a word document before purchasing.
This product is not editable. The only part of the unit that is editable is the end-of-unit study guide and test. The other elements (like lesson plans, student worksheets, PowerPoint presentations, Google Slides, etc.) are not. The PDFs are password protected. This protects my work as well as the work of graphic and font artists I've purchased from. 
Teaching Duration
3 Weeks
Report this resource to TPT