Claim, Evidence, and Reasoning: Lesson for NGSS Lab Reports Distance Learning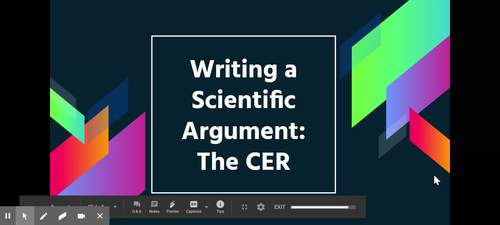 ;
What educators are saying
My students loved this assignment! We did this as a whole group discussion and it got the students talking and learning about claim, evidence, and reasoning.
Description
This is the perfect lesson for a first CER or to help struggling students master the art report writing. Scientific arguments from evidence support students in showing mastery of new NGSS standards.  Most students have never written a lab report that answers a guiding question.  You can use this lesson to guide  your students in crafting their first scientific argument from evidence.  Using the Claim, Evidence, and Reasoning style, students will engage with pop culture to write a CER report about the best song of 2017. This resource is recently updated to include an additional lesson with the best song of 2020!
Included in this lesson: 
Two interactive presentations of the Claim, Evidence, and Reasoning format (Best song of 2017 and best song of 2020)
Link to a google drive version and powerpoint version
Companion worksheets for each lesson.
This is part of my pop science line which also includes:
NGSS Science and Engineering Practices with Ramen Noodles
Teaching Duration
40 minutes
Report this resource to TPT