Classroom Daily Digital Visual Schedule First Then Board Google Classroom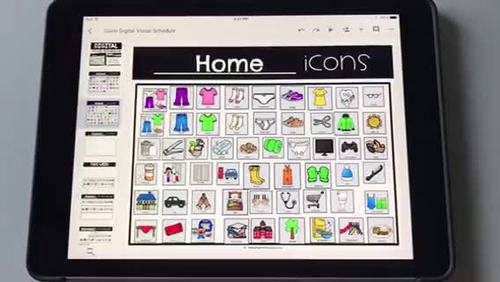 ;
Zip

Google Apps™

Internet Activities
Includes Google Apps™
The Teacher-Author indicated this resource includes assets from Google Workspace (e.g. docs, slides, etc.).
What educators are saying
Great distance learning tool and I plan to use in person this year! Great visuals for students who benefit from this level of support!
I love using this resource with my students in special education resource setting! It is perfect to help them reach their goals!
Also included in
Google Slides Digital Activities and Templates Bundle is discounted to help you save BIG. This set of digital and Google Classroom activities includes everything you need to run a smooth classroom, but with the added benefit of integrating technology to make routines, classroom management and studen

Price $116.44

Original Price $129.38

Save $12.94
Description
This Printable AND Digital Visual Schedule is perfect for any kid that will benefit from using a visual schedule. Decide which board you'll use (customized with their name, day, weekly, home/school, morning/afternoon/evening, first/then, first/next/then) and just drag and drop the visual icon cards right onto the board. If you choose to use the digital version, you have NO cutting, laminating, or losing pieces (where do they go? isn't that the worst?!)....and the best part? You can use this resource with multiple students!
Available in PDF (just print, laminate and add velcro dots to each visual cue card--available in small and larger display sizes), Powerpoint AND as an online digital option for Google Classrooms (this works on an iPad or iPhone!).
This resource includes the following visual icons:
Art
Assembly
Backpack
Bath
Bathroom
Bed
Books (book bins)
Boots
Break
Breakfast
Brush (tooth holding toothbrush)
Bus (school bus)
Car
Chair
Chores (trash bag and trash can)
Clean (bucket with cleaning supplies)
Comb
Computer
Counseling
Desk
Dessert
Dinner
Doctor
Dress
Drill
Eat
Errand
Field Trip
Folder
Fountain (drinking fountain)
Gas
Get dressed (boy and girl version)
Glasses
Gym
Haircut
Hand sanitizer
Hat (winter)
Home
Homework
Intervention
Jacket
Library
Life Skills
Line up
Lunch
Lunch tub
Math
Medicine
Milk
Mittens
Movie
Morning Meeting
Music
Nails (nail clippers)
Nurse
Occupational Therapy (tweezers)
Outside
Pants (blue and purple)
Physical therapy
Play
Playground
Practice (piano)
Pray
Pick up
Raise Hand
Reading
Reading Stations
Recess
Restaurant
Rug
School
Science
Shirt (green and pink)
Shoes (orange and purple)
Shopping
Show and tell
Shower
Sleepover
Small group
Snack
Snowpants
Social studies
Socks (yellow and pink)
Speaker
Speech
Story Time
Swimming
TV
Underwear (boy and girl versions)
Video games
Visit
Walk
Wake Up
Wash (hands washing)
Water (cup of water)
Water bottle
Writing
Writing Work
© Teaching in the Tongass
Google Drive™, Google Slides™, and Google Classroom™ are trademarks™ or registered® trademarks of their respective holders. Use of them does not imply any affiliation, sponsorship with or endorsement by them.
Digital Resources You Might Also Like:
⭐ Calendar Math Morning Meeting
⭐ Book Club Activities Literature Circles
⭐ Phonics Math Writing Pocket Chart BUNDLE
⭐ Stickers
Report this resource to TPT