Classroom Economy System- Reward Coupons & Class Cash | EDITABLE Coupons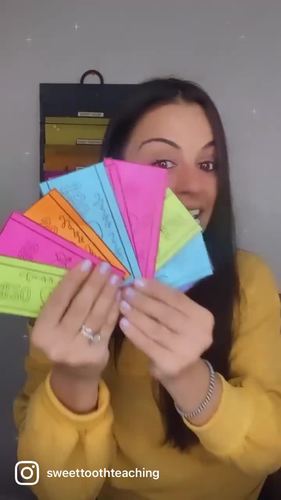 ;
Description
Looking for an exciting classroom management system that will also help your students prepare for the REAL WORLD? This classroom economy system is what I've been using since I started teaching and it is a serious GAME-CHANGER!
I designed this classroom economy reward system to be paired up with Class Dojo. However, it can also be used with a clip chart or any other type of classroom management tool. Students earn "Class Cash" for their Dojo Points. They are able to use the cash to purchase coupons from our Coupon Catalog.
The reward coupons in this system are WAY more economical for us teachers. When you use this system, there is no longer a need to refill a treasure box every week! I've also found that students tend to prefer the coupon incentives over a simple treasure box treat. Rewarding positive behavior with Class Cash and coupons leads to improved student behavior and a positive classroom environment.
✭Click HERE to read more about how I use this classroom money reward system in my classroom!
This is a ZIPPED file. Make sure you are able to unzip files prior to purchasing. Once you unzip, you will find the following inside:
PDF Class Coupons & Catalog Pages (B&W + Color)
PDF Class Cash Classroom Currency (B&W + Color)
PDF Catalog Pages with Prices (B&W + Color)
PDF Table of Contents with Prices (B&W + Color)
PPT EDITABLE Coupons- Create Your Own! (B&W + Color)
PPT EDITABLE Catalog Pages- Add Your Own Prices! (B&W + Color)
PPT EDITABLE Table of Contents with Prices- Add Your Own! (B&W + Color)
PPT EDITABLE Cash- Customize cash name & amount (B&W + Color)
ALL COUPONS & CLASSROOM CASH COME IN A COLORED AND BLACKLINE VERSION!
+ Stinky Feet - Take off your shoes
+ Teacher's Desk - Sit at the teacher's desk
+ Rock Out - Listen to music while you work
+ Tech Time - Extra computer time
+ Chill Out - Enjoy a book in the classroom library
+ Lunch Buddy - Eat lunch with a friend
+ Messenger for the Day - Deliver the class mail for the day
+ Line Leader - Lead the line for the day
+ Good Morning - Lead the morning meeting for the day
+ VIP Student - Sit at the VIP desk and use the VIP supplies
+ Show & Tell - Bring in something special to share with the class
+ Lunch with the Teacher - Enjoy lunch with the teacher
+ Furry Friend - Bring a stuffed animal to school
+ Hat Day - Wear a hat to school
+ Bubble Gum - Chew gum in class
+ Dance Party - Host a 5-minute classroom dance party
+ Buddy Time - Sit by a friend for the day
+ Treasure Box - Grab a treat from the treasure box
+ Wiggle Pass - Take a 5-minute walk around the school to release some wiggles
+ Homework Pass - No homework for one night
+ Fancy Pens - Use fancy pens to complete your classwork
+ Morning Break - Skip morning work for the day
+ Drawing Time - Draw for 10 minutes
+ Eraser Buddy- Pick a mini eraser
+ Teacher for the Day - Be the teacher for the day
+ Game Pass - Play a game with a friend
+ STEM Bins - Skip a classwork assignment and use the STEM bins to create something
+ Paper Passer - Pass out the papers for the day
+ Silly Socks - Wear silly socks to school
+ Assistant for the Day - Help the teacher for the day
+ Dojo Bonus - Earn 3 Dojo Points
+ Seat Swap - Choose your seat for the day
+ Snack Break - Eat a snack in class
+ Board Writer - Use a white board for the day
+ Your Choice - Choose the reward
+ Fun Facts - Research and share 10 fun facts with the class
+ Floor Work - Do your work on the floor
+ Extra Recess - Enjoy 10 minutes of extra recess
+ Half Homework - Complete only half of your homework
+ Center Captain - In charge of your center for the day
+ Laughing Time - Tell the class a joke
+ Poet for the Day- Write and read a poem to the class
+ Happy Notes - Positive note home
+ Pet Pal - Take care of the class pet for the day
+ Free Time - Enjoy 10 minutes of free time
+ Lucky Pencil - Choose a pencil to keep
+ Noodle it Out - Enjoy a 5-minute GoNoodle break
+ Lego Building - Take a break and play with the Lego bins
+ Class Mascot - Take the class mascot home for a day
-----------------------------------------------------------
WHAT TEACHERS ARE SAYING:
"I am in love with this system! It helps me to encourage my kinders in positive ways while saving me money, since the coupons don't require me to buy anything! I have had such a good response from my kids, I will be keeping this system for years to come." - Tara B. ⭐️ ⭐️⭐️⭐️⭐️⭐️
"This is the best classroom management system I have ever used. My kids love earning and buying items. I love that it doesn't take a lot of effort for me to use and the engagement from students is wonderful!" - Samantha F. ⭐️⭐️⭐️⭐️⭐️
-----------------------------------------------------------
RELATED TO THIS PRODUCT:
>> Are you interested in the Class Cash ONLY? Click here to purchase.
>> Interested in More Classroom Management Printables? Click here to check out my Editable Voice Level Posters!
-----------------------------------------------------------
This is a digital file in PDF format. You will need Adobe Acrobat to access the resource.
All editable files come in PowerPoint format. You will be able to change and customize text, but keep in mind that images and colors cannot be edited.
For technical issues such as downloading and opening files, please check out the Teachers Pay Teachers FAQ section.
If you have any other questions related to the resource, feel free to email me at SweetToothTeaching@gmail.com
-----------------------------------------------------------
Earning TPT Credits for Future Purchases:
After purchasing an item on TPT, go to the "My Purchases" page. Click the "Provide Feedback" button next to the item you have purchased. You will provide a quick rating and comment for the item. By providing feedback, you will gain TPT credits to use towards future purchases.
-----------------------------------------------------------
>>> Connect with Me! <<<
Classroom Management Tool | Class Cash | Classroom Economy | Student Leadership | Real World Math | Reward Coupons | Class Economy | Classroom Economy Reward System | Reward Money Printable
Report this resource to TPT