Classroom Reward Coupons & Group Incentives for Classroom Management - EDITABLE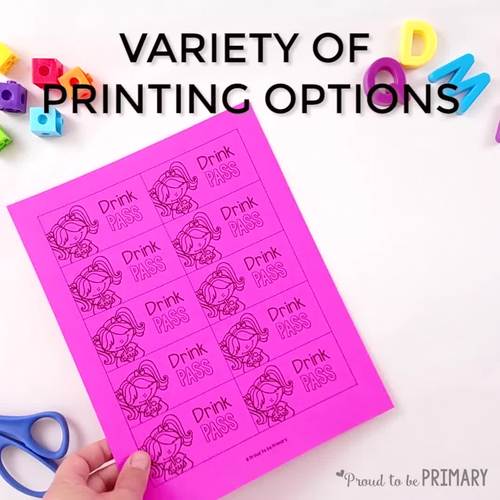 ;
What educators are saying
My students love these coupon incentives! They are the perfect reward for when my students earn enough Dojo points!
I love these coupons as a reward for students at no-cost to me and I love that they are earning an experience they can be excited about rather than a trinket.
Also included in
This Class Management Bundle includes 8 positive and useful classroom management tools that your class will respond to and enjoy using daily! Your class will love having and using these FUN class jobs, transitions, reward coupons, schedule cards, brain breaks, early finishers, student awards and cer

Price $29.50

Original Price $54.75

Save $25.25
Description
Give your students the rewards and incentives they want with these Editable Classroom Reward Coupons. Ditch the treasure box and save money incorporating these easy to use, versatile individual and group reward coupons into your classroom management routine.
This resource is a great way to use positive reinforcement in your classroom management system. It allows your students to pick and choose which rewards they would like individually or work together to earn as a group in the classroom.
The best part? This resource  as the coupons are ready to just print and go! Store them in your favorite drawer organizer or tackle box, and you're ready to implement them as your new form of positive reinforcement.
What you get in this *newly updated* 70 EDITABLE Reward Coupons resource:
62 coupons to use as individual rewards
8 coupons to use as group rewards
Bulletin board letters, posters, & header options for setting up your reward area.
NO-PREP Tear off coupons to hang on the wall
Both regular print and cursive options, as well as color and black & white pages
Full coupon sheets and mixed coupon sheets
ALL coupons are available in an EDITABLE PowerPoint! You can change the titles and descriptions of each reward to match the needs of your students and your classroom.
**Check out the PREVIEW for a thorough look into what this reward coupon resource includes!**
Why You Need this Reward Coupon Resource:
⭐This reward coupon resource has everything you'd need to offer fun and exciting rewards to your students.
⭐These reward coupons are a great way to encourage positive behavior in your classroom.
⭐This resource gives you everything you'd need to offer your students rewards as a classroom management tool.
⭐The coupons require minimal prep and can be printed and handed out immediately.
⭐There is an option to use coupons individually or as group rewards if you'd like.
⭐There are tear-off coupons included for a fun alternative way to use classroom coupons.
⭐Use the included posters & headers to set up a special reward area.
Take a look at the 70 EDITABLE Classroom Coupons Included:
drink pass
weather reporter
extra books
pet helper
sweet treat
wear shades
special supplies
wear a costume
cuddly friend
tell a joke
sit with a friend
extra recess
work on the floor
computer time
extra tech time
teacher helper
share a book
teacher helper
line leader
lunch with a friend
snack time
seat switch
super surprise
play outside
choose a book
gym coach
wear a hat
lose the shoes
show and tell
share a talent
no homework
special spot
class electrician
lunch helper
class leader
special reward
carpet helper
recess with the teacher
extra play
eat outside
wear slippers
tablet time
dance party
class photos
create and build
library time
game time
yoga time
ride pass
special seat
pick the read aloud
write with a special pen
special pencil
unch with the teacher
skip the odds
share something special
decorate the board
pick the class activity
switch your job
first for the day
VIP for the day
choose the tunes
TEACHERS LIKE YOU SAID…
⭐️⭐️⭐️⭐️⭐️ Tales from Primary says, "Are your kids tired of your treasure box? Are you tired of your kids spending hours picking over stuff in your treasure box? This is for you! When I say this has transformed my reward system, I am not lying. My kids LOVE all of the coupons. I stuck a list of all the coupons on the board with the dollar amounts. My kids pick out a coupon and pay me for it. It also includes so many things I never thought about offering! The tell a joke pass is by far my most popular. It has even brought out some of my super shy kiddos. And...I love how much they come out of their shell with these passes. I would recommend this a million times over."
⭐️⭐️⭐️⭐️⭐️ Emily H. says, "This was a perfect way celebrate students and their hard work! I revamped my individual rewards recently because I could tell what I was doing wasn't making as big of an impact. Not only do they have a ton of reward coupons already created, but there are editable ones as well! I loved how I could include the students in this and ask them what kinds of rewards they would want and then create the coupons based on what they suggested. They were so motivated to work since they could earn one of the rewards they suggested! I also love that you used free fonts so I was able to make the editable ones match the uneditable coupons. Thanks so much!"
⭐️⭐️⭐️⭐️⭐️ Nora D. says, "We were all a little tired of the treasure box, including the treasure box! I implemented this super fast towards the end of the year when our class desperately needed motivation! It worked like a charm! It was new, exciting and I did not need to spend any more money on prizes! It even earned a spot on our Top 10 favorite things about Kindergarten!"

_______________________________________
⭐️ Grab the bundle & SAVE ⭐️
♥♥The CLASSROOM MANAGEMENT BUNDLE is available at a DISCOUNTED PRICE. Get an entire year's worth of classroom management resources to make your yearly planning a breeze! ♥♥
You might also be interested in:
⭐ Classroom Job Chart & System - Student Jobs & Class Roles - Classroom Management
⭐ Brain Breaks & Movement Activity Cards - Quick Exercises & Transitions
⭐ Classroom Rules & Expectations - EDITABLE Class Rule Posters
Stay connected with Proud to be Primary
♥Click HERE to follow our store and receive notifications of new product releases, sales, and freebies.
♥Join our email list and get weekly teacher tip emails and access to our FREE resource library.
♥Visit our website at Proud to be Primary for tons of engaging ideas for teaching kids!
♥Join our FREE Facebook group and connect with thousands of PROUD K-3 teachers.
Have questions?
Please ask all questions before purchasing or email me at elyse@proudtobeprimary.com.
Terms of Use: This product is licensed for personal classroom use ONLY unless multiple licenses are purchased. Your purchase grants you a license to use in a secure, password-protected online platform (such as Google Classroom) with your students only. You may not transfer or share with another teacher or use for commercial purposes (Outschool, etc.).
©2013 to Present - Proud to be Primary - Elyse Rycroft
Teaching Duration
Lifelong tool
Report this resource to TPT
Standards
to see state-specific standards (only available in the US).
Participate in collaborative conversations with diverse partners about kindergarten topics and texts with peers and adults in small and larger groups.
Follow agreed-upon rules for discussions (e.g., listening to others and taking turns speaking about the topics and texts under discussion).
Continue a conversation through multiple exchanges.
Ask and answer questions in order to seek help, get information, or clarify something that is not understood.
Participate in collaborative conversations with diverse partners about grade 1 topics and texts with peers and adults in small and larger groups.