Classroom Veterans Day Activity | "Thank You Veterans" 3D Poster (Agamograph)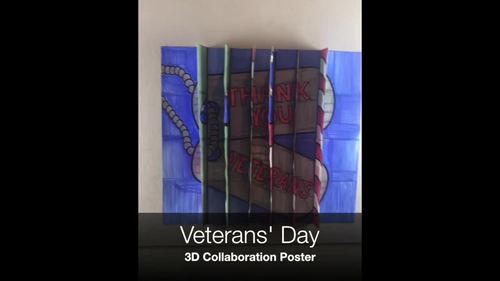 ;
What educators are saying
We LOVED this resource. The kids took such pride in creating something to honor those who served our country :)
This poster is great and very cool when finished! I still have it hanging up in the hallway, even after Veteran's Day because the kids enjoy looking at it so much.
Description
Veterans Day Activity 3D Collaboration Poster. Easy for teachers and fun for kids and the perfect Veterans' Day activity for your class! This project is a "3-way" agamograph (3 images spliced together) and a collaboration poster mixed into one.
This project is unique because I dreamed it up to combine my agamographs and collaboration posters. There is no beating the "wow" factor at the end when children walk from side to side and see the images change.
Great for ANY age and designed so that younger students can enjoy the wow factor of my agamographs. 
This 3-way agamograph may be hard to say - but I assure you it's easy to do! I know this may look like a complex project (that's the wow factor), but it's pretty simple - I've done everything possible to make it that way. The kids do the coloring, and you put it together - that's it – I've done all the rest! I've broken it all down step-by-step, AND I've made a video to show you exactly how to put it together. 
You may also like my "Be Kind" 3D Collaborative Poster.
The final poster is approximately 26 inches x 28 inches when complete. 
You could use the final poster to display on your bulletin board, on a hallway wall, or at a Veterans' Day assembly at your school. If you and your students will be visiting Veterans this year, you could also present them with the final poster as a gift from your class to them! 
Included:
28 pieces
All written instructions for students and teacher
Instructional video for the teacher on how to put the poster together
The final poster is approximately 26" x 28"
2 extension activities—drawing a portrait of a veteran (quarter page) and writing a thank you note to a veteran (half page). 
Great for any grade! 
What will you need?
Colored pencils, crayons, or markers in red, blue, green, and grey. 
Copy paper 
Ruler (as thin as possible)
Glue (glue sticks are best)
Scissors
Tape & paper clips 
Agamograph poster pages (included)
Instructions and video (included)
What is an agamograph?
An agamograph is a series of images that change at different angles. This work is named after the Israeli sculptor, Yaacov Agam, born in 1928 and still living today (2018). This artist is known for his optical and kinetic art. To create his agamographs, he used "lenticular printing." 
Although the process of lenticular printing is technical and very complicated, I have created kid-friendly agamograph designs that will result in a piece of artwork that won't soon be forgotten! The images have already been "spliced" together, and each space has been assigned a color. Once the pages are assembled, students can walk from one side to the other and watch the images change. 
Jenny K's 2-way Agamographs: I have created many "2-way" agamograph (2 images spliced together) projects for teachers to use in the classroom. I was the first to introduce this idea to Teachers Pay Teachers many years ago. You may have used one of my other agamograph resources before (thank you!). If you have not and are interested in viewing those, you can see what I offer HERE.
Jenny K's Collaboration Posters: I believe in collaboration—teachers and students love creating my collaboration posters because of the large impact they have on their classroom and school-wide community. I love that this new resource combines my agamographs and my collaboration posters. You can see all of my historical collaboration portraits HERE and my seasonal and holiday-related collaboration posters/door posters HERE.
Other Patriotic Activities for your students: 
• Patriotic Interactive Coloring Sheets
• Patriotic Collaboration Poster
• FREE American Flag Collaboration Poster
I hope your students enjoy this project!
Please click the "Follow Me" button on this page to keep updated on all my new offerings! 
Thank you for supporting my work and infusing your classroom with art!
Jenny K. 
---
Let's Connect
---
Sign up HERE to join my mailing list, and I'll send you my kindness coloring sheets as a 'thank you.' I love to spoil my e-mail subscribers by sending exclusive freebies, tips, and tricks, as well as special announcements of sales–not to mention that after you join, you'll get invited to my "Subscribers Library" of freebies. 
---
TERMS OF USE: 
The purchase of this product is for one license and is for PERSONAL USE ONLY. 
©Copyright 2015 Art with Jenny K.® ALL RIGHTS RESERVED. Permission is granted to copy pages specifically designed for student or teacher use by the original purchaser or licensee. The reproduction of any part of this product is strictly prohibited. Copying any part of this product and/or placing it on the internet in any form (even a personal/classroom website) is strictly forbidden. Doing so is a violation of the Digital Millennium Copyright Act (DMCA). 
---
If you like my work, please help me keep the price low by purchasing additional licenses for any teacher with whom you would like to share this lesson. Extra licenses are discounted.
Report this resource to TPT