Close Reading Comprehension Color-Coding Grades 3-6 - Print and Digital Versions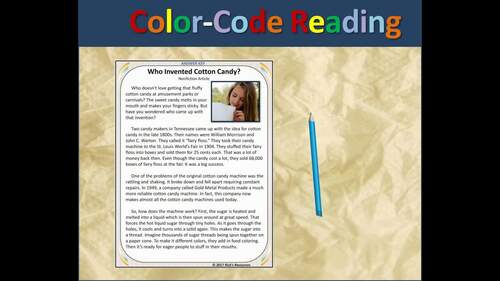 ;
Zip

Google Apps™
264 Pages + Digital Versions
Includes Google Apps™
This bundle contains one or more resources with Google apps (e.g. docs, slides, etc.).
Easel Activities Included
Some resources in this bundle include ready-to-use interactive activities that students can complete on any device. 
Easel by TPT is free to use!
Learn more
.
What educators are saying
These passages are great for differentiation. The students love them because they aren't too long and they get to use crayons/colored pencils. This is a really good resource. Thank you.
LOVE THIS RESOURCE!!!! This gave my kids a way to "prove" their answers without being "boring" using just a pencil
Products in this Bundle (4)
Description
Printable PDFs and digital Google Slides™ versions included for blended learning. This bundle is great for differentiated instruction. The articles and stories require students to justify answers to questions by marking the text evidence that support their responses. The motivating activities result in high student engagement as they think about what they read.
--- RESOURCE DETAILS ---
You are covered with this resource. It includes a PDF printable version as well as a Google Slides™ digital version for distance learning. The informational articles and stories focus on text-dependent evidence practice. Includes the full resources for 3rd grade, 4th grade 5th grade, 6th grade (ages 9-12). They can be used with younger or older students depending on skill level. Comprehension strategies also focus on cause and effect, inferences, compare and contrast, problem-solving, drawing conclusions, identifying important facts, using context clues, identifying important details. The passages and worksheets are great for close reading activities that focus on citing textual evidence. Full answer keys are included including suggested color-coding. The activities are great for whole group, small group, individuals, tutoring, centers, and homework applications. Pages in the packet are designed to be printed in either color or grayscale with good results. The color-coding text evidence activities are effective for homeschool or summer practice.
--- QUESTIONS AND TOPICS ADDRESSED ---
The stories in this resource can be used as an assessment tool to test upper elementary students in grade 3, grade 4, grade 5, or grade 6 on their comprehension skill levels. The exercises, problems, and activities on the printable worksheets adhere to core standards in the U.S and elsewhere. The text-based evidence activities can be a great supplement to district and state curriculum requirements and are easily adaptable to existing lesson plans. Students enjoy doing detective work as they try to justify their answers and then color code text evidence examples that match their responses.
--- ABOUT THE AUTHOR ---
My name is Rick Whitehead and I am a teacher, author, tutor, and mentor. I worked in the public school system for 28 years and was involved in teaching, tutoring, curriculum development, administration, school program design and implementation. I am the author of juvenile fiction and many educational products to help students learn and grow. I am the proprietor of Rick's Resources
Total Pages
264 Pages + Digital Versions
Report this resource to TPT
Standards
to see state-specific standards (only available in the US).
Ask and answer questions to demonstrate understanding of a text, referring explicitly to the text as the basis for the answers.
By the end of the year, read and comprehend literature, including stories, dramas, and poetry, at the high end of the grades 2–3 text complexity band independently and proficiently.
Refer to details and examples in a text when explaining what the text says explicitly and when drawing inferences from the text.
By the end of the year, read and comprehend literature, including stories, dramas, and poetry, in the grades 4–5 text complexity band proficiently, with scaffolding as needed at the high end of the range.
Quote accurately from a text when explaining what the text says explicitly and when drawing inferences from the text.