Clothing - Clothes Vocabulary BINGO GAME | Boom Cards™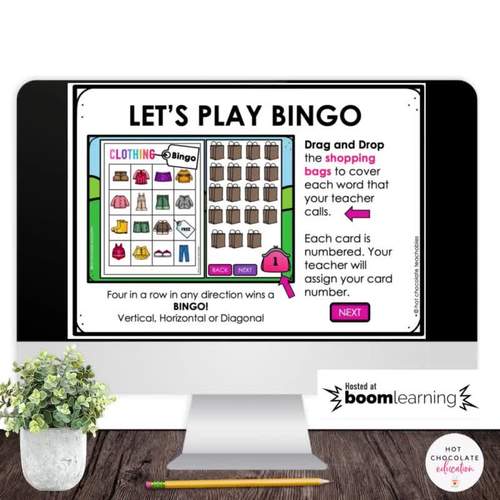 ;
Compatible with Digital Devices
The Teacher-Author has indicated that this resource can be used for device-based learning.
Description
This vocabulary building BOOM CARD™ BINGO GAME will help students practice identifying common clothing items and accessories. This game plays just like a traditional printable BINGO but it's NO PREP! No printing or laminating. Students will listen for their teacher to call out each of the 30 vocabulary words. They will drag a token to cover each of the images called!
Try this playable preview to see how it works!
25 Drag & Drop Boom Cards
Each Bingo Card is numbered. Assign a different card to each student.
Digital & Printable Calling Cards
BOOM CARDS™ digital task cards work on a laptop, desktop, Chromebook, tablet, iPad or any other mobile device that can access the internet. They can also be used on your Smart Board. You can assign the cards to your students by adding a deck to your library and assigning it to your students.
They are self-grading (time-saving) and allow you to monitor student progress.
A link to access 25 Clothing Vocabulary BINGO Boom Cards on the Boom Learning Website™
To use Boom Cards, you must be connected to the Internet. Boom Cards play on modern browsers (Chrome, Safari, Firefox, and Edge). Apps are available for Android, iPads, iPhones, and Kindle Fires. For security and privacy, adults must have a Boom Learning account to use and assign Boom Cards. You will be able to assign the Boom Cards you are buying with "Fast Pins," (play provides instant feedback for self-grading Boom Cards). Fast Play is always a free way for students to engage with Boom Cards decks. For additional assignment options you'll need a premium account. If you are new to Boom Learning, you will be offered a free trial of our premium account. Read here for details: http://bit.ly/BoomTrial.
Clothing Vocabulary Flashcards: Seasonal Clothes & Jewelry | ESL/EFL Task Cards
Clothes Card Game: I have, Who has - Clothing Vocabulary
ESL Basic Vocabulary Task Cards: Animals, Food, Clothing, Objects & School
Looking for Digital Activities? Check out Boom Cards™
Check out some other Grammar Games!
Check out some other Vocabulary Games!
Check out some Best Selling ELL Resources in $$ Saving Bundles!
Check out some of my Conversation Starters!
__________________________________________________________________
Please go to your page (you must be signed in). Next to each purchase you'll see a button. Just click it and you will be redirected to a page where you can give a rating and leave a comment for each purchase . Each time you give feedback, TPT gives you feedback credits that you use to lower the cost of your future purchases. I love hearing from you as your feedback helps me improve my resources to fit the needs of teachers all over the world!
Teaching Duration
Lifelong tool
Report this resource to TPT