Cold War Unit and Activities with Google Slides™ - How to Teach the Cold War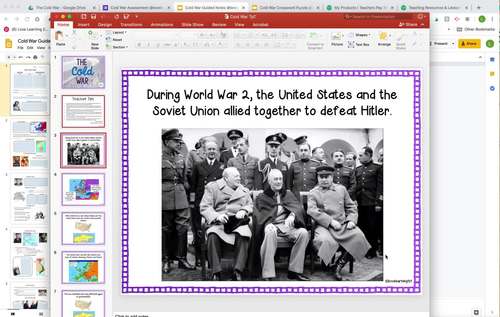 ;
Zip

Google Apps™
Includes Google Apps™
The Teacher-Author indicated this resource includes assets from Google Workspace (e.g. docs, slides, etc.).
What educators are saying
Love Learning units saved me when I transferred from middle school to elementary. Great resource to compliment the county resources provided. Thanks.
This is an awesome resource. The powerpoint and guided notes are so great! The whole unit makes prep so easy!
Also included in
This history bundle is the perfect addition to any social studies classroom! It includes three different units: Cold War Conflicts, The Civil Rights Movement, and the September 11th Attacks. The PowerPoint lessons include pictures, videos and website links to engage even the most reluctant learners.

Price $30.00

Original Price $47.50

Save $17.50
Description
Deepen your students' understanding of the Cold War with this comprehensive Unit. This easy-to-follow Cold War unit includes slides and activities that thoroughly explain the Cold War, making it perfect for students and teachers!
1. Democracy vs. Communism
2. The Soviet Union during the Cold War
3. The Iron Curtain
4. The Marshall Plan
5. United Nations
6. NATO
7. Communist Propaganda
8. U.S. Propaganda
9. The Berlin Wall
10. The Berlin Airlift
11. The Korean War
12. The Red Scare
13. McCarthyism
14. The Arms Race
15. The Cuban Missile Crisis
16. The Vietnam War
17. Eleanor Roosevelt and the Human Rights Commission
18. The Space Race
19. Ronald Reagan and Mikhail Gorbachev
20. The End of the Cold War
Unit Plan Suggestions
Study Guide (printable and digital)
Crossword Puzzle (printable and digital)
Card Sort Activity (printable and digital)
"The Butter Battle" questions (video link included in the presentation)
Cold War Unit Test (printable and digital)
REVIEWS FROM OTHER TEACHERS:
⭐️⭐️⭐️⭐️⭐️ Rachel M. said, "Super great resource with a lot of engaging activities! The PowerPoint is amazing, the videos embedded within the PowerPoint is amazing, and everything else that comes with the purchase!! All of her resources are wonderfully made."
⭐️⭐️⭐️⭐️⭐️ Mallory W. said, "My students LOVED the interactive notes and being able to see the pictures through the slides. They ask if we are using these resources every time we start a new unit now!"
⭐️⭐️⭐️⭐️⭐️ Katie M. said, "I LOVE these! I bought a bunch of them! It was so helpful to have the notes and the powerpoint!"
*****************************************************************************
Take a look at my other history lessons:
• Civil War and Reconstruction Unit
• Westward Expansion Unit (with interactive notes)
• World War 1 Unit (with interactive notes)
• The Roaring Twenties and the Great Depression Unit
Save with Bundles: History Bundle 1, History Bundle 2, History Bundle 3, History Bundle 4
*****************************************************************************
©LoveLearning2021
Redistributing, editing, selling, or posting this resource on the internet (including your classroom website) are strictly prohibited. Violations are subject to penalties of the Digital Millennium Copyright Act. If you would like to share this product with colleagues, please purchase the multiple user license.
Teaching Duration
3 Weeks
Report this resource to TPT