College and Career Ready 21st-Century Skill-Building Portfolio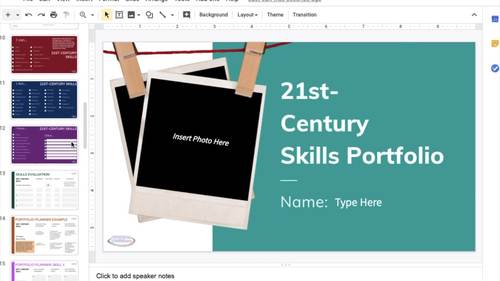 ;
9

th

- 12

th
,
Higher Education
,
Homeschool
PDF

Google Apps™
Includes Google Apps™
The Teacher-Author indicated this resource includes assets from Google Workspace (e.g. docs, slides, etc.).
What educators are saying
I have been looking for a resource like this to help students learn "how to be a student" skills! This has allowed for good reflection and discussion about 21st Century Skills.
Also included in
This bundle includes project-based learning lesson plans that focus on resume builders for high school students.All projects project experiences are student-directed. Students design and lead their resume-building project experiences while you facilitate.Because you aren't planning and teaching less

Price $22.93

Original Price $32.75

Save $9.82

Teaching 21st-century skills doesn't have to be an extra task. What if your students could learn content and develop 21st century skills at the same time without you having to overthink it or over plan? This resource is a bundle of 21st century skills learning activity tool kits that organically inc

Price $43.65

Original Price $48.50

Save $4.85

Are you looking for open-ended homeschool or classroom experiential learning activity resources for any and all subjects or targets? Or maybe you're interested in adding experiential learning activity experiences to your classroom or homeschool curriculum but aren't sure how to facilitate it, don't

Price $49.05

Original Price $54.50

Save $5.45

Have you been playing with the idea of a senior project for high school students? Maybe you know the importance of a senior experience - the importance of college career readiness - but aren't sure where to begin, don't know what works, or don't have the time to create resources. Does that sound lik

Price $22.60

Original Price $28.25

Save $5.65

Are you looking for practical and real-world high school career education resources that will prepare students for life beyond high school? Are you required to include college career ready high school curriculum, vocational education, and/or technical education this year, but aren't sure where to st

Price $31.00

Original Price $38.75

Save $7.75
Description
Do your students possess the 21st century skills needed for learning, working, and living in the 21st-century? Are your 21st-century learners prepared to problem-solve, critically think, collaborate, and get creative when the world demands it? Do your students possess job ready career skills?
If the answer is not "yes" to any of these questions, it's a great time to help your students begin building these soft skills for college and career readiness.
The intention of this 21st-century skill-building portfolio is to help students develop 21st-century competencies that are important for college and career readiness. This resource is great for advisories, life skills classes, college and career ready programs, AVID, and senior seminars.
This 21st-century skill-building portfolio s a prepared template that guides students through the process of mastering 21st-century skills. Students...
Make 21st-century skills goals
Organize and plan 21st-century skill-building activities
Reflect on skill-building experiences
This is how it works:
Students examine essential 21st-century goals and determine a few specific goals to focus on over the course of a session (school year, quarter, semester, etc.)
Students explore learning opportunities (activities, projects, field trips, etc.) that will help them master the 21st-century skills that they chose as their focus for the session.
Students participate in those learning activities and then reflect on the experiences using the templates included in this resource. The reflections or journal entries act as evidence of skill-building experiences.
The end result is a portfolio that showcases evidence of 21st-century skill-building experiences.
For example, if a student would like to focus their goals and energy this quarter on tech literacy they might plan to attend a free webinar on how to use a specific software program.
Once they have completed the webinar, they would go into their 21st-century skill-building portfolio and write a reflection and add video or photographic evidence of that experience. They would also reflect on how this experience helped them with tech literacy. The end result would be several entries that showcase tech-literacy-building experiences that the student had that session.
Note: Printable and digital options included. The printable (PDF) is not editable. This resource has a printable and digital Google Slides™ option. The digital version offers more flexibility for modifications.
This product includes:
Teacher guide - This guide helps teachers seamlessly implement this resource. The prepared templates make this resource low prep and easy to facilitate.
21st-century skill-building activity brainstorming tools
Checklist of soft skills
21st-century competency self-evaluation form
21st-century skill-building planner
21st-century skill-building reflection/evidence template
21st-century skills portfolio rubric (with additional spaces for personalized categories and evaluation criteria)
Category word bank for the student-generated section of the rubric
Free Training Video: How to Add 21st-Century Skill-Building to Your Curriculum Using a Portfolio
If you like this resource, check out these products as well!
Freebies:
Helpful blog posts:
Interested in new resource alerts, freebies, tips, tricks, and more?
Earn TPT Credits:
Follow Experiential Learning Depot and earn TpT credits by giving feedback on this product. A sincere thank you for your business. Feel free to contact me through email at any time with questions on this product - experientiallearningdepot@gmail.com
Cover Font Credit: MR. FISKS Fonts
Cover Mockup Credit: Bricks and Border
Teaching Duration
1 Semester
Report this resource to TPT