Colored Pencil Art Lessons Bundle Drawing Projects Middle or High School Art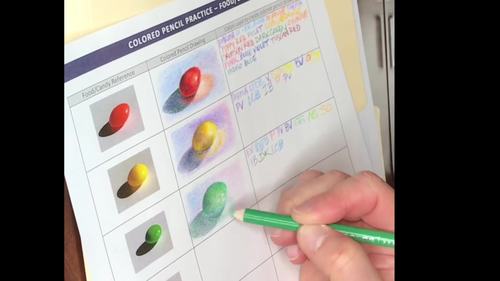 ;
What educators are saying
I used for my Proficient level students. This was their first time using colored pencils and this was easy for them to follow and understand. Thanks.
This was a fun mini-project and the students had so much success, it was organized and well-planned. All of Mrs. T Fox's projects are excellent and I own many of them!
Products in this Bundle (5)
Also included in
This Year-Long or Semester Long Art Curriculum checks all the boxes - this scaffolded drawing curriculum starts with Line Drawing and progresses to Shading & Value Projects and then on to a full Colored Pencil CurriculumPerfect for Art 1, Drawing 1 or an Art 1 & Art 2 mixed level class - art

Price $127.00

Original Price $152.50

Save $25.50
Description
Five Fan Favorite Colored Pencil Art Projects in all in one bundle! Teach Colored Pencil with complete confidence and these FUN and ENGAGING lessons your artists will love - this drawing bundle is sure to be a staple in your Art Curriculum year after year
Art Lessons are geared for Beginner to Advanced levels with a scaffolded approach to teaching Colored Pencil.
Step-by-Step student-centered art instructional drawing tutorials included - easily adaptable to distance learning
***Colored Pencil Lessons are also designed exclusively for use with Prismacolor Premier Colored Pencils.
Using another brand of pencils? Colored Pencil Brand Comparison Chart available HERE
All references to color names coincide with this particular brand of pencil.
Colored Pencil Value Scales (foundational principles of colored pencil)
Colored Pencil Sphere (how to build rich color into a 3-D object)
Colored Pencil Mini-Candy (fun lesson for building confidence with colored pencil)
Colored Pencil Candy (fun projects to show off newly acquired colored pencil skill)
Colored Pencil Paint Blob (best-seller and a real showstopper!)
Drawing Lessons include power point presentations, worksheets, rubrics, video tutorials, student work examples and high quality reference photos. You and your students will love the results
Additional student work and middle school and high school project ideas may be viewed on my Instagram @mrstfoxresources and Pinterest at MrsTFox Resources
Happy Teaching and have a wonderful day! :)
tiff :)
Teaching Duration
1 month
Report this resource to TPT