Comic Book Writing Activities Printable No Prep Writing Process Lesson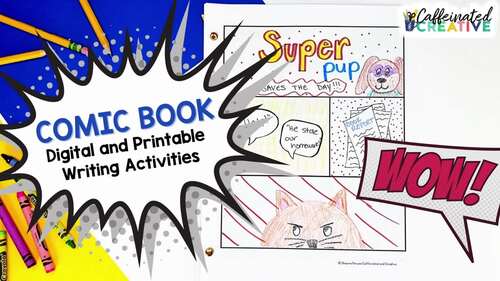 ;
What educators are saying
I loved this set. I used it for my students for a year-end language arts project as they love comic books. This was a perfect year-end project. Lots of buy-in!
Fantastic year end activity. I have some reluctant writers that were excited to write their very own comic.
Description
Are you in need of fun and engaging writing activities that will motivate your students to love writing?! Comics are engaging for kids and adults alike, and now you can help your students learn to love writing with Comic Book Writing Activities! This is a fun and creative way to teach your students the writing process! After learning what makes up a comic, they will go through the brainstorming process, rough draft, editing, and finally make either a comic page or an entire book!
Cover:✏️
✅Parts of a comic
✅Adjectives
✅Dialogue
✅Characterization
✅Brainstorming
✅Speech bubbles
✅Narration boxes
✅Rough draft writing
✅Editing
✅Making a comic page or book!
The entire comic writing unit is available in the following versions:
NO PREP: Just print! Black and white to save on ink!
Color: For a more vibrant lesson or for classroom posters/centers.
Digital: to be used with Google classroom!
Table of Contents for easy printing only pages needed.
Editing Bookmarks
Comic Vocab: Learn about what are common comic elements.
Comic Comprehension: Answer the questions about comic book elements and label the comic.
Super Setting: Pick an image and describe it in detail.
Daring Dialogue: Learn what dialogue is and practice writing your own.
Quotation Marks: Practice adding quotation marks where they belong.
Amazing Adjectives: Pick three adjectives to describe your main character then write a short paragraph describing them.
Brainstorming Pages: 2 brainstorming pages
Speech Bubbles: Practice writing dialogue on speech bubbles.
Narration Boxes: Learn what narration boxes are and practice writing on them.
Speech Bubbles: Predrawn speech bubbles students can write on, cut out, then paste to comic.
One page comic template with narration boxes.
5 pages of single-page comic template without narration boxes.
2 pages of comic strip templates.
5 pages of foldable comic book templates.
Directions/Tutorials for Digital Use: 7 pages of easy-to-follow tutorials on how students can create their own comic elements in Google Slides and how they can add drawings from Google Drawing into slides.
Hero Draft
Villain Draft
Setting
Problem
Solution

⭐ ⭐ ⭐ Do you want even more tips, ideas, discounts, and FREEBIES!?⭐ ⭐ ⭐
☕Follow my store by clicking HERE to be updated when new resources are uploaded which are 50% off for 48 hours!
☕Sign up for my newsletter HERE to get tips, ideas, and freebies!
☕ Check out my site Caffeinated and Creative!
©️Caffeinated and Creative
-Shawna Peryea
Report this resource to TPT
Standards
to see state-specific standards (only available in the US).
Write narratives in which they recount a well-elaborated event or short sequence of events, include details to describe actions, thoughts, and feelings, use temporal words to signal event order, and provide a sense of closure.
With guidance and support from adults and peers, focus on a topic and strengthen writing as needed by revising and editing.
Write narratives to develop real or imagined experiences or events using effective technique, descriptive details, and clear event sequences.
Write narratives to develop real or imagined experiences or events using effective technique, descriptive details, and clear event sequences.
Use narrative techniques, such as dialogue, description, and pacing, to develop experiences and events or show the responses of characters to situations.