Community Signs Skill Pack Leveled for Special Education - Life Skills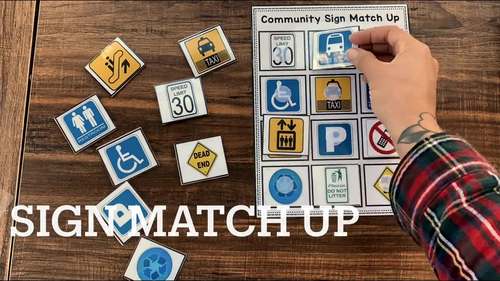 ;
What educators are saying
Easy to print & prep. Love using this as a center! Also have used it for independent work with students. Activities are challenging but engaging.
I love the different levels! It works well in my classroom where I have K-6. I use it to review the signs that we have learned and preview signs we will be learning
Also included in
Easily teach practice, and generalize critical life skills that students need for the rest of their lives. These materials life skills special education activities are DESIGNED for YOUR STUDENTS! They are already leveled, have built-in visual supports, are engaging and hands-on, and support language

Price $78.20

Original Price $97.75

Save $19.55
Description
Do your students need a high level of varied practice in order to learn community signs? This community signs skill pack will help your students progress from identifying a sign to understanding what the community signs mean. Being able to identify and understand community signs is a crucial life skill. These activities help students recognize and understand the meaning of the different signs.
This life skills and social studies set is already differentiated for you. There are 3 levels included to support your students as they progress to save you time and extra work.
The tasks and visuals in this set are varied to help your students practice in different ways and learn to generalize their skills.
WHO IS IT FOR?
Students who need hands-on practice
Classrooms with students on different levels
Can be used with students of any age
Students who need a high level of repetition and practice in order to learn and retain skills
FEATURES
Word wall cards for all 24 words 
3 levels of differentiation to scaffold and build upon students' understanding
File folders, clip cards, and vocabulary graphic organizers all come in 3 levels
Includes reading and math tasks to target generalizing skills
Breakdown of the 3 levels included:

Level 1: matching picture to picture
Level 2: matching pictures to labels of signs
Level 3: matching labels of signs to the meaning of signs
WHAT'S INCLUDED:
• Word Wall Cards: 24 cards with a picture of the sign and the label.
• File folders: 3 levels of file folder activities are included.
Level 1: matching picture of the sign to an identical picture
Level 2: matching picture of the sign with the label
Level 3: matching label of the sign with the meaning of the sign
• Clip cards: 3 levels of clip cards are included
Level 1: students mark the picture that matches
Level 2: students mark the label that matches the shown sign
Level 3: students mark the label when given the meaning of the sign.
• Vocabulary graphic organizers: 3 levels included
Level 1: students match the picture and label of the sign
Level 2: students match either the picture or label to the meaning of the sign
Level 3: students match the picture, label, and meaning of the sign
• Reading comprehension tasks
• Community signs graphing worksheets: 2 levels included
Here's what teachers are saying:
✏️ "Great resource all around. I have students with goals on identifying community signs and understanding their meaning. This resource works!"
-Mary C.
✏️ "I am a special education teacher and my class varies in ability. This resource allowed me to easily differentiate based on student need and ability, and for that I am grateful!" -Sharon E.
✏️ "My students enjoyed this resource and it has built-in differentiate for my different levels of students on the spectrum. Great visuals and many ways to reinforce students' knowledge. Highly recommend!" -Jessica M.
Other items you may be interested in:
Connect with me:
Newsletter • Instagram • Facebook • Blog
NEED HELP? Before leaving feedback:
Don't miss out on discounts, freebies, and new products! Simply click the green star under my store name to follow my store.
This product by Pamela Petralia is copyrighted for single classroom or caseload use only. This product may not be resold and can only be copied for personal use within a classroom. If you have questions, please email   ©Pamela Petralia
Report this resource to TPT