Complete Kindergarten Curriculum - Math Units - Reading - Phonics - Writing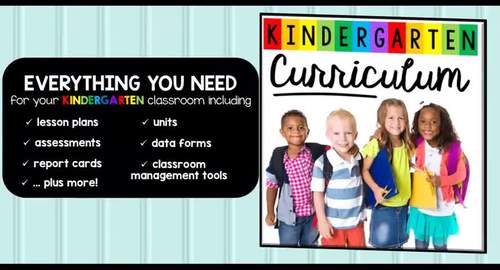 ;
Various file types

Internet Activities
Compatible with Digital Devices
The Teacher-Author has indicated that this resource can be used for device-based learning.
What educators are saying
THIS IS AN INCREEEDDIBLE RESOURCE!! worth every single dollar!!!! this has saved me from hours of stress, it is SO well laid out!! I recommend this to everyone!!
This is the full blown everything you need packet. It is worth every penny. I have loved using all of the materials with my kids and they have loved the activities.
Products in this Bundle (299)
showing 1-5 of 299 products
Bonus
MONTHLY BOOM CARDS - One Click Download
Description
This all in one kindergarten curriculum covers everything you need to teach your students the standards for phonics, reading, writing, math and more! Adorable thematic units incorporate science and social studies into each monthly/weekly theme.
⭐ SAVE 50% BY PURCHASING OUR ENTIRE KINDERGARTEN CURRICULUM IN THIS BUNDLE ⭐
This one purchase also comes complete with resources to assess your students and document report cards, communicate with parents, set academic and behavior goals, teach classroom rules and procedures, give awards to recognize student achievement, teach handwriting, social and emotional skills and more!
---
For a FREE download that walks you through all of the resources included, please CLICK HERE
To visit my kindergarten curriculum homepage, see a full length video of this curriculum and try FREEBIES from every unit CLICK HERE
---
What resources come with this purchase?
♦ Kindergarten Goal Setting and Awards
♦ Behavior Chart and Goals Kit
♦ Classroom Rules and Expectations
♦ Kindergarten Report Card and Assessment Kit (both quarters and trimester versions are included)
♦ I Can Statements - Standards Cards for all Subjects
♦ Thematic Units Bundle - 9 monthly units incorporating science and social studies
♦ No Prep Monthly Worksheets/Centers
♦ Reading Fluency and Comprehension Bundle
♦ Kindergarten Graduation Bundle
♦ Daily Lesson Plans (pre made - these are FREE)
♦ Daily Lesson Plans (editable)
♦ End of the year review, portfolio, memory book and more!
♦ Kindergarten daily review bundle
♦ Let's get ready for kindergarten - six-week kindergarten readiness curriculum
♦ Boom™ Card Bundle - includes all decks listed now and all future decks that will be listed for kindergarten. Your monthly bundles of Boom Cards™ are available to add to your library by downloading the bonus file after you checkout. This makes it easy to add the monthly bundles to your Boom™ library! For more information on Boom Cards™ please see below.
♦ Nursery Rhyme / Substitute Plans Bundle
♦ Digital Calendar and Morning Meeting
♦ I See Monthly Vocabulary Kits
♦ Pocket Chart Centers - NEW growing bundle - 8 adorable centers for each month will be added as they are completed in the 2022-2023 school year
♦ Primary Science - Units 1-4 are complete now and ready to download. Units 5-8 will be added during the 2022-2023 school year
♦ Phonemic Awareness Curriculum
My curriculum is still growing!
When you purchase now at this price, you'll receive all future kindergarten products for free that are added to this curriculum!
The price of the curriculum goes up as each pack is added.
---
My goal was to create one bundled download that includes everything you need for your classroom - lesson plans, curriculum, instructional materials, assessments, report cards, classroom forms, standards checklists, and so much more. All the planning and prep work has been done for you!
I will take you from the very beginning of the school year until your kindergarten graduation day. I have even included all the adorable printables for your kinder ceremony/celebration.
Over 6,000 pages of lesson plans, activities, worksheets, math/literacy centers, charts, posters, assessments, student record forms, parent letters, standard cards, I can statements, kindergarten graduation printables and so much more are included. Read the reviews from these resources at the end of this listing.
You will absolutely love this standards based, easy to implement curriculum.
All future products that I make for kindergarten will be added to this curriculum. You will be able to download all of these products at no charge to you as my curriculum is a growing bundle.
---
PRINT MY FREE PREVIEW OF WHAT IS INCLUDED IN THIS COMPLETE CURRICULUM HERE
---
PLEASE NOTE
The instructional resources and materials included in this bundle are the same as my Complete Kindergarten Homeschool Curriculum. The difference is that this version was created with classroom teachers in mind and comes with the report cards, classroom behavior/rules resources, kinder graduation materials and "I Can" statement cards. The actual instructional resources used to teach the standards are the exact same.
♦♦♦♦♦♦
How will I know how to implement these resources?
Scripted plans are not included, so these resources can be used as a stand alone curriculum or they can be used to supplement any curriculum you currently use. Although structured scripts are not included, I do share my lessons plans for FREE with you for each month HERE so you can see how/when I use each lesson and resource.
Matching editable plans are included so you can create/tailor your own plans too.
I also have a blog post for almost every resource, so before you teach each unit you can read about how I implement the lessons. Links are provided in the lesson plans.
♦♦♦♦♦♦
Can I use these for homeschooling?
Yes! I homeschooled my daughters using these exact resources. I have also taught kindergarten in a classroom setting as well.
♦♦♦♦♦♦
How will I access and organize all of these files?
As soon as you complete checkout, you will able to download all of these files. There are a lot! I recommend creating a folder on your desktop for each bundle. For example, create a Writing folder and download all of the writing files directly into this folder. Continue with a Phonics folder, Math folder, Morning Work folder, etc.
I can also email you the entire curriculum organized by month. After you checkout, simply send me an email with your order number and I will email it to you right away - michala@keepingmykiddobusy.com
My lesson plans will show you exactly which resources I use each day/week/month. You can see my free lesson plans as well as download free organizing tools on my lesson planning homepage.
♦♦♦♦♦♦
Are these units standards based?
Yes! We follow the kindergarten common core math and ELA standards. These meet almost all state standards as well.
♦♦♦♦♦♦
Can I use these units for first grade?
Many of these activities work very well for first grade - especially the phonics, writing, no prep activities, animal reports and thematic units. Please note that these units are all tailored to meet the kindergarten standards and while K/1 standards often overlap, these units do not cover every first grade standard.
♦♦♦♦♦♦
Will additional files be added to this curriculum bundle in the future?
Yes! I love creating new resources. During the 2021-2022 school year I added 12 monthly calendars, a new science unit, 12 vocabulary units, new alphabet activities and so much more!
For the 2022-2023 school year, I plan on completing my science curriculum. All future kindergarten resources are added to his bundle and you can download them for free! They will be added as links under My Purchases.
♦♦♦♦♦♦
I have more questions!
I completely understand that choosing the right curriculum is a big decision! I am happy to help with any questions you have. Please send me an email to michala@keepingmykiddobusy.com
♦♦♦♦♦♦
What are Boom Cards™?
Boom Cards™ are interactive task cards that make learning so much fun. They can be used at home on a tablet, phone or computer, and they can be used in your classroom as well. Students, teachers and parents love using them!
How do I purchase?
♦ You'll check out here as usual on TpT, and your download comes in a PDF.
♦ Follow the simple directions and simply click the photo in the PDF.
♦ If you have a Boom account already, this deck will automatically be added to your library. If you do not have an account yet, you'll be prompted to set one up.
Getting started is super quick and easy and you'll be on your way to learning with digital task cards.
New to Boom Learning™?
CLICK HERE to visit my website and watch helpful videos on how to get started.
Using Boom Cards™:
To use Boom Cards™, you must be connected to the Internet. Boom Cards™ play on modern browsers (Chrome, Safari, Firefox, and Edge). Apps are available for Android™, iPads™, iPhones™, and Kindle Fires™.
For security and privacy, adults must have a Boom Learning account to use and assign Boom Cards™. You will be able to assign the Boom Cards you are buying with "Fast Pins," (play provides instant feedback for self-grading Boom Cards). Fast Play is always a free way for students to engage with Boom Cards decks. For additional assignment options you'll need a premium account.
If you are new to Boom Learning, you will be offered a free trial of our premium account. Read here for details: http://bit.ly/BoomTrial.?
♦♦♦♦♦♦
Read the reviews from my resources. I am confident you and your students will love learning and growing with my resources.
"This is the BEST resource I have ever bought on TPT!!! Thank you, thank you, THANK YOU!!!!!"
"I love these! They cover everything; and while providing a routine, they increasingly challenge."
"Wish I had found these sooner! I absolutely love this store!"
"Everything I have purchased from Keeping My Kinders Busy is AMAZING!"
"As a new homeschooling parent these bundles/worksheets she offers are extremely well made and easy to follow."
"I am so happy I have found this resource. It is amazing, and perfect in every way. I love the look, the content, the checklists, the self reflections! Everything!!! Thanks for an awesome product!"
"Wonderful and exactly what I was looking for!! I just discovered keeping my kinders busy and I'm so hooked! I love your products!! Thank you!"
"I purchased this unit to try it and loved it so much, I bought the whole curriculum. I can't wait to start from the beginning of the year and see what it can do for my students' writing."
"Very comprehensive and easy to use. Loved how everything was planned out."
"I LOVE ALL OF YOUR PRODUCTS - THEY ARE PERFECT!"
"I absolutely love her resources."
"One of my very favorite TPT purchases! My mornings are so much easier now that I use these. Requires very little direction and reviews important concepts! LOVE LOVE LOVE!"
"This is an incredibly rich resource for beginning writers to use. WOW, I am in awe of the creator. No rock left unturned. Look forward to seeing your other writing genres. The price is a fantastic value."
"Perfect for using with my group this year! Love all of your outstanding resources!"
"This is one of my favorite resources that I've used in my classroom. It fills curriculum gaps, it scaffolds perfectly, and it is fun. Brilliant!! THANK YOU!"
"BEST PURCHASE EVER!!!"
"This is absolutely amazing! Thank you!"
"I love the repetition that allows students to be independent in their work as well as the increasing level of complexity throughout the year. And top it off with a cherry that it aligns with standards! This allows me to check students in and get folders gone through without wasting precious time getting them focused and ready to learn!"
READ MORE ABOUT COMMON CORE/CREDIT
Report this resource to TPT
Standards
to see state-specific standards (only available in the US).
Count to 100 by ones and by tens.
Count forward beginning from a given number within the known sequence (instead of having to begin at 1).
Write numbers from 0 to 20. Represent a number of objects with a written numeral 0-20 (with 0 representing a count of no objects).
Understand the relationship between numbers and quantities; connect counting to cardinality.
When counting objects, say the number names in the standard order, pairing each object with one and only one number name and each number name with one and only one object.