Comprehension Based Teaching Starter Pack: SPANISH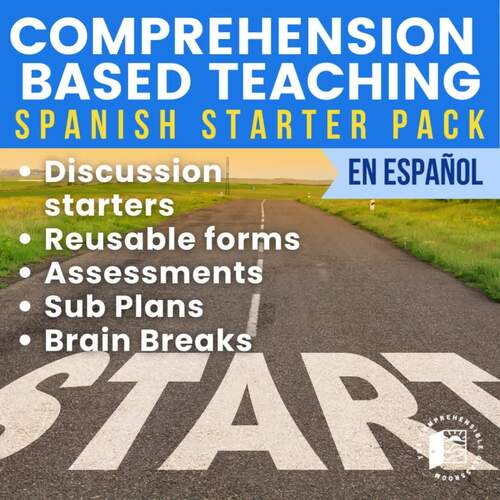 ;
What educators are saying
Great resource to start learning about Comprehensive based teaching. Used it a lot to get the hang of SOMOS 1 and Flex
If you are a new teacher, or new to teaching with comprehensible input, you must get this starter pack! Everything produced by The Comprehensible Classroom is perfect, but this a great collection.
Products in this Bundle (14)
showing 1-5 of 14 products
Description
When teachers make the switch to comprehension based methods of language instruction instead of traditional grammar-and-vocabulary driven lessons, they need a new 'wardrobe'! Out with the old worksheets and systems, and in with the new! If you are preparing to make this switch, this bundle is for you.
DISCUSSION STARTERS
» La persona especial / Estrella del día 50+ question slides
» Si yo fuera... discussion prompt
» Discussion questions for stories
» Today's date
REUSABLE FORMS
» Independent Textivities
» MORE Independent Textivities
ASSESSMENTS
» Free Write forms with rubrics
» 1-3-10 Free Write
» BINGO Free Write
» Universal screener
» Story frames
SUB PLANS
» Zombies sub plans
» Storyboard sub pack #1
BRAIN BREAKS
» 20 Brain Break cue slides in Spanish
Report this resource to TPT