Comprehension Construction - K-3rd {Hands-on Strategies for Small Group Reading}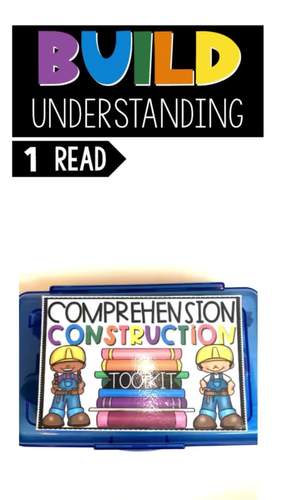 ;
What educators are saying
My students loved having their own toolkits to tackle reading. They were actively engaged, and able to "teach" the strategies to their fellow classmates using the models they created for confidence.
I haven't found a product of yours that I don't love yet. My students think that this is so much fun!! They love the days when I add comprehension construction as an option during our Lit. Block.
Also included in
***NOW INCLUDES PAPERLESS COMPREHENSION CONSTRUCTION IN BOTH GOOGLE SLIDES AND SEEAW FORMATS!***This discounted BUNDLE contains ALL sets of my Comprehension Construction Toolkits found below and offers a 20% savings versus purchasing individually:★K-3rd Grade COMPREHENSION CONSTRUCTION★4th-5th Grade

Price $18.40

Original Price $23.00

Save $4.60
Description
Looking for DIGITAL Comprehension Construction?! Click below!
★PAPERLESS Comprehension Construction
WATCH A VIDEO DEMO BELOW!
★COMPREHENSION CONSTRUCTION VIDEO
Looking for Comprehension Construction for 4th-5th Grade? Click below!
★UPPER GRADES COMPREHENSION CONSTRUCTION
***NOW INCLUDES BOTH SPANISH AND FRENCH TRANSLATIONS!!!***
Comprehension Construction Toolkits (compatible with text or reading series) provide your elementary students with simple, hands-on applications of key comprehension and word work skills. These kits are ideal for small group reading or guided reading as students build and discuss components of the text as a group.
Multi-sensory literacy tasks are supported by the Science of Reading!
The routines appeal to visual, auditory, and kinesthetic learners because students are provided a visual, yet concrete way to "build" each piece of the text as they comprehend and explain it. They can further demonstrate their understanding by writing or drawing on the provided graphic organizers for each skill. The graphic organizers can either be copied or placed inside reusable page protectors for students to write and wipe responses.
Includes the following 21 comprehension and word word skills for K-3rd grade:
Page 3: How to Use
Pages 4-5: Suggested Supplies Checklists
Page 6: Box Covers
Page 7: Lid inserts (student routines)
Pages 8-9: Retelling
Pages 10-11: Sequencing
Pages 12-13: Chain of Events
Pages 14-15: Beginning, Middle, End
Pages 16-17: Story Elements
Pages 18-19: Main Idea and Details
Pages 20-21: Topic and Subtopics
Pages 22-23: Cause and Effect
Pages 24-25: Compare and Contrast
Pages 26-27: Summarizing
Pages 28-29: Vocabulary
Pages 30-31: Character Descriptions
Pages 32-33: Problem, Solution, Lesson
Pages 34-35: Inferencing
Pages 36-37: Author's Purpose
Pages 38-39: Blending and Segmenting Sounds
Pages 40-41: Contractions
Pages 42-43: Compound Words
Pages 44-45: Stretching Words and Sounds
Pages 46-47: Rhyming Words
Pages 48-49: Syllable Count
Page 36: Credits
⇒Feedback and Followers
Click the Green ★ to follow my store and get notifications of new product launches and freebies! Did you know that you can receive credit toward future TpT purchases by reviewing this product? If you enjoy this product, please leave a review at the product page or through "My Purchases" under "My Account" at TpT. Ratings make the TpT world go round! :-)
⇒I'd LOVE to connect with you!
⇒Terms of Use
©Brooke Brown, LLC at Teach Outside the Box
By purchasing and/or downloading this electronic file, you agree to the terms of use as stated below. For personal use/single classroom use only. No part of this document may be distributed, posted on the internet, copied, sold, or edited without direct permission from the author. Violations are subject to the penalties of the Digital Millennium Act. To purchase additional sharing licenses, please visit my store. All contents of this document are under copyright protection including all text, graphics, contents, and fonts. All graphics and fonts are also protected by copyright from their original author/artist.
Thank you so much for visiting my store!
Report this resource to TPT