Comprensión Lectora Comparar y Contrastar Más Escritura de Opinión #1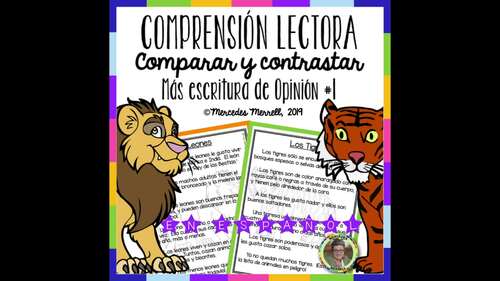 ;
What educators are saying
Buen recurso. Las actividades son excelentes y a los estudiantes les encantaron los textos. ¡Muchas gracias!
I am using this resource to send with homework packets. My students love learning about different animals and giving their opinion!
Also included in
REVISED 12-11-2019- This unit is CCSS aligned, and it was designed to offer lots of opportunity for first graders to practice the skills of comparing and contrasting while reading about interesting, and somewhat familiar, animals. Included in this unit are informational texts about 5 pairs of animal

Price $6.20

Original Price $8.00

Save $1.80
Description
Distance learning friendly Comprensión Lectora: Comparar y Contrastar MÁS Escritura de Opinión (en ESPAÑOL) es un recurso que fue diseñado para ofrecer muchas oportunidades para que los estudiantes de primer grado practiquen las habilidades de comparar y contrastar mientras leen sobre animales interesantes y algo familiares. Incluí textos informativos sobre 5 pares de animales que las personas a menudo confunden entre sí, ¡pero realmente no son iguales! Los animales presentados son: leones/tigres, monos/simios, tortugas/tortugas marinas , caimanes/cocodrilos, y ranas/sapos. Hay datos para cada animal en el par, que muestran similitudes y diferencias entre los dos. Luego, los estudiantes recordarán y escribirán en un organizador gráfico, los datos que son únicos para cada animal, y algunos que los dos tienen en común. También, hay una escritura para cada par de animales, planteando una pregunta divertida que los estudiantes contestarán en forma de opinión.
This is now part of an English/Spanish Bundle in my store!
Report this resource to TPT